Suiting Your Style
More Than Just Inspiration: Bringing Your Visions to Life
The style of your window treatments can make or break a room. When you're creating a beautiful space for your home or office, this seemingly small detail can have a major impact. At Gotcha Covered, we're proud to offer an immense range of custom blinds and shades, as well as window treatment options. We do this because it allows our expert design consultants to find solutions that suit just about every style out there.
Personal style is just that: personal. We want to make sure that you receive window coverings that you'll absolutely love for years to come. From timeless options to modern day selections, we truly have something for everyone. We take a collaborative approach to make sure that you get the window coverings that suit your style—and your budget.
Schedule your free design consultation with our custom blinds and shades experts today! Call (888) 650-6187 to get started!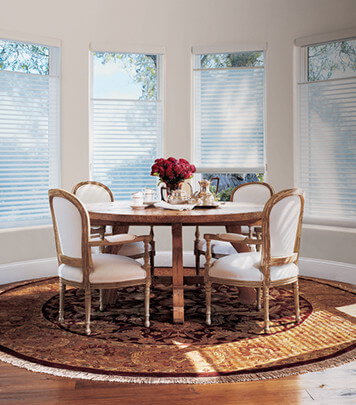 Design for your style preferences!
Think you know your style preferences? Don't know what style suits your personality? Take our Style Quiz to find out!
1

Understand Your Needs

We'll show you which window treatments are best for light control, privacy, UV Protection, and more!

2

Determine Your Style

You get to make the stylistic choices based on your design preferences or design style of your home.

3

Our Expert Guidance

We'll help you bring all the pieces together and guide you through the process step by step.
Looks for Every Style. Options for Any Budget.
At Gotcha Covered, we make it our mission to transform your dream home or commercial space into a reality. We do this by offering a complete selection of window treatment options to suit every style and budget.
Some of our most popular window treatments include:
We also offer a full range of materials, including wood, vinyl, aluminum, fabric, faux wood, upholstery, wood composite, polyCORE, woven wood, paneling, and more. Our comprehensive list of window covering options includes motorized treatments, as well as a wide variety of colors and energy efficient products. Our expert design consultants are happy to help you find the custom solution that perfectly suits your style—no matter what your style may be!
The Custom Blinds, Shades & Window Treatments You Want at Prices You'll Love
You might think that you can't afford gorgeous wooden shutters for your entire home, or you might feel that it's too much of an investment to upgrade the window treatments for your entire office building. At Gotcha Covered, we're ready to challenge that idea with beautiful, budget-friendly window coverings and stylish blinds and shades upgrades that won't break the bank. We will do everything we can to remain within your budget and still provide you with the style, function, and beauty you want.
Call to learn more about the specific window treatment options we offer in your area. To get started, call
(888) 650-6187 today!