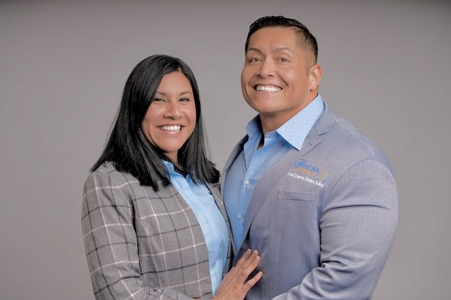 Dorian and Ana Landazuri
OWNER & DESIGN CONSULTANT
Hello! We are Dorian and Ana Landazuri the Owners and Designers at Gotcha Covered of the Beaches!
Ana Judith (A.J.) Landazuri is currently active duty, serving in the US Navy based at NS Mayport, FL. She enlisted in February of 2019. Before enlisting in the US Navy, Ana built her career with over 18 years of work history emphasizing in customer service, administration, and team building. Her last employment prior to enlisting was as a Field Relations Coordinator for a multi-level marketing company.
Dorian Landazuri is a US Army veteran who holds a BS degree in Management, an AS degree in Business and an AA degree in Social and Behavioral Sciences. He is currently pursuing another degree at Florida State College Jacksonville in Interior Design Technology.
Together with our two daughters, we relocated to Atlantic Beach in the summer of 2019 once Ana was stationed here. Immediately we felt like we belonged here. We love the sense of patriotism this community embodies, the numerous military and veteran resources available, as well as how laidback and amiable everyone is.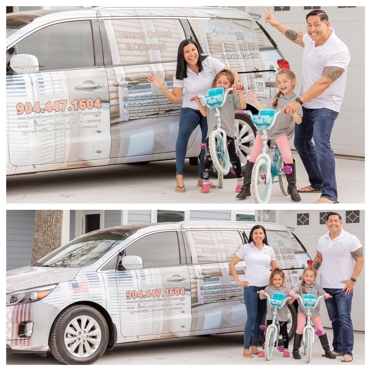 In our previous community, we were both very involved as community leaders and were members of the Community Emergency Response Team (C.E.R.T.) and we are looking forward to continuing this here in the Jacksonville area. Dorian also volunteers with the Jacksonville USO as a Center Representative. The USO is a national non-profit organization dedicated to strengthening America's military service members by keeping them connected to their family, home, and country throughout their service. Dorian is also a regular volunteer at the MWR Mayport Child Development Center. We are also very active in volunteering at our daughters' elementary school as often as we can.
On the weekends, we love going to the beach, shopping and supporting local small businesses, and visiting our local restaurants together as a family. We also enjoy volunteering for local community events. We are very active in our church and spend many weekends with the wonderful people we have met. As a family we also enjoy traveling, hiking, kayaking, and staying active together. We believe in continuing to grow and develop through mind, body, and spirit and try to always be learning something new. This is a skill we hope to impart to our daughters throughout their lives.