What's Your Style Continued...Again
What's Your Style Continued...Again
In previous blog posts we discussed several popular design styles and what makes them unique.
In our first design style article, we covered styles such as traditional, contemporary, transitional, modern urban, and coastal.
In our follow up design style article, we discussed craftsman, mid-century modern, French country, and Tuscan design styles.
The goal of these articles is to bring to light some of the distinguishing characteristics of these popular styles. We know that these characteristics are not hard set rules. Design styles are fluid and will always ebb and flow with current trends and personal preferences.
Design styles are meant to give an overall cohesive look to an interior space while still allowing plenty of room for individual tastes.
In this article, we will be discussing farmhouse, glam, rustic, shabby chic, and southwestern design styles.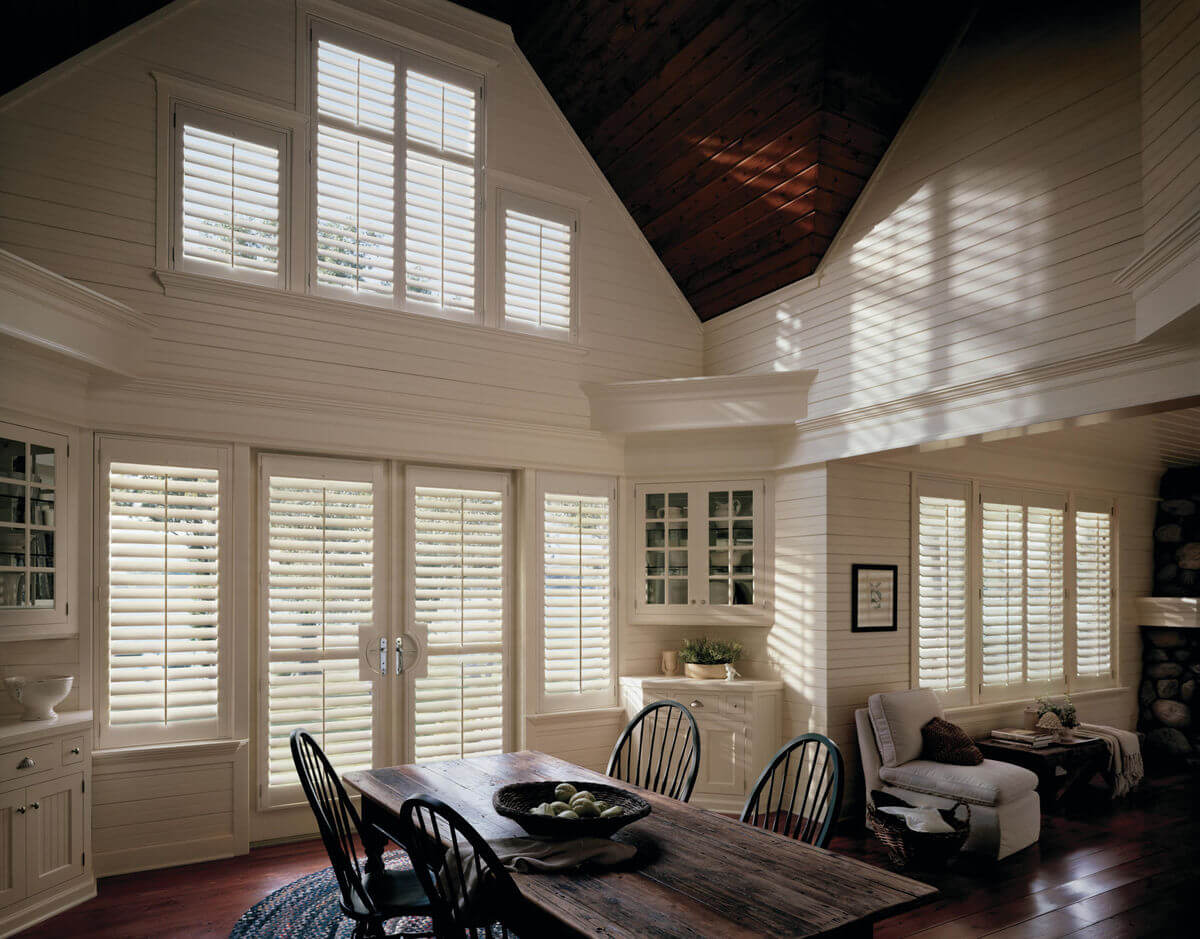 FARMHOUSE DESIGN STYLE
Farmhouse design is full of charm and character. It uses simple and practical elements to reflect a simpler time that exudes a feeling of warmth and good old country hospitality.
Farmhouse design is not to be confused with "country kitsch." When done well, farmhouse design should be an elegant balance of old and new that creates a relaxed and cozy atmosphere.
Key Features Of Farmhouse Design
Farmhouse design should be rustic and comfortable. The goal is to create an atmosphere full of warmth and character. Here are some of the main characteristics of farmhouse design:
Simplistic design reflecting a comfortable yet rustic decor
Unpretentious style with sentimental touches
Natural and organic materials such as wood, reeds, wicker, and rattan
Raw and exposed wood or unfinished materials
Items that were once painted or stained often show signs of being weathered and worn (ie: peeling paint, sun bleached boards, well weathered wood)
Mismatched and vintage accessories and furniture that add to the character and charm
Accessories and accent pieces are typically chosen for sentimental reasons
Color palettes are warm neutrals, earth tones, and maybe splashes of pastels
Rustic fabric choices such as burlap or natural woven materials mixed with patterns such as stripes, plaids, and gingham
Window Treatments For Farmhouse Design Styles
While farmhouse design styles love to showcase big open windows, window treatments are still an important addition.
Simple side panels are a great way to emphasize large, gorgeous windows. Adding a little trim or fringe to the edges of these soft treatments is a beautiful and dynamic design element.
Shutters are a staple of farmhouse design. Shutters have timeless, homey quality that never goes out of style. Plus they can be natural wood, stained, or painted to enhance the color palette of your room.
Woven wood shades are another beautifully simple window treatment that will enhance the rustic feel of the space while adding light control and privacy to these windows when needed.
Curtains are a signature look for any farmhouse styled space. These can be the full length of the window or they can be "cafe curtains" that are mounted in the middle of the window.
The fun thing about curtains is that there are so many fabrics to choose from! From light and airy sheers to solid colors to fun plaids or gingham prints, the possibilities are practically endless. Top these off with a colorful valance or a repurposed wood cornice to bring your farmhouse decor together.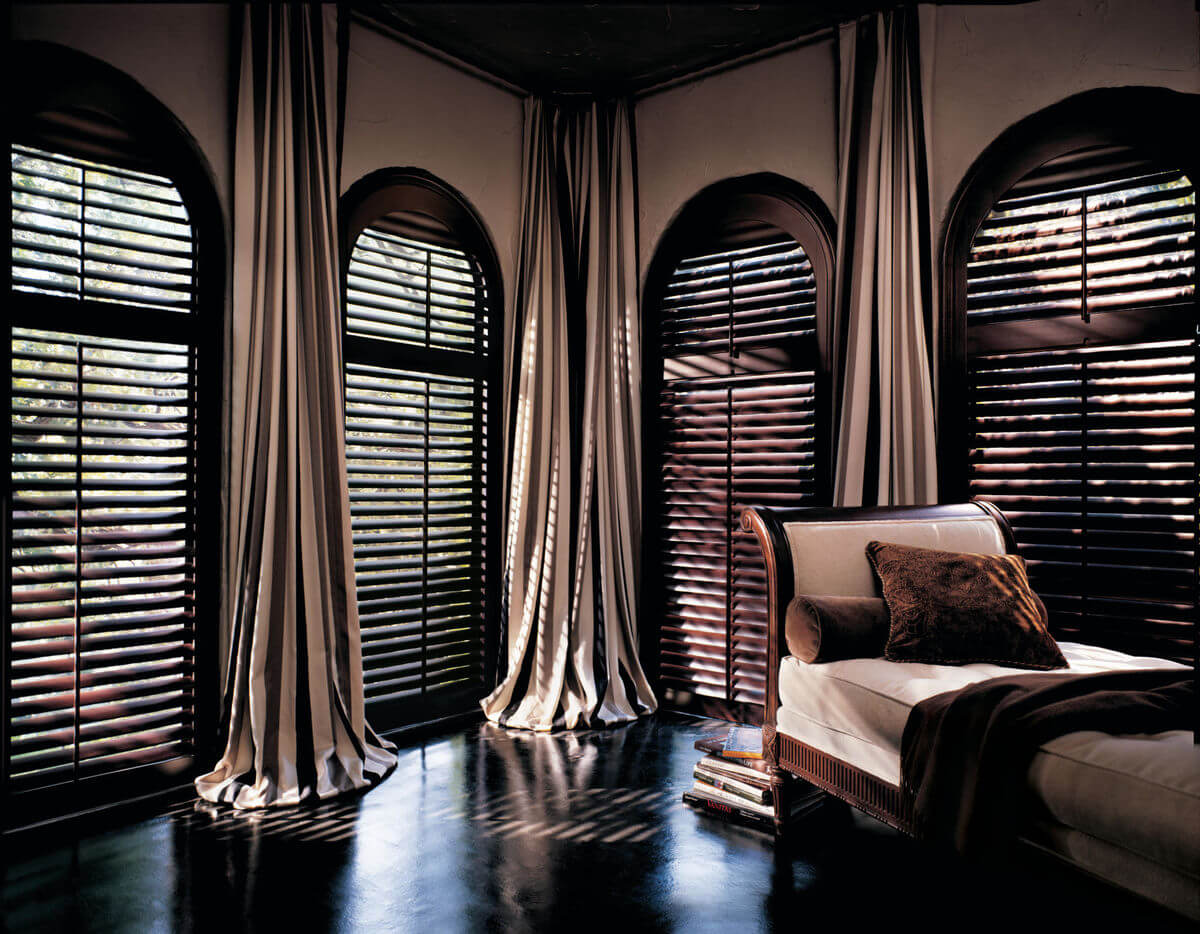 GLAM DESIGN STYLE
Glam design style is opulent and luxurious. It combines luscious materials with metallics and shiny finishes to create a feeling of elegance and sophistication.
Glam design draws inspiration from art deco design and elements of Hollywood style. Textures and glossy finishes also bring an atmosphere of extravagance and romance.
Key Features Of Glam Design
While glam design is extravagant, it is not cluttered. The goal is to maintain sleek, classic lines and a clean, minimalist look while highlighting the glamorous elements. Here are some of the defining features of glam design:
Luscious materials and textures
Metallics, mirrored or glossy finished accessories and accents
Minimalist approach to decor and accessories
Wall decor and artwork over-sized and either black and white or vibrant and abstract
Emphasis on clean lines and classic shapes
Accents of metallic, crystal, or mirrors - anything shiny or glitzy
Incorporates bold geometric patterns
Includes striking contrast whenever possible
Color palettes are a balance of saturated, jewel tones and clean, neutral colors
Intended to give a feeling of opulence and luxury
Window Treatments For Glam Design Styles
The intention of glam style is to make everything feel large and extravagant. When it comes to windows, the best way to make your space feel larger than life is to add floor to ceiling soft window treatments.
Nothing says luxury quite like luscious fabrics and sweeping valances. Bold geometric patterns can be used or solids with color blocking or banded edges. Sheer fabric can also be a great way to add to the romantic, dream-like feel of the room.
When hanging drapes, the closer to the ceiling the better! Even if the window is not that tall, by hanging the drapes higher, you are asking the eye to travel from top to bottom. This will make the room feel more spacious and give the illusion that the window itself is bigger as well.
For glam design, drapery hardware can also embellish the style of the room. Choosing decorative hardware that is metallic or shiny is a great way to add a little glitz and glam to the window treatment. Tiebacks are also a fun way to add decorative touches to any drapery.
Another soft window treatment option for glam design is Roman shades. While these may not be as grand as floor to ceiling drapes, they can still incorporate beautiful fabrics and materials. Edging, banding, and trim can also be added to these soft window treatments for a little extra flair.
Roman shades will extend to cover the window itself and can be raised so that just a portion of the shade remains visible. These can be added to side panels or draperies and have a beautiful, completed look when topped with a valance, cornice, or swag.
As you can see, there are a multitude of possibilities when it comes to discussing soft window treatments. Discussing your needs with your Gotcha Covered Design Team Expert is a great way to narrow down the options to find the perfect window treatments for your space.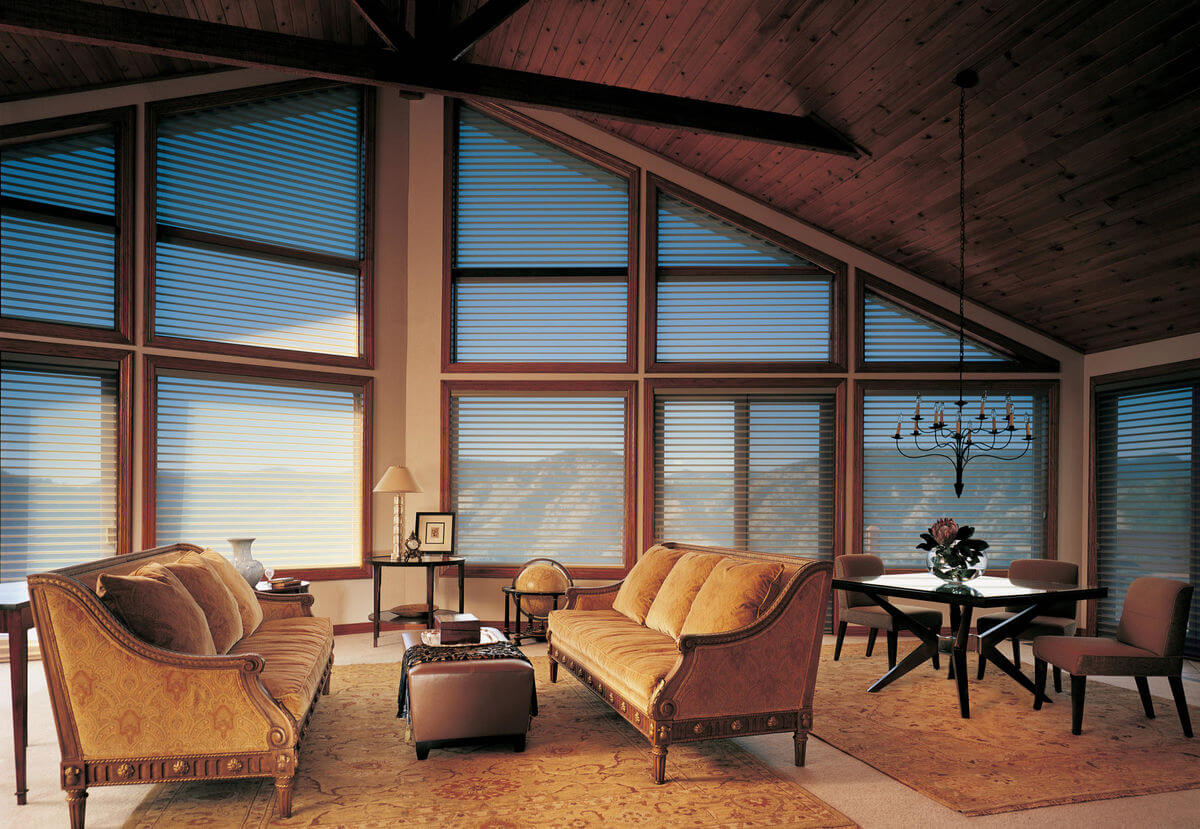 RUSTIC DESIGN STYLE
Rustic is a term that is used within the definitions of several other design styles, such as farmhouse, coastal, Tuscan, and cottage. Rustic design is also referred to as lodge style since it is what you would expect to see if you were to walk into a cabin or mountain getaway.
Rustic design is all about natural materials, raw and unfinished edges, and organic lines and shapes. Everything is simple and casual, comfortable and worn. Nothing too polished would typically be found in this design style but that is what adds to its rough, weathered charm.
Key Features Of Rustic Design
Rustic design should be a balance of hospitality and grit. The goal is to inspire a warm and welcoming atmosphere through simple design and organic, earthy materials. Here are some of the basic features of rustic design:
Raw, unfinished materials in the natural state such as wood and stone
Handmade furniture and accessories
Rougher fabrics such as burlap and canvas
Exposed structural design elements such as large, wooden beams
Color palettes favor warm, earthy tones with subtle additions of denim blue, coca cola red, golden yellow, or faded turquoise
Distressed materials that look aged, weathered, and worn that add to the casual, comfort of the space
Reclaimed items such as metal trays, wire baskets, and wooden palettes that are repurposed as decor or accessories
A balance of a warm and inviting atmosphere with rough and gritty textures
Window Treatments For Rustic Design Style
Remember that rustic elements can be added to several other design styles. If you are truly looking for a rustic lodge type feel to your space, then your goal is to make the window treatments blend into the natural structure of the room.
The primary focus for these window treatments is going to be function - what do you need these window treatments to do for your space?
Do you need light control for harsh, afternoon sun? Or perhaps something for privacy after the sun has gone down? Consider shades that can be easily lowered and raised as needed. There are several styles and materials that can be used for window shades.
Woven wood shades, for example, have a natural, earthy quality that will work well with this style. Depending on the tightness of the weave, however, these shades may not block all of the light that is coming through. Knowing exactly what function you need your shades to perform will help you determine the right material for the job.
Wood blinds are also a wonderful option for rustic design. Blinds will deliver the light control and privacy that you may need and when raised, they do not obstruct much of the window.
Drapes and curtains are definitely a popular choice for rustic design, even if the emphasis is on functionality not decoration. Again the material will be the primary decision maker for these window treatments. Choosing solid, neutral colors with minimal adornments and simple hardware will help these treatments camouflage into the architecture of the space.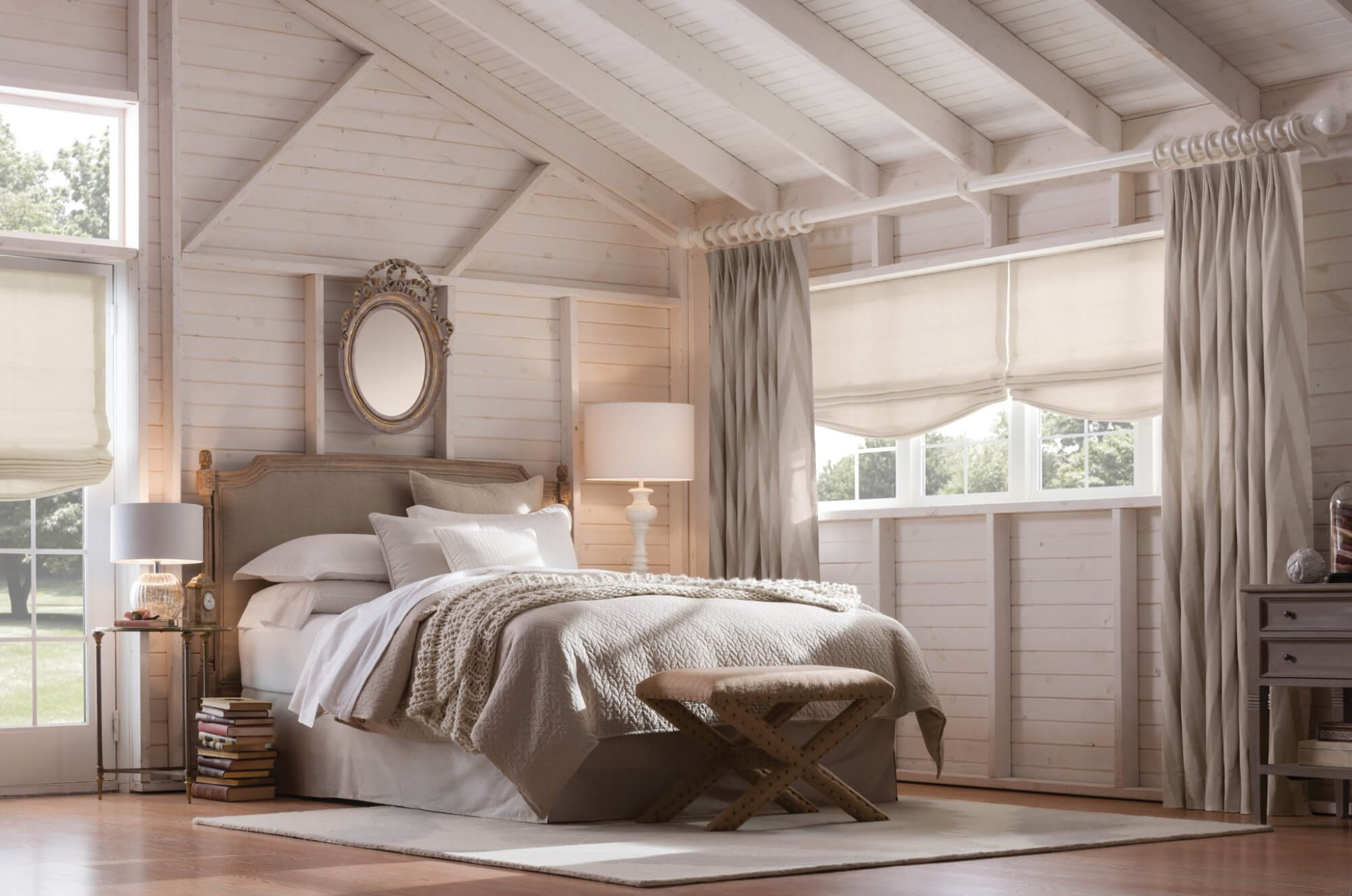 SHABBY CHIC DESIGN STYLE
Shabby chic embraces a worn, lived in look that exudes comfort and romantic elegance. It pays homage to the past with vintage pieces and historical elements scattered throughout.
Shabby chic emerged as a response to the opulence of glam design. This design style takes a very different approach from the decadence and extravagance of glam and instead focuses on muted colors, secondhand pieces, and repurposed materials. Shabby chic is meant to feel comfortable and lived in.
Key Features Of Shabby Chic Design
Shabby chic is a delicate balance of carefree and put together. The goal of shabby chic is to bring together different elements that give a personal touch and make you feel at home. Here are some of the defining features of shabby chic design:
Antique furniture and vintage pieces are key
Worn and comfortable furniture and accessories to create a homey feel
Comfortable fabrics such as cotton and linens mixed with delicate sheers or lace
Distressed materials that showcase a worn, weathered appearance
Delicate accessories such as ceramics, china or pottery
Soft hues and pastel color schemes
Emphasis on neutral backgrounds
Creates a light and airy ambiance
Window Treatments For Shabby Chic Design Styles
For windows in a shabby chic styled room, soft window treatments will give you the desired look and feel.
Long, flowing drapes will add to the romantic atmosphere of the space. Fabrics can be thick and cozy with beautiful pastel or neutral colors, or they can be light and airy with sheers or lace.
There is a wide variety of options for embellishments from top treatments to tie backs and trim on the edges. All of these can add a vintage or antique feel to the windows.
Shutters can also bring a beautiful, nostalgic feel to windows to complete the shabby chic look. Wood finishes or light colored shutters would be great options for these windows.
Layering different window treatments always creates a beautifully finished window, but it really lends itself to this design style. Pairing a Roman shade with long, sheer drapes, for example, will give you light control and privacy when needed as well as the beautiful decorative accent.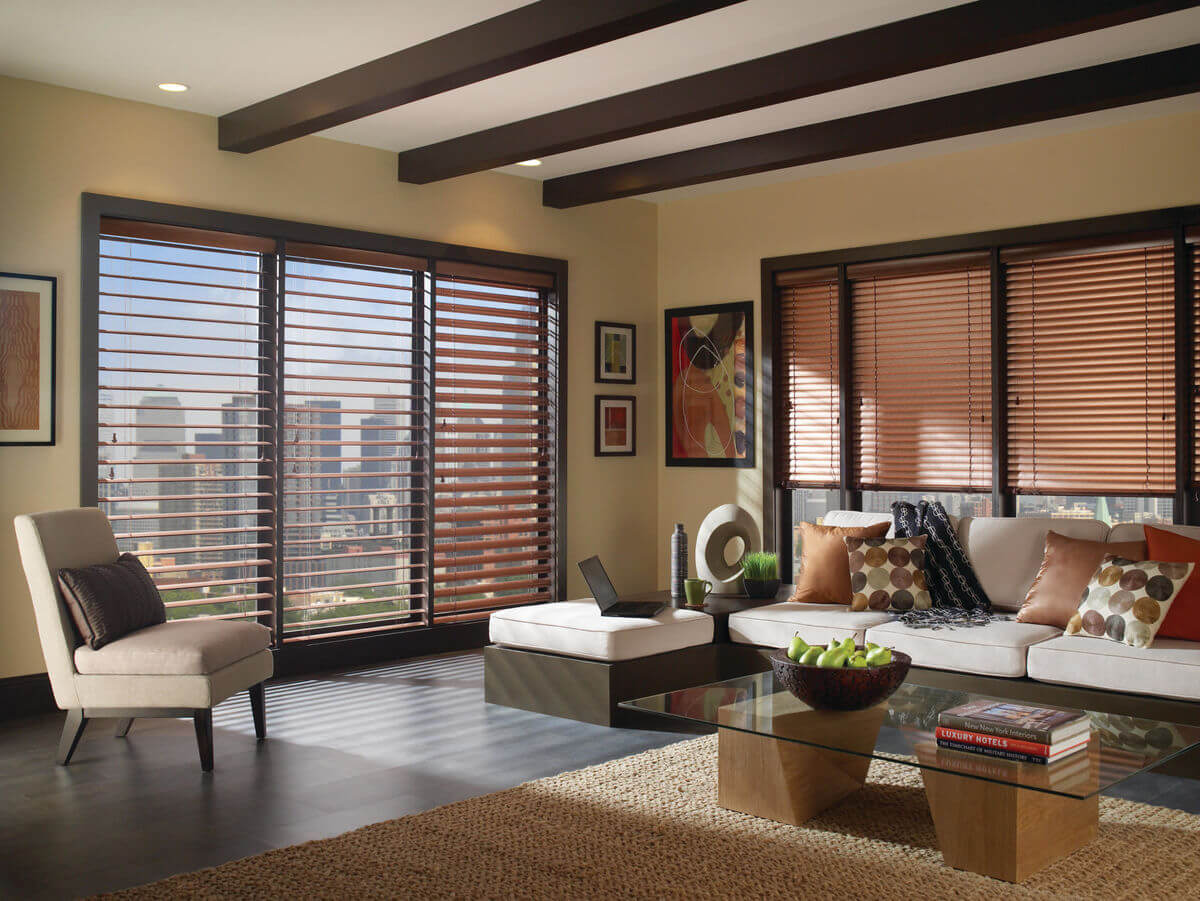 SOUTHWESTERN DESIGN STYLE
Southwestern design is colorful, warm, and inviting. Sometimes this design style is also referred to as desert chic.
Southwestern design can be a motif that is scattered throughout your home, or you can really commit to the design style and go larger than life! It can also be mixed into other design styles to create a hybrid style all your own!
Key Features Of Southwestern Design
Southwestern design should be bold and vibrant. The goal of southwestern design is to create a warm and welcoming environment. Here are some of the key features of southwestern design:
Bold, warm, earth tones with a healthy mix of bright patterns
Sun-bleached materials, textiles, natural woods, and unpolished metals
Clay, tile, terracotta, and woven accessories
A healthy mix of bold patterns and prints that complement each other but do not match
Colors that reflect a desert sunset
Simplistic yet large pieces of furniture
Window Treatments For Southwestern Design Styles
With southwestern design you can really take it in different directions. Bold patterns are a huge part of southwestern design, so if you want to incorporate a patterned material, you would want to look at drapes, curtains, or Roman shades.
Be sure to look at the whole pattern of the material when it is stretched out full and then again when it is pleated together. You may be surprised at the difference between the two.
Wood window treatments are another option to consider. Wood blinds, woven wood shades, or wood shutters are a great way to bring in the warm, natural quality to your windows. These window treatments will be much more simplistic in their design. They are not intended to be the eye-catching element of the room, but they will bring a subtle sophistication to your space.
A fun element to add would be a combination of sleek, stylish wood blinds with a brightly patterned side panel or top treatment. This would incorporate both elements and add dynamic layers to your windows.
CONCLUSION
Now that we have discussed these design styles, perhaps you recognize a few of these elements in your own design preferences. Maybe you also noticed how several of these design elements overlap from one style to another.
Remember that design styles are flexible and will incorporate different pieces and parts from your own story to make it unique to you. That is the beauty of design! It is always ebbing and flowing, changing to adapt to new ideas and paying homage to things of the past.
If none of these design styles seems to be the right fit for you, never fear! There are so many more design styles out there for you to choose from. If you would like to go back and visit our previous articles that discuss some of these other design styles, visit What's Your Design Style and What's Your Design Style Continued.
At the end of the day, your home should be a place that feels like you and lets your personality shine through. When you are comfortable and true to yourself, everyone else will feel welcomed and at ease in your space.
No matter what design style is your own, window treatments are an important addition to complete the look and feel of any room. With so many amazing styles, textures, and designs to consider, working with a Gotcha Covered Design Team Expert is a great way to take the first step. Their expertise can help get you started on the right path to finding the perfect window treatments to fit your needs, style, and budget.
We also have some exciting advancements in motorization and home connected solutions that will add convenience and functionality to your windows. Call us at (888) 650-6187 or schedule your free design consultation right here! We are now offering virtual consultations as well!
Posted By
Gotcha Covered
Categories: