Making Windows Safe For Kids
Every parent or caregiver need to be aware of child safety, and this begins at home. Use only cordless window coverings or those with inaccessible cords in homes with young children. Replace older corded window coverings with today's safer products, especially those that are certified "Best for Kids".
You Can Rely On Us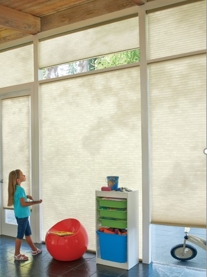 Gotcha Covered is committed to child safe window treatments. We can visit the home and look at the window treatments to determine if any safety issues are present. If there are, we can make recommendations of what is needs to be changed to remedy the window treatment child safety issue.
- Replace existing window treatments with cordless versions
- Retrofitting
- Motorization
Knowledge Is Key
Window treatment cords can pose a strangulation hazard for children.
The U.S Consumer Product Safety Commission calls corded window coverings one of the top five hidden hazards in American homes, with infants and children accidentally becoming entangled in window blind cords. Put blind cord safety at the top of your child proofing checklist.
Prevention is Key
Cord Safety Checklist
Move all cribs, beds, furniture and toys away from windows and window cords, preferably to another wall.
Make sure that tasseled pull cords are as short as possible.
Continuous-loop cords on draperies and vertical blinds should be permanently anchored to the floor or wall.
Keep all window cords well out of the reach of children. Eliminate any dangling cords.
Check that cord stops are properly installed and adjusted to limit the movement of inner lift cords.
How to Fix The Problem
Making Windows Safe For Kids
Ideally, parents and caregivers should replace older corded window coverings with today's safer products. However, if you cannot replace older window treatments, the instructions found at https://windowcoverings.org/retrofit-your-windows/
To learn even more about window treatment safety, visit the Window Covering Safety Council.