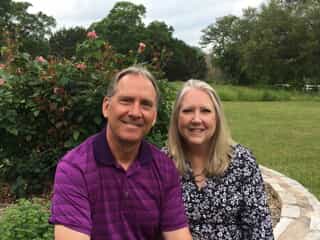 We, Mike and Penny, are the owners of Gotcha Covered WC and serve the Georgetown and Austin area. We enjoy working with homeowners and businesses to help enhance their space with just the right product to fit their lifestyle and needs. For businesses we can handle one location or all of them! We go the extra mile to understand your needs and make suggestions we are confident will work for you and your situation. Built on integrity and the highest level of customer care we ensure you will be happy selecting Gotcha Covered for your window treatment needs. We are members of First Baptist Church in Georgetown. Our Christian faith is very important to us and so we strive to reflect our Lord Jesus Christ in our everyday lives and in our business. God's word tells us to "work as if working for the Lord" (Col. 3:23) - this is what we try to do every day.
Penny Parks
Penny was a full time Medical Diagnostic Sonographer for over 30 years. Penny does ultrasound a few hours a week at Austin Life Care, a Christian pregnancy center - a ministry that is very close to her heart.
Mike Parks
Born and raised in Austin, Mike graduated from the University of Texas at San Antonio with a degree in Electrical Engineering and went on to work for companies like IBM, Motorola, Qualcomm, AMD and others. Mike does volunteer work for Texas Baptist Men's Disaster Relief (TBMDR), the Fellowship of Christian Athletes (FCA) in the Georgetown area, and various church activities.
The Gotcha Covered Family!
At Gotcha Covered, family is very important to us. As a family business we do our best to treat our customers like family. If you are in the market for window treatments call us at (512) 817-1821 to schedule your complimentary in-home consultation. Rest assured you will be treated like family. Gotcha Covered has Shades, Shutters, Blinds and Draperies for every style and every budget. We also carry exterior roller shades, shutters, and motorized pergolas and awnings.