Woven Wood Shades
Get a Unique, Natural Wood Shade Look With Woven Bamboo Shades
Woven wood shades offer a unique, natural look that brings a bit of the outdoors into your home. At Gotcha Covered, woven wood shades are one of our most popular window shade options thanks, in part, to the fact that they provide nearly endless possibilities. Often referred to as bamboo shades, natural woven wood shades, or matchstick shades, woven wood shades come in a huge variety of styles and materials, including bamboo, reeds, woven reeds, and exotic grasses. Our styles are incredibly unique because we developed them ourselves, based on the specifications of our customers.

Woven wood shades offer a number of benefits for home and business owners alike, including:
Need some inspiration? Check our our Idea Gallery for more images and inspiration of bamboo shades for your home design!
Experience the Beauty & Function of Custom Woven Shades
Gotcha Covered provides custom woven wood shades for windows that offer the perfect combination of beauty and function. From natural bamboo shades to matchstick shades and natural woven wood shades, Gotcha Covered has the perfect solution for your window covering needs.
Bamboo shades provide a unique and natural look with their tight woven pattern. They offer excellent light filtering, while still providing plenty of privacy. With Gotcha Covered, you can choose from a variety of color and texture options to match any room décor.
Matchstick shades are made from a variety of natural materials, including bamboo, reeds, and wood. They provide a rustic, earthy feel with their unique texture and style. With Gotcha Covered, you can customize your matchstick shades to fit any window size and shape.
Are woven shades in style?
Yes, woven shades are in style. They have been popular for many years and continue to be a popular choice for window treatments. Woven wood shades can add a natural, earthy look to any room while also providing privacy and light control.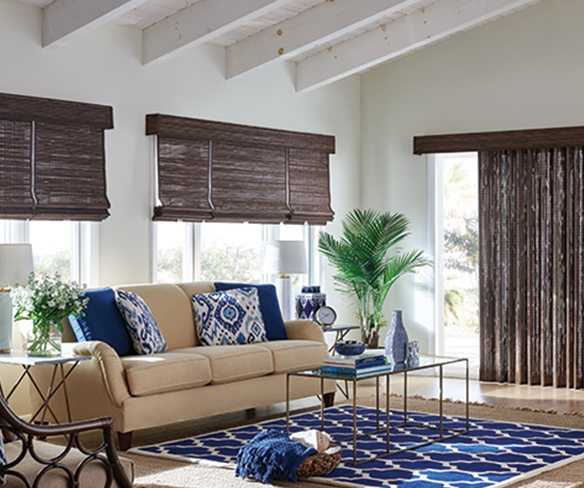 At Gotcha Covered, we offer woven wood shades in a variety of styles, materials, and hues to suit your personal tastes—and your budget. Our custom wood shades are designed to help you bring your vision of a beautiful space to life. Our experienced design consultants can help you find the perfect look for your home or commercial building, and are happy to work with you on style and price.
More Info About Woven Wood Window Shades
Check out these blog posts for additional insight on bamboo and woven wood window shades: