Woven Wood Sliding Panels
Innovative Woven Wood Shades and Blinds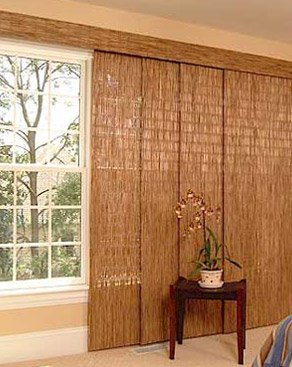 Are you looking for an innovative solution for large picture windows and sliding glass doors? Gotcha Covered's woven wood panel track systems are a great option and bring a touch of nature indoors. Bring an exotic, tropical flavor to any room with woven roman shades!
Consider the following features on woven wood panel track blinds:
Smooth Operation: Open and close the panels with ease using one of two cord options. Choose from a continuous cord loop, which keeps the cords away from the floor or wand options.
Extensions Available: If needed, woven wood sliding panel track blinds can be installed with an extension to clear an obstruction near the door or window being covered.
Additional Privacy: While woven wood panels let some light pass through by design, privacy liners are available if you desire are more opaque appearance.
Stacking Options: The panels can be designed to all slide one way (left or right) or be split down the middle. Choose the configuration that best fits your space.
Optional Valance: If you wish to cover the tracks, choose from different colors and textures to create a perfect valance look that compliments your room as a whole.
Color Options: The woven wood panels themselves are available to be ordered in a wide range of different colors, textures, and natural finishes.
Cordless Safety: Remove the cords altogether if the safety of small children is a concern in your home. The spring roller cordless system means easy one-handed operation of the panel track blinds.
Discover Quality Vertical Woven Wood Sliding Panel Blinds
Gotcha Covered is your one-stop shop for all of your window covering needs. We offer a wide selection of quality vertical woven wood sliding panel blinds perfect for any room in your home. Our woven sliding panels come in a variety of styles and colors to suit any style and décor. Whether you're looking for a classic or modern look, Gotcha Covered has the perfect solution for you.
Our vertical woven wood sliding panel blinds are designed to provide maximum light control and privacy. The panels are made from natural materials, like bamboo, reeds, and grasses, that are woven together to create a unique and beautiful look. The panels stack up neatly when opened and slide smoothly in a single track system. When drawn, they provide complete privacy and light control.
Our woven sliding panels are also easy to install and care for. With minimal effort and time, you can install these panels yourself and enjoy their beauty and function for years to come. Not only are they a great way to enhance the look of your home, but they also provide an energy efficient solution that cuts down on air conditioning and heating costs.
Gotcha Covered is proud to offer these quality vertical woven wood sliding panel blinds at an affordable price!
No matter your personal style, window covering needs, or budget, our experienced design consultants can help you find the perfect design solution. Our woven wood panel track blinds offer incredible versatility and style, plus the benefits of lasting function and durability.