Composite Shutters
Affordable Faux Wood Shutters for Every Home
If you are looking for a shutter that looks like real wood but is priced closer to a vinyl shutter, a wood composite shutter from Gotcha Covered may be the answer. Made from a unique wood composite core and acrylic coating, our composite shutters won't turn yellow, warp, fade, or chip. Custom composite shutters combine the beauty of wood with the strength and stability needed to stand up to harsh climates at a more affordable price point. All of our faux wood shutters are available in a single panel, double panel, and bi-fold options. We also offer L-Frame and Z-Frame options.

Composite Faux Shutters Offer the Best of Both Worlds
Consider these composite plantation shutter features and options:
Double-Hung Shutters
This allows shutters to be hung on top of each other and lets you swing them open independently of each other. It also allows for separate louver operation.
Divider Rails
Divider rails are great for tall windows because they separate top and bottom shutters and let you open them independently for greater light control.
Motorization
We proudly offer motorized controls so you can operate your faux wood shutters with the simple touch of a button.
Numerous Finishe
At Gotcha Covered, we offer a huge variety of finish options so you can create the exact custom look you want.
Uniformity
Areas like kitchens and bathrooms require humidity-resistant shutters; wood composites allow you to maintain a uniform look throughout your home.
Decorative Frames
We offer a wide range of styles to frame the top of your shutters so you can create a beautiful look you love.
Louver Options
Customize the size of your wood composite shutters' louvers for a unique look that suits your personal tastes.
Take our FREE Design Style quiz to learn more about your personal taste!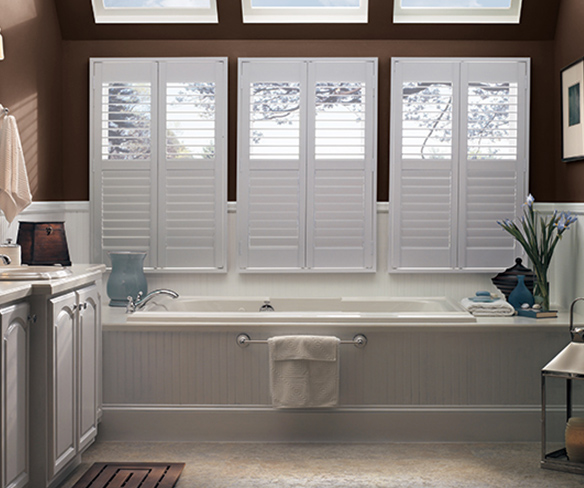 We are committed to bringing your design vision to life. Whether you have decided on wood composite shutters for your entire home, are interested in having them installed in just one room, or would like to learn more about all of our window treatment options, we're here to help! Our experienced design consultants are happy to collaborate with you to find the best composite shutters that meets your needs, tastes, and budget.
More information about faux wood shutters: