Vertical Blinds
Affordable Vertical Blinds for Sliding Glass Doors & Large Windows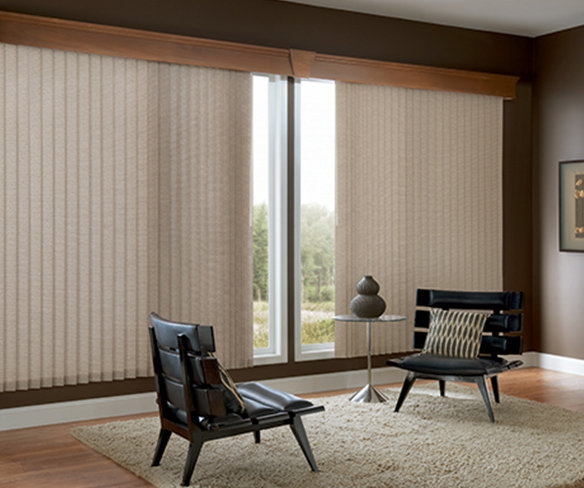 If you have windows that are wider than they are tall, or large, sliding glass doors like patio doors, custom vertical blinds could be the ideal window treatment option. In addition to adding a stylish touch to your home or office, vertical blinds can allow you to control the amount of light that comes into a room, keeping the room warmer or cooler depending on your preferences. Plus, custom vertical blinds replacement can even make your ceilings look taller by creating the illusion of height to your windows for a dramatic look.
At Gotcha Covered, we proudly offer an array of vertical blinds in a complete range of materials, colors, and finishes, perfect for the home or office.
Our options for custom vertical blinds include:
vinyl
fabric
wood
cellular
sheer
wide variety of colors
motorization
Are vertical blinds outdated?
Because vertical blinds became popular in homes around the '80s and '90s, many homeowners today feel that they could make your home look dated. However, because vertical blinds offer easy functionality and can be easily customized, they continue to be a popular installment in homes. If you are looking to modernize your vertical blinds, contact your local Gotcha Covered experts – we offer color and material customizable options so you can get the aesthetic look you want.
Find the Perfect Vertical Blinds for Your Patio Doors at Home or Large Windows At Your Commercial Building
We're committed to helping you find the perfect window treatment solution for your tastes, needs, and help you budget the cost of custom vertical blinds. Our design consultants can help you choose the right vertical blinds for sliding glass doors or patio doors in your home. We also offer solutions for commercial buildings.
More information about vertical blinds: