Outdoor Patio Shades
Premium Exterior Patio Shades for Heat & Sun Protection - Motorized and Smart Home Connected
At Gotcha Covered, we believe that exterior patio shades are an excellent choice for any outdoor setting. We offer a wide selection of patio shades of varying styles. Enclosing any area with exterior shades will offer the comforts of being indoors combined with the upsides of fresh air and natural light. We are able to make any sun shade and patio shade motorized for convenience and set to timers!
Depending on what exterior patio shades you choose, you can adjust the amount of light that shines through. We can install outdoor patio blinds and shades around decks, patios, porches, balconies, sunrooms, gazebos, and pergolas.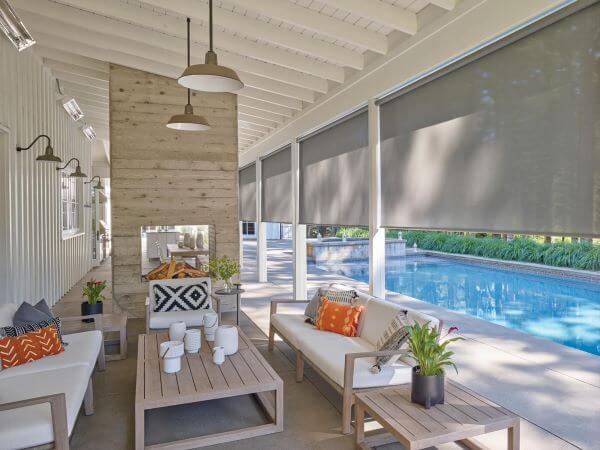 There are many benefits to installing outdoor shades or blinds for your patio, including:
They can significantly decrease glare, heat, and direct sunlight when spending time on your deck, porch, balcony, or patio.
They offer a protective barrier against bugs and animals.
They reduce wind flow – creating a more pleasant setting.
They increase privacy while also allowing you to enjoy views of the surrounding landscape.
They can improve the curb appeal and real estate value of your home.
They can protect your outdoor furnishings, BBQ setup, and other equipment from UV rays.
Looking to install outdoor patio blinds and shades into your home? Find your location or call (888) 650-6187.