PolyCORE Shutters
Durability that Really Lasts
PolyCORE shutters are a practically indestructible window treatment option offers the sophisticated look of plantation style wood shutters without the hassle. Easy to clean and essentially maintenance-free, PolyCORE shutters are a wonderful, cost-effective solution for any home or office. At Gotcha Covered, we offer a range of options in numerous different colors, textures, and finishes. Our PolyCORE shutters will not crack, split, warp, or discolor with age, so you can rest assured that you're getting the most bang for your buck.

What do PolyCORE shutters offer?
Various louver size choices – Gotcha Covered offers several options to choose from.
Aluminum reinforcement – The three main parts, louvers, stiles, and rails, are all reinforced.
Stylish aesthetics – Clean lines and timeless beauty.
Durable surface – Perfect for the harshest environments in your home. Learn more about the benefits of different surface types.
Low maintenance – A simple wipe-down with a damp cloth is all that's needed to clean. PolyCore shutters are a good option for homeowners with allergies.
Fire safety – PolyCORE shutters offer the highest fire safety rating.
Child/pet safety – No cord means greater safety, plus they stand up to rough treatment.
No touch-ups, ever – Lasting finishes mean you'll never have to re-paint.
Stay up to date on the latest information about window treatments by checking out the Gotcha Covered blog!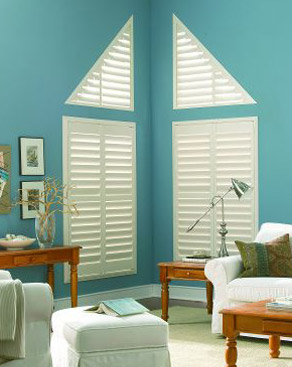 Find out if PolyCORE shutters are the right option for your home—use our zip code locator to find your local design consultant and schedule a free, in-person consultation! We're proud of our collaborative, consultative approach and we're positive that you'll be happy with the end result. Our mission is to bring your design visions to life.
More information on PolyCORE shutters: