PolyCORE Shutters
Durability that Really Lasts
PolyCORE shutters are a practically indestructible window treatment option offers the sophisticated look of plantation style wood shutters without the hassle. Easy to clean and essentially maintenance-free, PolyCORE shutters are a wonderful, cost-effective solution for any home or office. At Gotcha Covered, we offer a range of options in numerous different colors, textures, and finishes. Our PolyCORE shutters will not crack, split, warp, or discolor with age, so you can rest assured that you're getting the most bang for your buck.

What do PolyCORE shutters offer?
Various louver size choices – Gotcha Covered offers several options to choose from.
Aluminum reinforcement – The three main parts, louvers, stiles, and rails, are all reinforced.
Stylish aesthetics – Clean lines and timeless beauty.
Durable surface – Perfect for the harshest environments in your home. Learn more about the benefits of different surface types.
Low maintenance – A simple wipe-down with a damp cloth is all that's needed to clean. PolyCore shutters are a good option for homeowners with allergies.
Fire safety – PolyCORE shutters offer the highest fire safety rating.
Child/pet safety – No cord means greater safety, plus they stand up to rough treatment.
No touch-ups, ever – Lasting finishes mean you'll never have to re-paint.
Stay up to date on the latest information about window treatments by checking out the Gotcha Covered blog!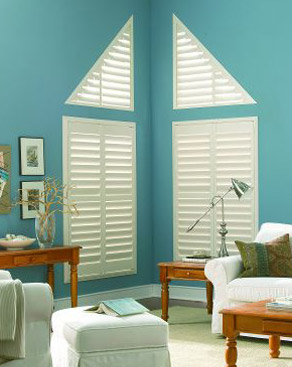 Gotcha Covered is proud to offer the highest quality PolyCORE shutters as part of our window shutter solutions. PolyCORE shutters are a superior product that provides a wide range of benefits to homeowners and businesses.
PolyCORE shutters are made of a unique combination of poly resin and wood composite and are 100% waterproof. This makes them an ideal choice for businesses, such as restaurants, and other commercial properties, that need to keep their windows and their interior spaces protected from the elements. The shutters also offer superior durability, as they are able to withstand harsh weather conditions without needing frequent maintenance or repairs.
In addition to their water-resistant qualities, PolyCORE plantation shutters provide a number of other benefits. They are energy efficient, helping to keep energy costs down for businesses. They also provide superior sound insulation, helping to keep noise levels down in busy commercial areas. The shutters are also aesthetically pleasing, adding a touch of elegance and sophistication to any business's interior or exterior design.
Finally, PolyCORE shutters are easy to install and maintain, making them a cost-effective solution for businesses looking to improve the look and function of their windows.
Are PolyCORE shutters good?
Yes, PolyCORE shutters are a good choice for windows. They are highly durable and can last for years with minimal maintenance. They are also energy efficient, helping to keep your home cooler in the summer and warmer in the winter. They can also help to reduce outside noise, making them a great option for people who live in busy cities or areas.
Find out if PolyCORE shutters are the right option for your home—use our zip code locator to find your local design consultant and schedule a free, in-person consultation! We're proud of our collaborative, consultative approach and we're positive that you'll be happy with the end result. Our mission is to bring your design visions to life.
More information on PolyCORE shutters: