Get The Most Out Of Your Window Treatments This Summer
Summer is a wonderful time of year when the days are longer and the temperature is warmer. While long, sunny days may be exactly what your garden needs, too much sun may take a toll on the interior of your home and workplace. That is why summer is also the time for your window treatments to bring out their A game!
Light control is a key role for all window treatments to play in any room, especially during the hot summer months. Light control helps regulate the temperature of a room, prevents harmful UV rays from damaging the interior, and creates a comfortable environment.
In this article we will discuss some of the other benefits that window treatments provide to keep your home or workplace comfortable in the summertime.
Window Treatments And Light Control
One of the main purposes of most window treatments is light control. Light control allows you to decide how bright or dark you want the room to be regardless of the time of day or the season of the year. When the days are warmer and longer during the summer, light control is even more important.
Windows allow for bright and natural light to fill your rooms, saving you the need for incandescent lights and extra electricity.
There are times, though, when it is necessary to moderate the amount of light coming into a room. Harsh, direct sunlight can create an uncomfortable environment. Glare can make it difficult to perform certain tasks in these rooms as well.
The right window treatments will be able to quickly and easily be moved into a position so as not to hinder sunlight from streaming into the room but to provide a comfortable space by filtering or blocking out harsh, direct light.
Window treatments come in a variety of materials and opacities from light filtering to blackout options. The needs of each space will determine which type of light control is needed.
Sometimes it is not the need to keep light out, but rather, to prevent someone from looking in. Window treatments that provide light control are also an excellent solution for privacy concerns.
If you would like to learn more about the role window treatments play in terms of privacy check out this article That Window Treatment Might Look Great, But Does It Actually Do Its Job?
Getting The Right Window Treatments For Light Control
When considering window treatments specifically for light control you will want to think about the material of the treatment, the opacity of that material, and options that will cover your entire window.
For rooms that have large windows that receive harsh glare you may want to consider a light filtering window treatment that will diffuse the light coming in, but not block it out completely.
Fabrics woven very close together will have a higher opacity rating and will let less light through. Rooms that receive direct sunlight during the day may want to have window treatments made from materials with higher opacity to block out excess sunlight during these times.
Room darkening shades may be beneficial for rooms that require even more light control. These are popular for bedrooms where you want to ensure that sleep is not interrupted.
And for rooms that require no light to be let in, there are blackout options that keep light from slipping through any cracks or crevices.
Blackout shades are best for media rooms and bedrooms so that outside light can be kept out of these rooms as needed.
Blackout liners are another great option that can be added behind window treatments to add an extra layer of light control.
BLACKOUT SHADES
Blackout shades are the best option when looking to ensure no outside light can enter the room.
Blackout shades have tracks along the sides of the window to allow the shade to fit completely within the window frame and eliminating any space for exterior light to get through.
Blackout shades are excellent options for living rooms that feature a large screen tv, theater rooms, or media rooms.
Sometimes, depending on the direction the windows face, blackout shades can be useful for bedroom windows to make sure there is no light disruption during the hours of rest.
For those whose schedules require sleeping during the day may find that blackout shades give them the adequate darkness needed to get uninterrupted rest.
Room darkening shades can help remove excess light from rooms, however the small space between the shade and the window may still allow light to bleed through the nooks and crannies.
Depending on the needs of the space, blackout shades may be the best option to ensure your room is completely dark when needed.
LAYERED SHADES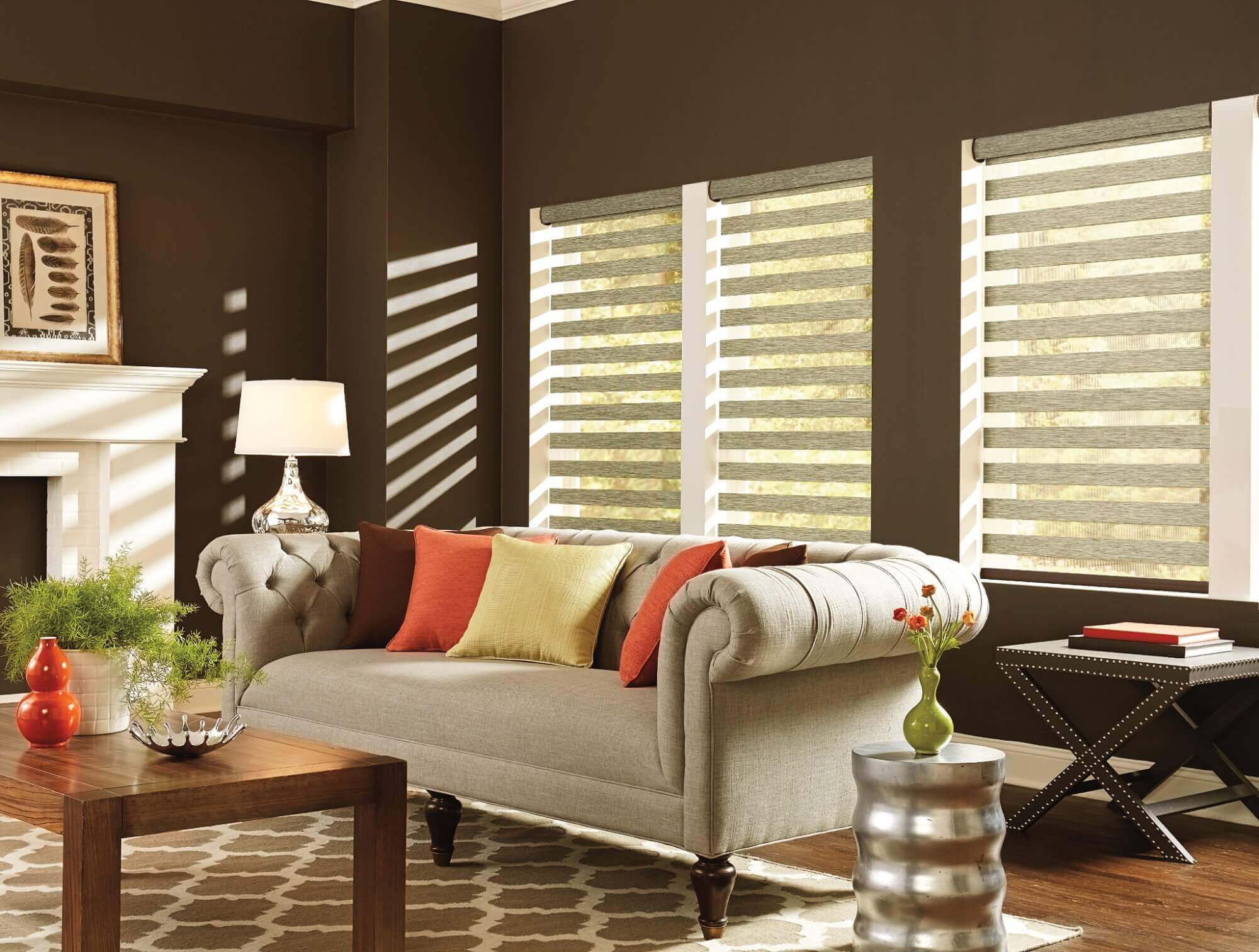 Layered shades are a wonderful, elegant option to allow filtered light into a room while still providing a level of privacy.
Layered shades are made from dual layers of horizontal material that alternate between sheer or light filtering and room darkening materials. When the shades are down, filtered light enters the room between the layers.
Learn more about the benefits of layered shades and some of our exciting options.
MOTORIZED WINDOW TREATMENTS
No matter what window treatment options you decide on for your space, another fantastic feature to consider that will greatly enhance your light control abilities is motorization.
Motorized window treatments have come a long way, and are available to fit within a wide range of budgets. They are also available on a vast majority of window treatment options including blinds, solar shades, roman shades, cellular shades, and even curtains and drapes.
To learn more about some of the many options available with motorized window treatments read one of our past Gotcha Covered articles - 4 Common Misconceptions About Motorized Window Treatments.
The great advantage to adding motorization to your window treatments is that you can program when you want your treatments opened or closed. Instead of running around closing window shades as the sun travels over your home, your motorized window treatments can do it for you!
Or as the sun passes, and rooms begin to darken, your motorized window treatments can open automatically to allow more outside light in. Some motorized systems include sensors that will trigger your window treatments to open or close based upon the amount of sunlight reaching your windows.
And now let's talk about those hard to reach windows! Motorized window treatments are a wonderful option for these windows allowing treatments to be opened or closed by the push of a button. Light control is possible even for skylights and beautiful high windows with motorized window treatments.
Window Treatments Will Reduce Heat In Your Home
During the summer months is when direct sunlight will noticeably raise the temperature of your interior. Window treatments are a wonderful way to reduce the amount of heat entering your home of office.
Window treatments made of certain materials can reflect sunlight helping to keep the heat out of your air conditioned space. Reflective blinds or liners, such as solar shades, can be beneficial in this role. According to the Department of Energy, when completely closed on a sunny day, reflective blinds can reduce heat gain by up to 45%.
Window treatments can also help insulate your rooms. By keeping the cool air from escaping through the windows, you are preventing your AC unit from working overtime. This is a huge advantage to reducing the cost of utilities during the hot summer months.
Window treatments are one of the most effective ways to keep your home energy efficient and lower the cost of utilities. Here is more information about the benefits of energy efficient window treatments.
Getting The Right Window Treatments For Energy Efficiency
The Department of Energy has stated that when installed and used properly, window treatments can be one of the simplest and most effective ways to save energy. The material of each type of window treatment will play a significant role in the energy efficiency of the treatment. Here are some of the top performing window treatment options when it comes to energy efficiency.
CELLULAR SHADES
Cellular shades are a versatile window treatment that can manage light and heat better than any other window treatment option.
They provide excellent insulation to windows because of the unique, honeycomb shaped cells between the material of the shade. These cells trap air and create a barrier between the surface of the window and the room itself.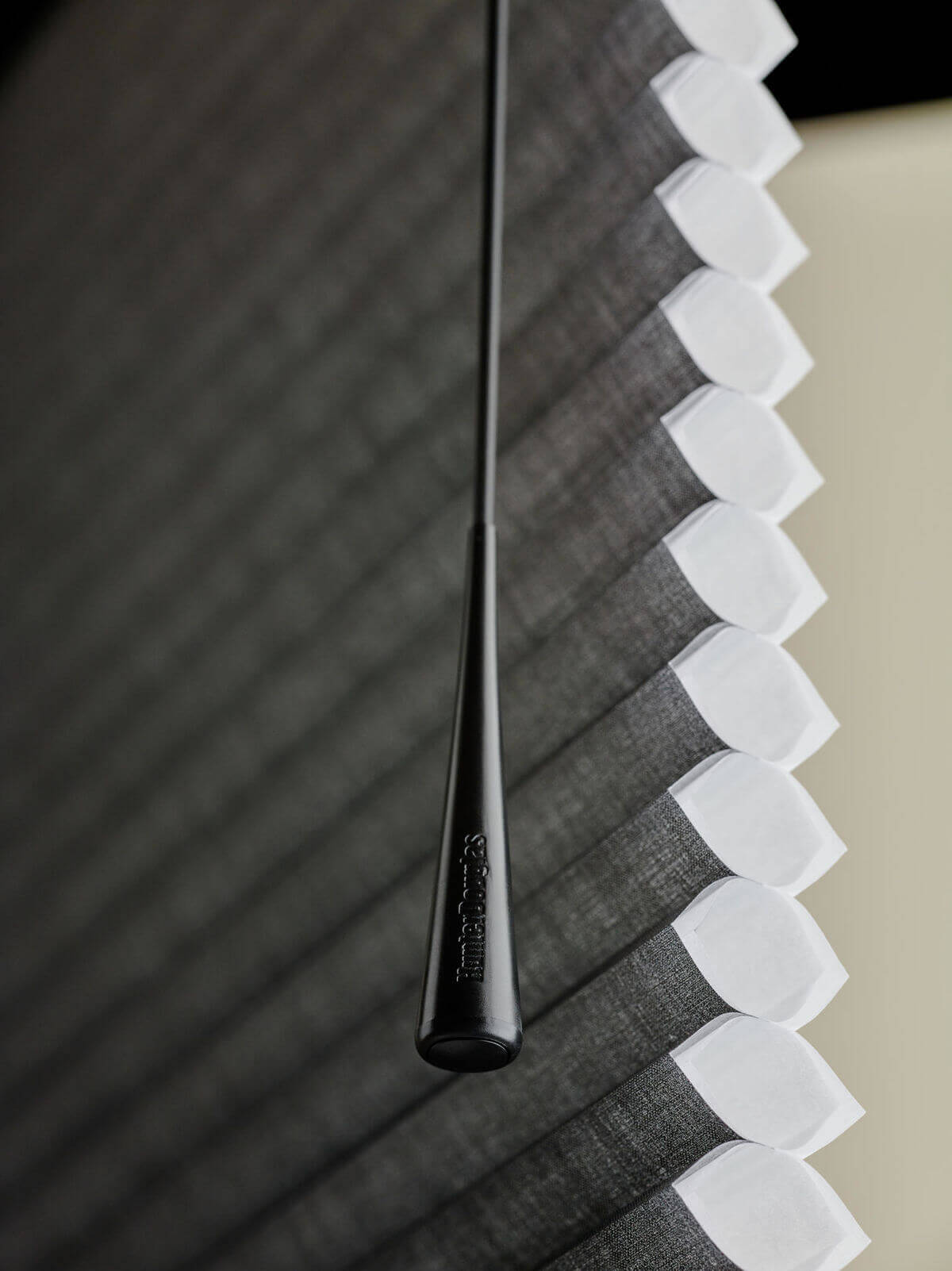 Cellular shades come in a wide variety of materials, fabrics, pleat sizes, opacities, and textures. They are also available in single-cell, double-cell, or triple-cell options depending on the amount of insulation needed.
Cellular shades also have exciting design options such as top-down/bottom-up, motorized, and cordless.
CURTAINS/DRAPES
Curtains and drapes are both soft treatments that add color, texture, and decoration to the room. Curtains and drapes that cover the window and can be opened and closed are excellent insulators to keep a comfortable temperature inside.
Depending on the material and color of these soft window treatments, they can be very beneficial in reducing energy loss when used properly throughout the course of the day.
Curtains and drapes can also be combined with liners or backings to further enhance their energy efficiency.
For example, when in a closed position, medium colored drapes combined with white linings or blackout liners can reduce heat gains by 33% according to the Department of Energy.
ROMAN SHADES
Roman shades combine the soft look of fabric window coverings with the functionality of blinds or shutters.
Depending on the material, Roman shades can provide excellent privacy and light control when lowered. That coverage also reduces the amount of heat entering or cool air escaping from the room.
Roman shades are available in numerous materials and lift options, making these window treatments easy to fit into any space and any style.
Roman shades are a wonderful alternative to curtains and drapes while still utilizing the fun fabrics and materials of soft treatments.
Window Treatments Provide UV Protection
Another benefit that comes from window treatments that provide light control is UV protection. While you may not get a sunburn from sitting next to an uncovered window, UV rays may still be entering your home and causing damage.
Direct sunlight streaming into your home may be beautiful, but what is that intense light doing to your carpets, floors, furniture and other valuables over an extended amount of time? Long periods of light exposure can cause materials to fade or deteriorate.
UV rays are particularly harmful to art work, pictures, books, and other items that may be on display.
Getting The Right Window Treatments For UV Protection
The amount of UV protection provided by window treatments will be determined by the opacity of the material.
By selected window treatment options that are light filtering, you can still enjoy the natural light while protecting your valuables from harmful UV rays.
Here are some great options of window treatments that can help protect your interior from exposure to UV rays.
ROLLER SHADES
Roller shades are simple window treatment options that do not have slats or veins. A roller function lowers a solid piece of material to cover the area of the window.
When raised, this material is simply rolled up into the tube-shaped canister at the top of the window leaving the window unobstructed. The simplicity of this design makes roller shades a popular option.
Depending on the opacity, the color, and the reflective quality of the material, roller shades are great for blocking out any external light and UV rays. Nowadays, roller shades can be made from a variety of materials including fabric, vinyl, and even solar options.
Because of their more basic structure, roller shades are great to pair with other, more decorative window coverings. Adding curtains or top treatments to roller shades can enhance the style of the room while still providing the UV protection you need.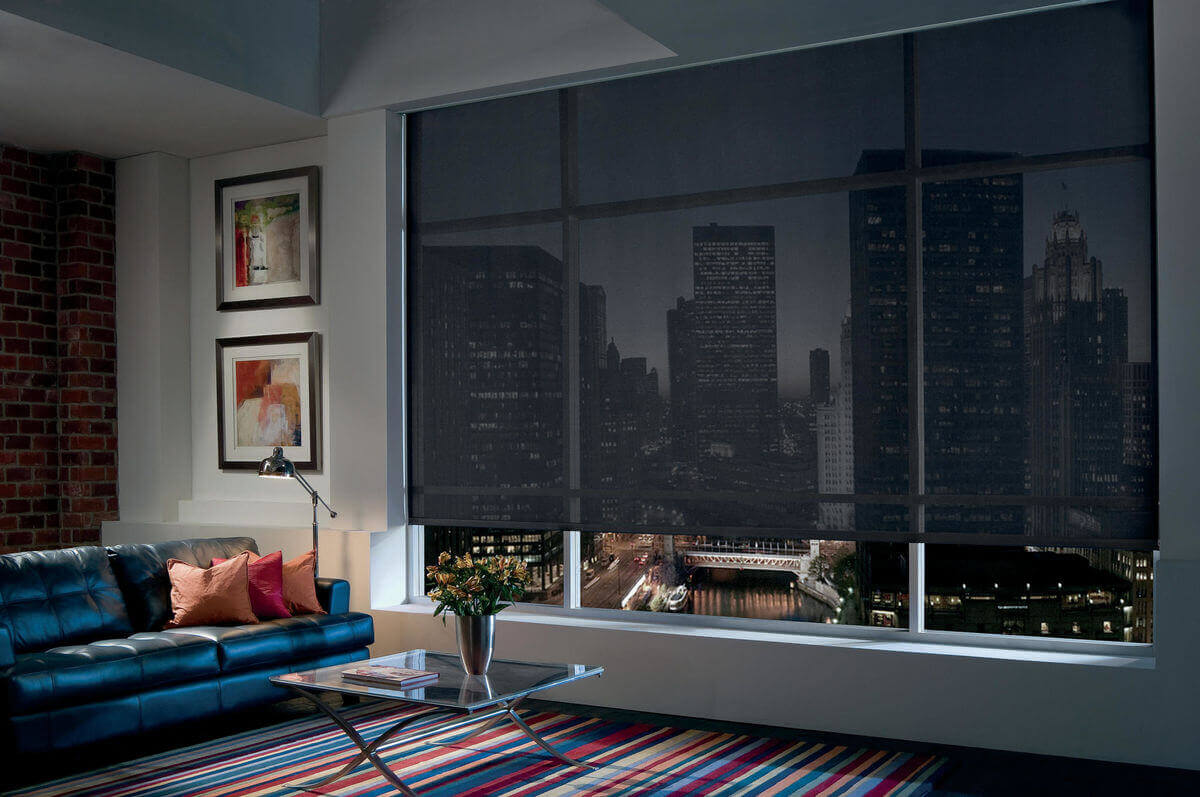 SOLAR SHADES
Solar shades are similar to roller shades in terms of function. The difference is the material used for a solar shade is not a solid piece of material.
Instead, the material is a woven, screen like material that gives it a certain amount of transparency. The tightness of the weave will determine how well you can see through the screen as well as how much exterior light will be blocked.
The main purpose of solar shades is to block the UV rays without fully obstructing the view. This balance can be achieved by playing with the openness of the material. The higher the percentage of openness will determine how transparent the shade will be.
WINDOW FILM
Window film is a window attachment that adheres to the window pane and helps protect against glare and UV exposure.
They are a great option when you want constant protection without having to worry about opening or closing a window treatment. Plus, they protect without blocking the view.
Window film can come in a variety of tints and thickness. Low-e films are another, newer option of window film that can also decrease the amount of heat loss.
Conclusion
Window treatments are one of the best ways to control the amount of light that comes through windows. Light control is important for minimizing glare, improving energy efficiency, temperature control, UV protection, and the overall comfort of your home. All of these are especially important during the summertime.
No matter which room of your home or office you are looking to upgrade with window treatments, Gotcha Covered has what you need in order to be sure you maintain optimal light control.
With thousands of options available, your Gotcha Covered Design expert will be able to help you narrow down the choices to what will serve you best. Our goal is to find the perfect window treatments to fit with your lifestyle and needs.
Reach out to us today and see what our Gotcha Covered Design Team can do to keep your home or workplace cool and comfortable this summer! Call us at (888) 650-6187 or schedule a free design consultation today!
Posted By
Gotcha Covered
Categories: