How To Pick The Best Window Treatments For Each Room Of Your House
Window treatments are an elegant combination of style and purpose. They serve to not just beautify your home and work space, but to also perform a specific function. The functions your window treatments will need to provide will vary based upon the details of the room itself. The windows within each room will also have different requirements that will need to be addressed in order to get the maximum performance out of your window coverings.
When working with a Gotcha Covered design expert, the first thing they do is assess the needs of the room and the windows within that space. They take into consideration all the functional needs of the space as well as your personal needs or preferences in order to make the very best suggestions for your window treatments. Here are a few of the things they consider before making their recommendations.
LIGHT CONTROL
One of the first things to consider is the direction of your windows. North facing windows will hardly ever receive direct sunlight, but windows facing any other direction are bound to receive direct sunlight at some point throughout the course of the day. Window treatments are made to control the amount of sunlight allowed in, but they will differ in the ways they perform that task. Taking into account how much sunlight you want to allow in versus the need to block out harsh rays and glare will determine what types of treatments you will want to consider for each room.
For more information on window treatments and light control, check out our blog post Get The Most Out Of Your Window Treatments This Summer.
ENERGY EFFICIENCY
Along with allowing sunlight in, windows are one of the primary sources of letting heat in and out of your home. It is important to keep your home a comfortable temperature throughout the year. Your location, the direction of your windows, and how many windows you have in each room will determine the amount of energy lost from your windows. And window treatments are one of the best ways to protect against energy loss.
To learn more about energy efficient window treatmentPaste options and how they can help you save money, check out Window Treatments Could Save You Hundreds Each Month.
PRIVACY
Considering the proximity of what is around the exterior of your home will determine your needs for privacy. Nearby neighbors or open space around your home can create a vantage point to see into your home. Sometimes just having a large amount of big windows is enough for you to want window treatments to protect against any unwanted attention.
To learn more about window treatments that provide excellent privacy to your home, read our blog post That Window Treatment Might Look Great, But Does It Actually Do Its Job?
VIEWS
Everyone loves a beautiful view. If your windows look out over a stunning landscape, you will want window treatments that frame your view. On the other hand, if your windows look out over something not as visually appealing, you will most likely want window treatments that will help to block or camouflage those unsightly obstacles.
AESTHETICS
Your window treatment should reflect the style and mood of your space. They should also enhance and complement the decor through color, texture, and patterns. Also consider if there are any architectural aspects of your room that you want to highlight. Window treatments are meant to embellish and beautify your space.
Now that we have talked about a few of the main considerations, we are going to walk through the different rooms in your house and discuss what window treatments will meet the functional needs of each space.
LIVING ROOM WINDOW TREATMENTS
The living room is most often the first room someone will see when they come into your home. This is where you can present yourself and display the sense of style, personality, and mood you want to set for your entire home.
It is important to consider what your lifestyle brings into your living room. What do you use your living room for most often? Is your living room where you sit and read? Or is your living room where you host gatherings and parties? Or maybe you have a game night or movie night each week. Whatever your living room is used for is going to determine what window treatments are best suited for this space.
Living rooms typically have some of the largest windows of the home as well. Depending on the direction these windows face will determine what functions you need your window treatments to perform.
Vertical Blinds
If you need a level of privacy and light control in your living room, then vertical blinds might be just the right fit for this room. Vertical blinds are a stylish option that are great for windows that are wider than they are tall and can make your ceilings look higher. They can be partially opened to allow just some natural light in while still providing a little privacy. Or they can be opened all the way when you want to show off your view.
Roman Shades
Roman shades are made from a piece of material that stacks when raised. Depending on the choice of material, Roman shades are wonderful for privacy. They also have beautiful aesthetic possibilities since you can have them customized with almost any type of material to match your decor. By partially lowering Roman shades, you can still have the pattern and style of the window treatment visible while the rest of your window is open to allow in natural light.
Cellular Shades
Living rooms are wonderful places to gather and spend time with family and friends! Depending on your location and the direction your windows face, your living room might be susceptible to energy loss. If this is the case for you, consider cellular shades for your living room. Cellular shades are the most energy efficient window coverings available. They are specifically designed to trap air in between the layers of the shade to create an insulating barrier that will help prevent energy loss. Cellular shades come in a wide variety of styles and colors that will complement your decor while keeping your living room a comfortable temperature.
Shutters
Interior shutters are one of the most timeless and classic window treatments available. They add a distinct wow factor to your windows, which might be exactly what you want to do in your living room! They create a visual statement in both their open and closed positions. Shutters are also quite durable and incredibly functional. Additional benefits to interior shutters is their ability to block light as well as to inhibit drastic temperature changes. Shutters in their closed position are incredibly effective at keeping your room warm during winter and cool in the summer.
Drapes
What better place to layer on the elegance than in a living room. Long, flowing drapes paired with an eye catching top treatment add a touch of dramatic indulgence to any decor. Drapes are also incredibly effective at blocking harsh light or giving your room privacy. If you are worried about drapery feeling too heavy or dark, consider a different fabric for your drapes. Or consider adding a sheer lining underneath your drapes to create a multi-layered effect. Sheers allow beautiful filtered light to pour into your space while preventing harsh glare from direct sunlight. The best part about drapes is that they can be combined with almost any other window treatment. There's no need to choose one or the other when you can combine multiple window treatments for a beautiful finished window.
What Are The Best Window Coverings For Your Bedroom?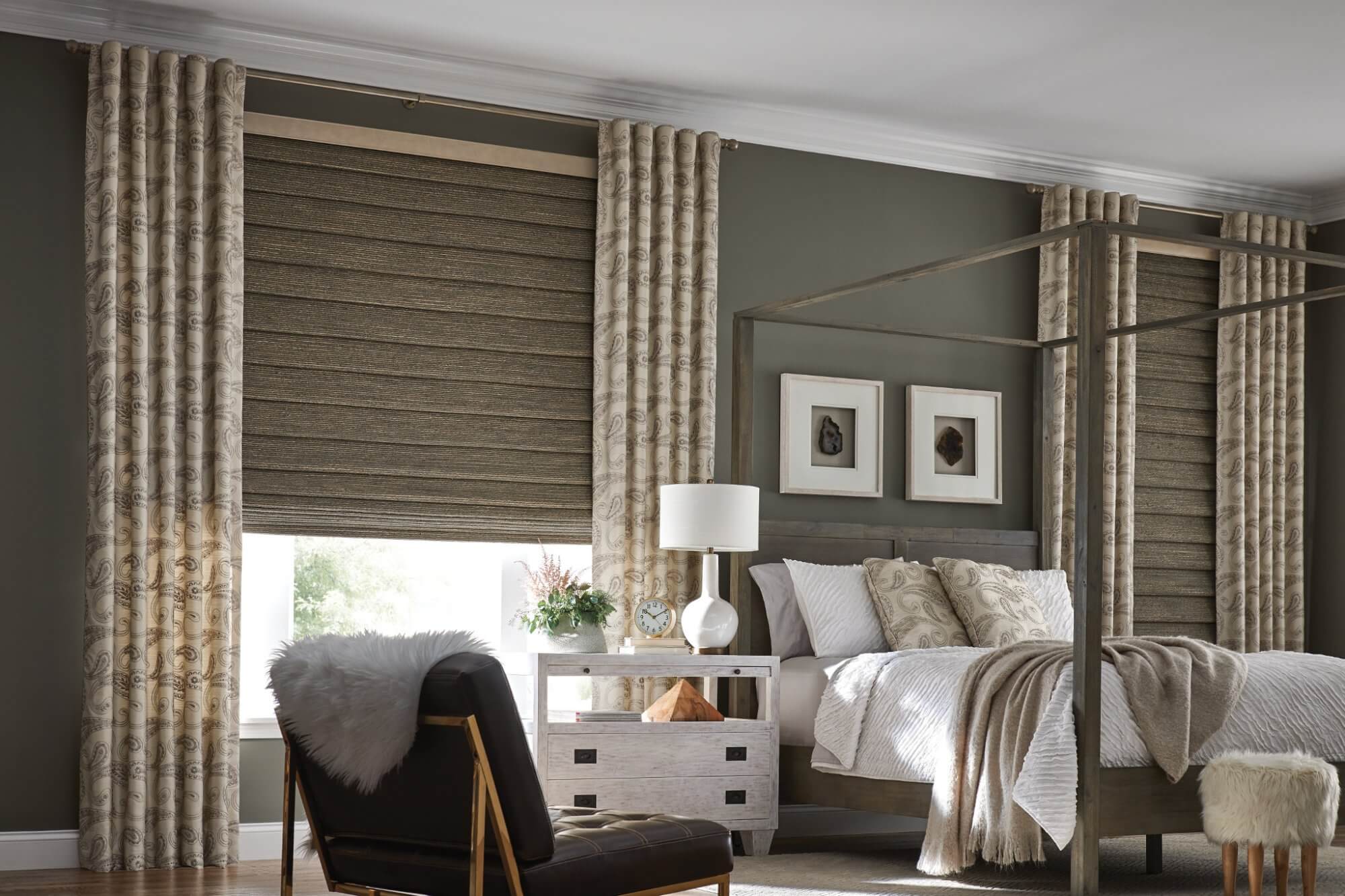 The key to window treatments for bedroom windows is versatility. In your bedroom, light control and privacy will be your primary focus. Throughout the day, you might want your windows to allow natural light in. In the evening you will want to be able to close your window treatments to keep out external light and noise as well as give you the assurance of privacy. And you will want your window treatments to be able to effortlessly go from one to the other.
But you also want your bedroom to be a place that you feel relaxed and comfortable. Your personality and style are reflected in your bedroom, but in a different way than they might be showcased in the rest of your home. Most people desire their bedrooms to be a place of refuge, comfort, and calm. Your window treatments should add to that sense of relaxation, comfort, and personal decor.
Lined Draperies
The best option for noise and light control will be drapes with a lining. Depending on the material of the drapes, they will be able to block much of the exterior light and noise from your bedroom on their own. Adding a liner to your drapes will give you an added layer of insulation to block any additional unwanted light or noise.
Adding a liner will also open up other options for your drapes. The lining adds another beautiful design element to the look of your windows. Drapes are already so versatile because they open and close so easily and elegantly.
Drapes can be added on top of other window treatments such as blinds and shades to create whatever style you are looking for. And the options of material available for drapes are endless in fabric choices, colors and textures. Working with a Gotcha Covered design expert will help you narrow down all of these options to find the right fit for your bedroom.
Roman Shades
Maybe long flowing drapes are just not your style, but you like the idea of fabric window treatments because of the wide variety of options available. Then Roman shades are the window treatments for you. Roman shades can be made from almost any material in a variety of opacities and styles.
When they are open, Roman shades create a beautiful stylistic border to the window while staying within the framework of the window. When they are closed, they will block out the majority of the light coming in through the window as well as add a level of privacy. The amount of light blocked will vary depending on the material of the Roman shades. They can also be partially raised to show some of the color and pattern of the shade while keeping part of the window open.
Cellular Shades
Bedrooms are areas where temperature control can be a major factor. You will want your bedroom to be a comfortable temperature all year long. Since windows account for a large amount of energy loss, window treatments are a wonderful way to make sure your room is warm through the winter and cool in the summer. You can learn more about energy efficient window treatments from another one of our Gotcha Covered articles.
Cellular shades come in a wide variety of styles and materials. There are options of sheer, light filtering, and room darkening materials. They are also available in hundreds of colors, textures, and fabrics. The possibilities are practically endless.
DINING ROOM WINDOW TREATMENTS
Dining rooms are areas of gathering and celebrations. Most of these functions will take place around meal times so consider the direction your windows face when looking for window treatments for your dining room. Your dining room is a great place for elegance and bold statements. Feel free to add some dramatic flair to this room.
Panels
Long, dramatic side panels will add instant elegance and style to your dining room. Panels frame your windows to allow natural light to stream in. Top treatments are a great addition to panels and add an extra design element for a touch of "wow" to your room. Panels are great to layer on top of other window treatments to add texture and depth to your room.
Wood Blinds
Wood blinds are a stunning choice for dining rooms because they add an elevated style to any space. There are so many types of styles, tones, and finishes of wood blinds to choose from. Wood blinds also offer wonderful light control for a room that may receive a large amount of light throughout the course of the day. Wood blinds also offer complete privacy when they are in their closed position. If your dining room windows require a certain amount of light control or privacy, then wood blinds are a beautiful and stylish option.
Roman Shades
Roman shades are a wonderful alternative to long fabric window treatments. There are so many material choices to choose from, the possibilities are endless. Roman shades stay within the framework of the window while adding a touch of color, pattern, and texture. Roman shades are versatile because they can be partially opened to allow some light in while still adding a little style and flair.
KITCHEN WINDOW TREATMENTS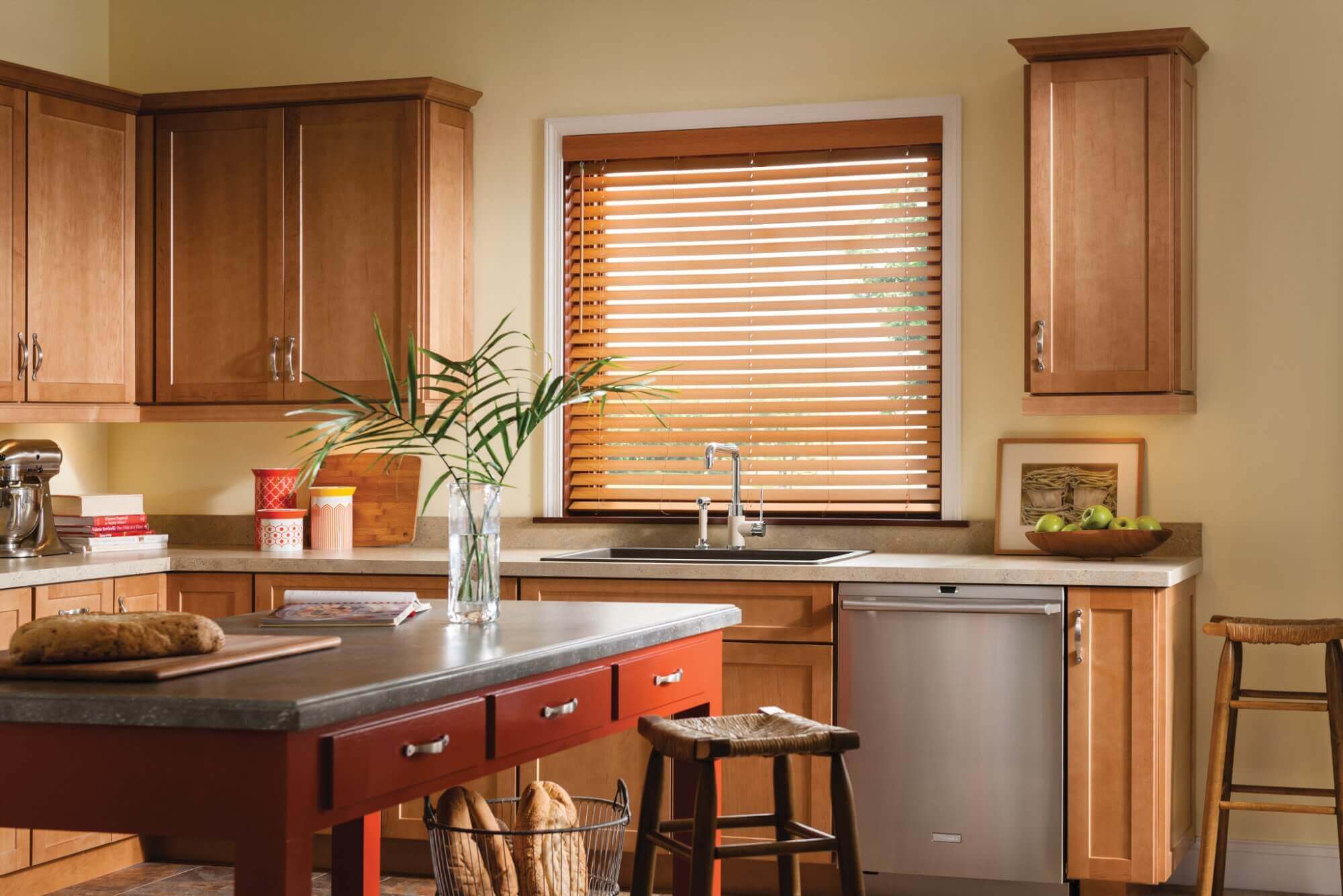 Windows in the kitchen are all about letting in lots of natural light. No one wants a dark kitchen. The primary function of kitchen window treatments should be to frame your windows without blocking the light. Depending on where your windows are located, you may want to consider the type of material for your window treatments. If your windows are in close proximity to sinks or countertops, certain materials might get stained from splashes or could retain odors. If your windows are placed where they may come in contact with moisture or humidity look for window treatments that are made from durable, water resistant material.
Faux Wood Blinds Or Shutters
Faux wood blinds provide the beautiful aesthetic of wood but are much more durable and moisture resistant. They are also very versatile for light control. They can let in as much or as little light as desired based on whether they are open, closed, or just partially opened.
Curtains
Curtains are a great way to add fabric window treatments to a kitchen. And since curtains frame the window rather than extend all the way to the ground, they will stay up out of the way of appliances, sinks, or countertops. Curtains add a colorful and playful touch to any kitchen window.
Sheer Shades
Sheer shades are wonderful for bringing filtered light into a room. If you need to create a barrier for harsh afternoon sunlight, sheer shades may be a beautiful way to soften the natural light that is entering your kitchen.
BATHROOM WINDOW TREATMENTS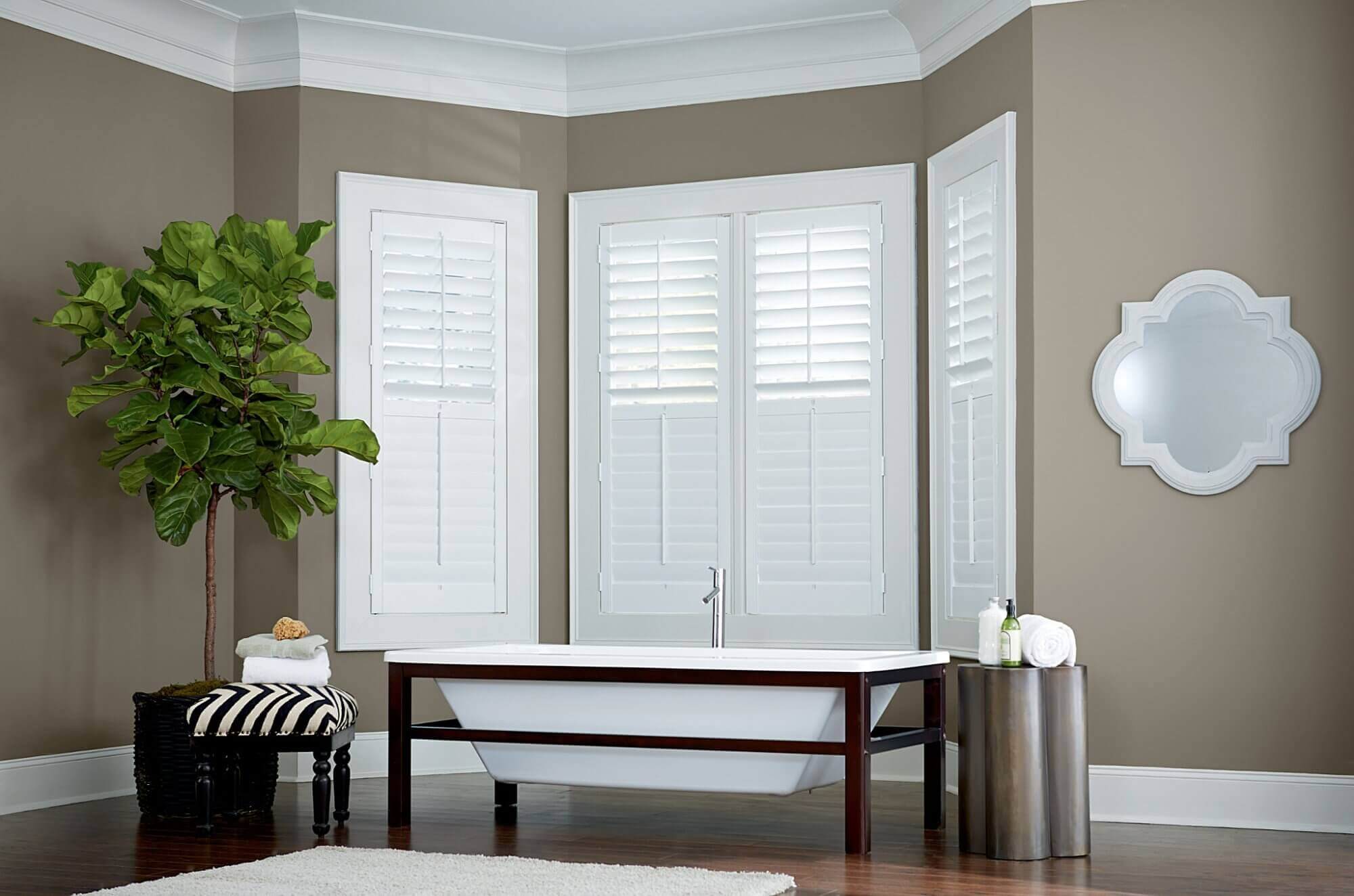 Bathroom windows are meant to allow light in while still providing a certain level of privacy. Window treatments for bathroom windows should be able to do both without much fuss. Another consideration for bathroom window treatments is the material of those treatments. If the windows will come in contact with a lot of moisture or humidity, you will want to use artificial materials so that your window treatments do not prematurely warp or crack. The best window treatments for bathrooms will provide a combination of durability, privacy, and light control.
Vinyl Shutters
Shutters are a wonderful statement for any bathroom. Instead of choosing wood shutters, consider vinyl. Vinyl shutters are one of the most durable window treatment options and will last much longer in humid conditions. They also require the least amount of maintenance which is another perk for adding these to your bathroom. Vinyl shutters provide the look of wood shutters and will stand up against any moisture or humidity that may occur.
Roller Shades
Roller shades are basic, but effective window treatment that are great for privacy and light control making them a perfect fit for a bathroom window. They are available in a wide variety of materials, opacities, and colors allowing you to customize exactly what you need for your bathroom. They are also nearly invisible when they are completely rolled up so they will not obstruct your view when you have them open. The one thing to keep in mind is the opacity of the shades in order to ensure privacy.
For some bathroom window design inspiration, here are some great window treatment ideas from Better Homes and Gardens.
WINDOW TREATMENTS FOR OFFICES, MEDIA ROOMS, AND MORE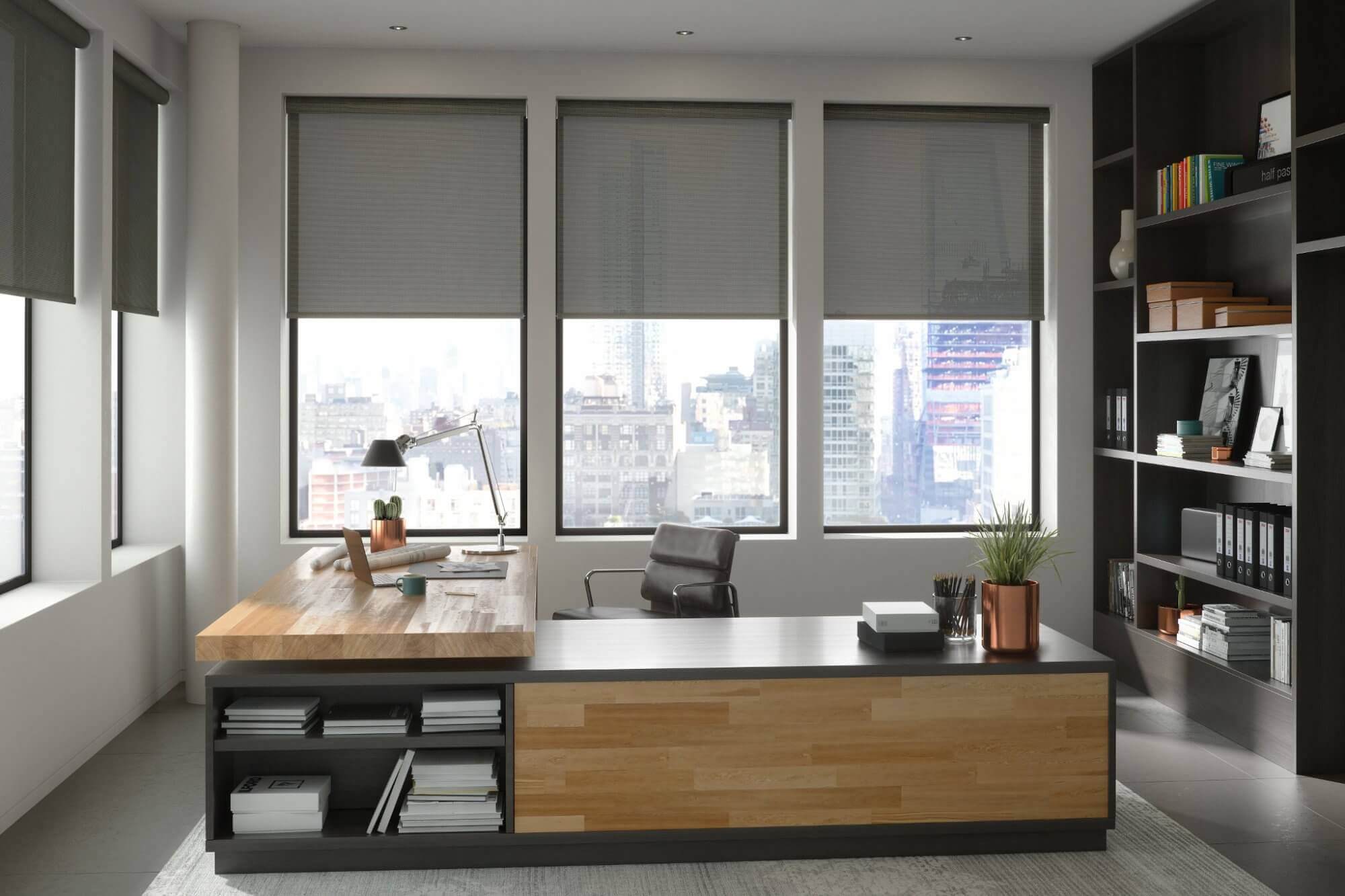 As you have probably already learned, the possibilities of window treatments to fit your style and decor are virtually endless. In order to narrow down some of these options, it is imperative to consider the function and primary purpose of the space. Some rooms are easy to determine the function. But sometimes there is a room whose function is not as clearly defined. The purpose of the room will be determined by the lifestyle and needs of the people using that space.
Do you have an office space that needs window treatments? Your needs for that office space will determine what window treatments will work best for you. Are you on the ground floor and need privacy? Consider simple blinds or a roller shade. Is your desk set up where your computer screen catches a glare from the windows? Then light control is imperative. Work spaces also need to invigorate you without distracting you. If that is the case, consider sunscreens to allow some filtered light to keep you energized. Some opacity will still give you the privacy that you need.
Do you have a TV room or media room that has windows? Your primary need for this type of room will be creating a total blackout effect. When these treatments are closed, you will want all light kept out of this space to allow for the best viewing. Adding blackout liners to your shades are the best way to ensure no outside light can come through.
And what about those rooms that serve more than one purpose? Those playrooms that also serve as a den or study? Window treatments that are versatile and can meet all your needs will be your best friend for these spaces. Blinds and shutters are wonderful options that are easily opened to let light in or closed to ensure privacy. Cellular shades will provide heating efficiency to your rooms if needed. And drapes or curtains are a great option to add on top of any window treatment for a little extra style and comfort. If this room is frequently used by young children, you may also want to consider a cordless window treatment option to ensure there are no safety hazards. There are numerous options to consider, so work with your Gotcha Covered design expert to hone in on what purpose your room serves and they will be able to make the right suggestions for any space.
CONCLUSION
Window treatments play an important part in any room. They are pivotal in helping each room serve its primary purpose while adding beauty and elegance to the space. No matter which room of your house you are looking to upgrade with window treatments, Gotcha Covered has what you need. With thousands of options available, your Gotcha Covered Design expert will be able to help you narrow down the choices to what will serve you best. Our goal is to find the perfect window treatments to fit with your lifestyle and needs.
Reach out to us today and see what our Gotcha Covered Design Team can do for your home! Call us at (888) 650-6187 or schedule a free design consultation today!
Posted By
Gotcha Covered
Categories: