That Window Treatment Might Look Great, But Does It Actually Do Its Job?
Window treatments are a great way to add style and flair to your room. But does your window treatment actually do its job?
One of the foundational concepts of interior design is that form should follow function. No matter how beautiful a design element is, if it doesn't add anything to the function of the room, then it is simply cluttering up the space. If your window treatment is just a decorative addition to your room, that is fine too, but you are missing out on an opportunity to add value to your space.
The goal of truly great design is not just to look good, but to serve a purpose. Great design is effective and efficient at contributing to the environment of your everyday life. For more information on why form should follow function, check out this great article from Freshome.com.
Window treatments are wonderful accessories for adding style and flair to any room, but they are also excellent tools for providing light control, energy efficiency, and privacy. When it comes to assessing the needs of a room, there are certain window treatments that are better equipped to perform specific functions.
In this article, we are going to focus on window treatments that provide a level of privacy to your windows and how they can add to the functionality of the room.
WINDOW TREATMENTS FOR PRIVACY DURING THE DAY
Windows are wonderful additions to every room. They allow natural light and an element of the outdoors to enter the space.
In a previous blog post, we discussed how your window treatments are essential in providing light control. To read more about these benefits, visit Get The Most Out Of Your Window Treatments This Summer.
In this blog post, we are going to be focusing on the benefits of window treatments that provide privacy. It is important to remember that windows work both ways. What can be seen from the inside looking out, can also be seen from the outside looking in.
Window treatments are an excellent way to moderate what can be seen through windows. Privacy is an important function of window treatments, however there are also times you do not want the entire window blocked.
Finding a window treatment that can provide a level of privacy while still allowing some natural light in is not as tricky as it may seem. Here are some of the types of window treatments that are designed to delicately fit that balance between the two.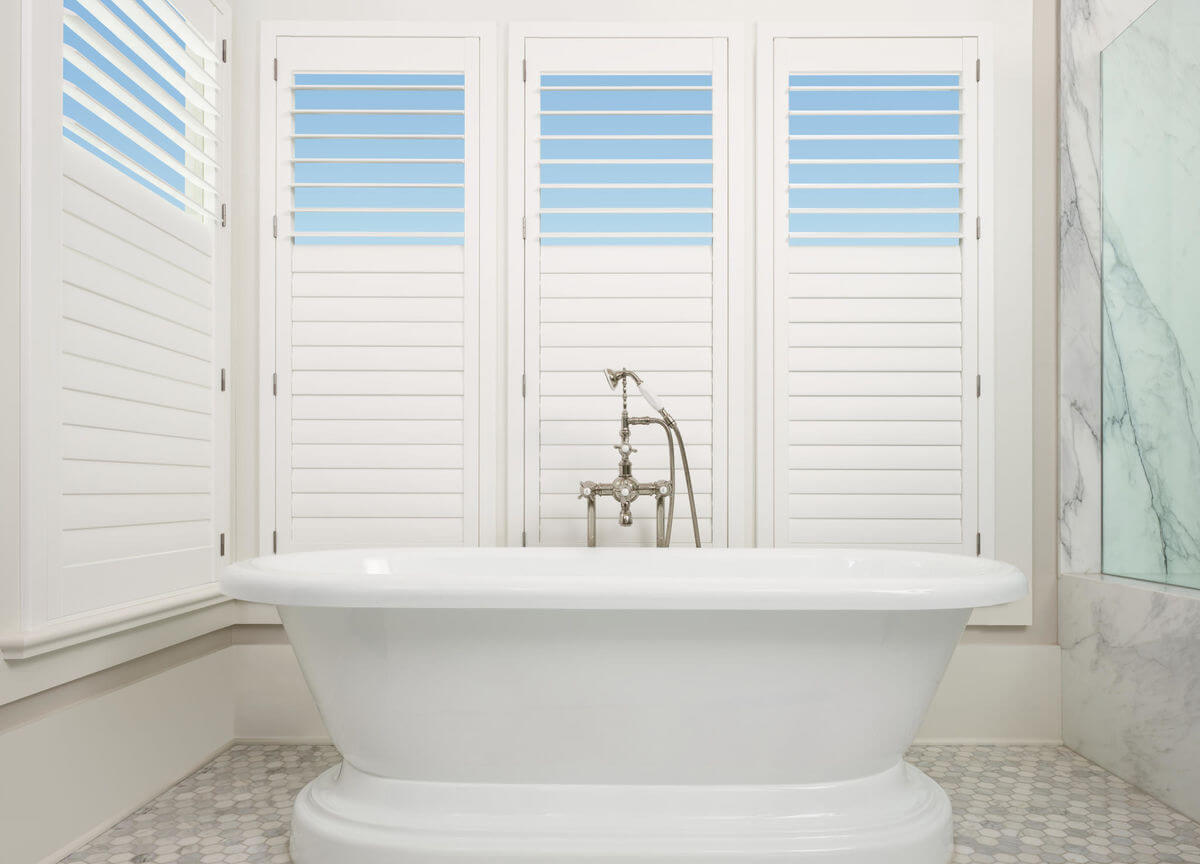 Shutters
Interior shutters are an elegant addition to any room. Shutters add a sense of simplicity and style. They are also a durable window treatment choice that will add value to your home.
The design of shutters allows them to easily go from opened to closed to limit the amount of natural light entering the room. This design style also provides privacy when the shutters are closed.
There are several options when it comes to shutters from material (natural wood, vinyl, PolyCORE, wood composite), colors, textures, and finishes. Shutters like the ones shown in the image above, can also have a split control called a "split tilt" which allows the top section to operate independently from the bottom. Our shutters are completely customizable and can even be modified to fit oddly shaped windows and arches!
Sheer Blinds
If what you want from your window treatments is privacy without blocking out all of the natural light, then sheer blinds might be the perfect fit for your windows.
Sheer blinds offer a perfect balance of beauty and functionality. Designed to allow soft, filtered light to stream into the room while still providing a level of privacy, our sheer blinds are made with soft, fabric vanes and translucent fabric facings.
To read more about some of the benefits of sheer blinds, check out this past article - Privacy Sheers: A New Approach For Large Windows And Sliding Doors.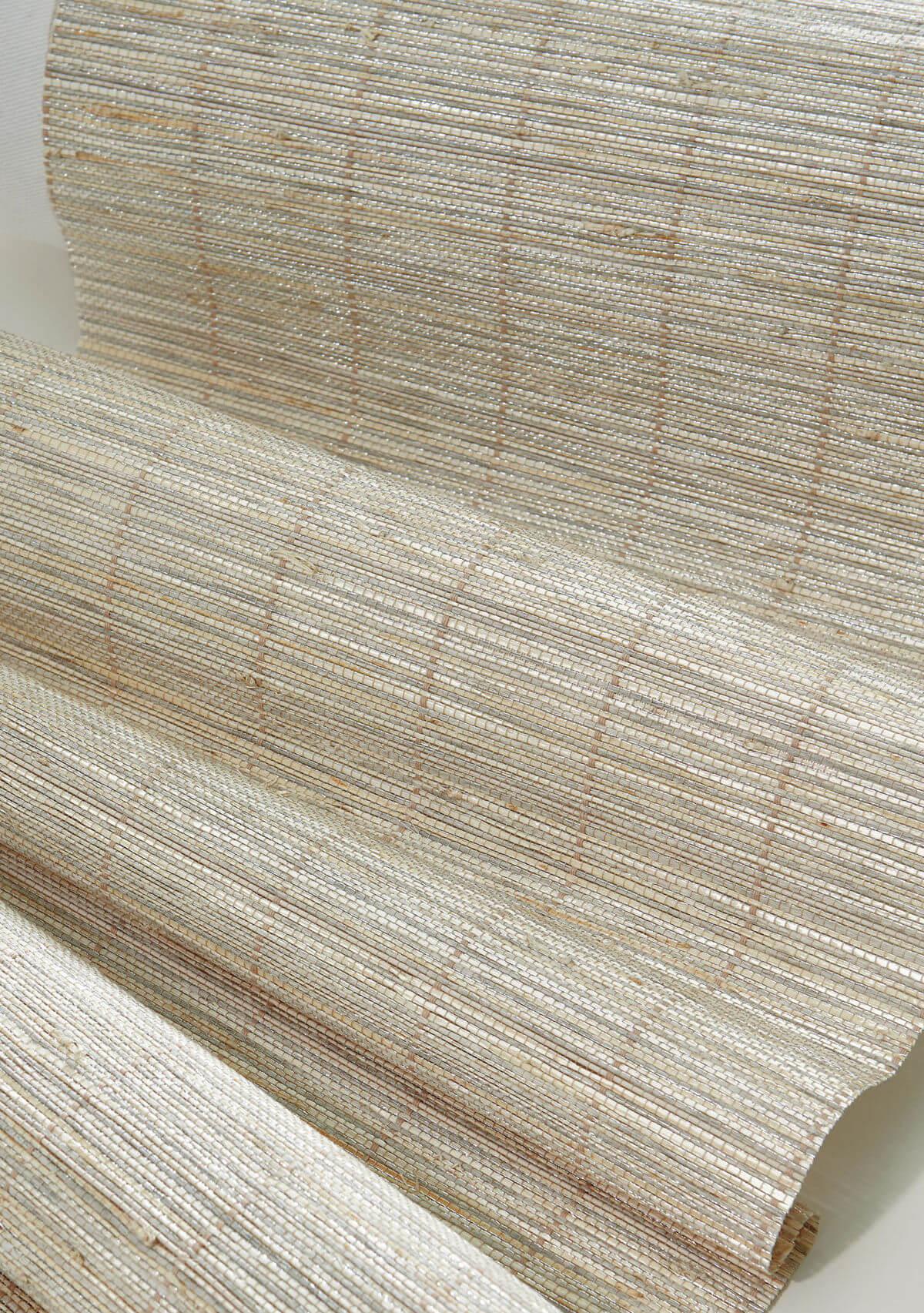 Woven Wood Shades
Woven wood shades are a beautiful, natural window treatment option that bring an element of the outdoors in. They are an incredibly popular window treatment due in part to the variety of styles and materials available including bamboo, reeds, woven reeds, and exotic grasses.
The material and the tightness of the weave will determine the opacity of the finished shade. Some woven wood shades with a very loose weave will have a sheer quality allowing beautiful filtered light to pass through while still blocking some of the outside visibility.
Using a tighter woven material will create a more opaque shade that will block more light from entering the room and increase the level of privacy. If you want to add even more privacy to a woven wood shade, blackout or privacy liners can be added to the shade. There are even options for an operable liner that can be dropped down when privacy is desired or raised up to give the look of the woven wood without a liner.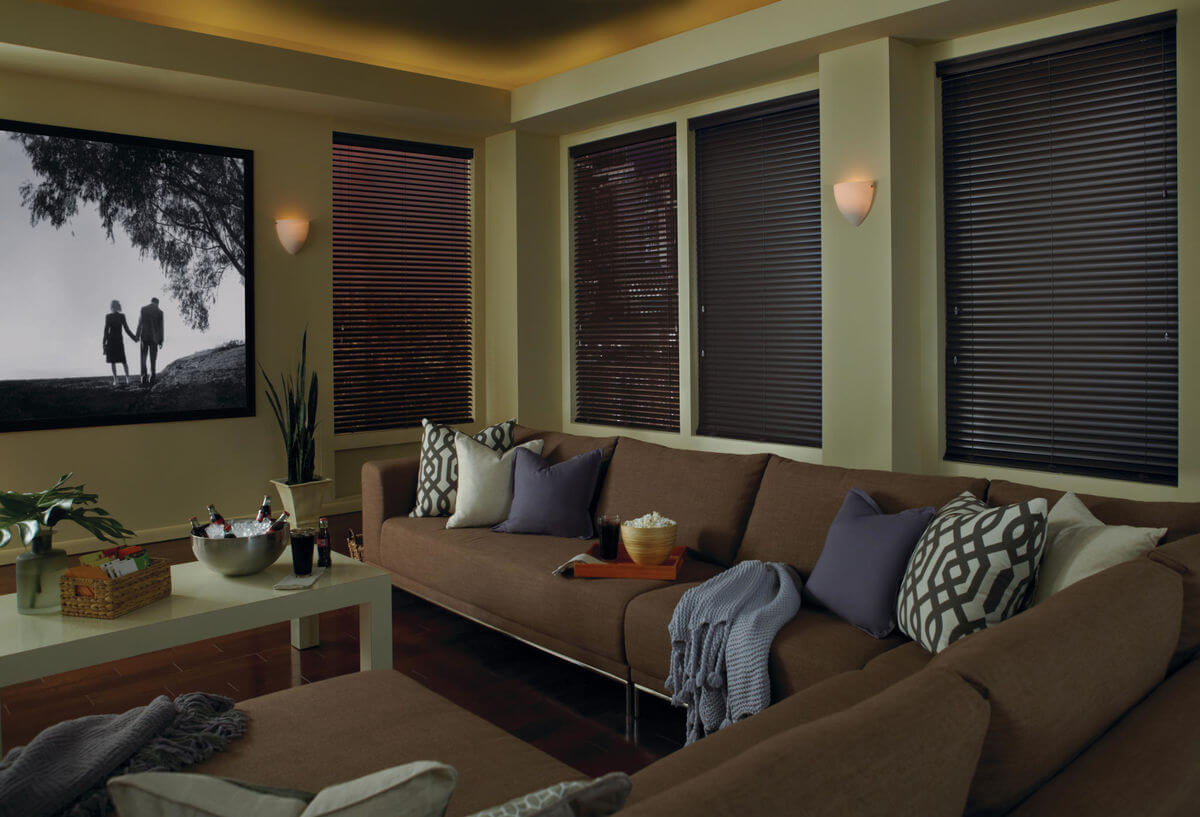 WINDOW TREATMENTS FOR PRIVACY AT NIGHT
Privacy becomes an even more important factor at night. When there are lights on inside and it is dark outside, it is easy to forget how visible the interior may be.
A good rule of thumb is that whatever can be seen out during the day, is what will be able to be seen in when the light source is reversed at night.
In addition, night time is also when you may want your window treatments to prevent outside light from coming in. Especially if your sleep schedule doesn't always fall within hours of complete darkness, or if there are external lights that you have no control over, window treatments that block out extra light will be your best friend.
Certain window treatments are better equipped for creating privacy at night than others. The material and the opacity of the window treatment will be some of the biggest determining factors, but here are some of the best options available for window treatments to add privacy at night.
Blackout Shades
When it comes to privacy and keeping external light from coming in, blackout shades are one of the best window treatment options available.
Blackout shades are made from materials with higher opacity to maximize the amount of light blocked. The treatments are also designed to minimize light gaps from seams or holes preventing light from seeping in around the edges. These treatments are installed with tracks along the sides of the window frame to ensure there are no gaps between the treatment and the frame.
When closed, blackout shades provide a high level of privacy because of the opacity of the material. Blackout shades are designed to keep out external light which in turn prevents someone from seeing in.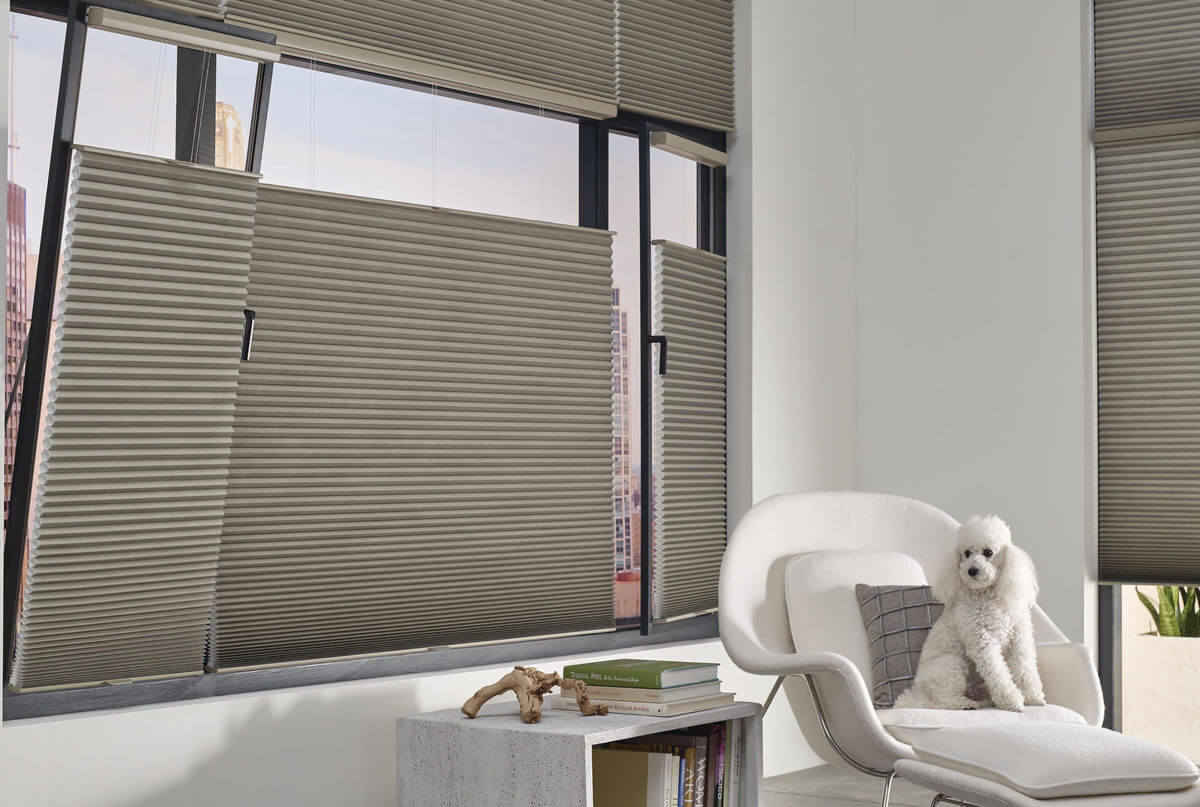 Cellular Shades
Cellular shades are an increasingly popular choice in window treatments because of their functionality and versatility. Cellular shades also come in a wide selection of styles, colors, textures, and are completely customizable.
Cellular shades also come in a variety of opacities ranging from sheer to room darkening. When selecting a window treatment to increase privacy at night, consider cellular shades that have a higher opacity to prevent visibility from the outside.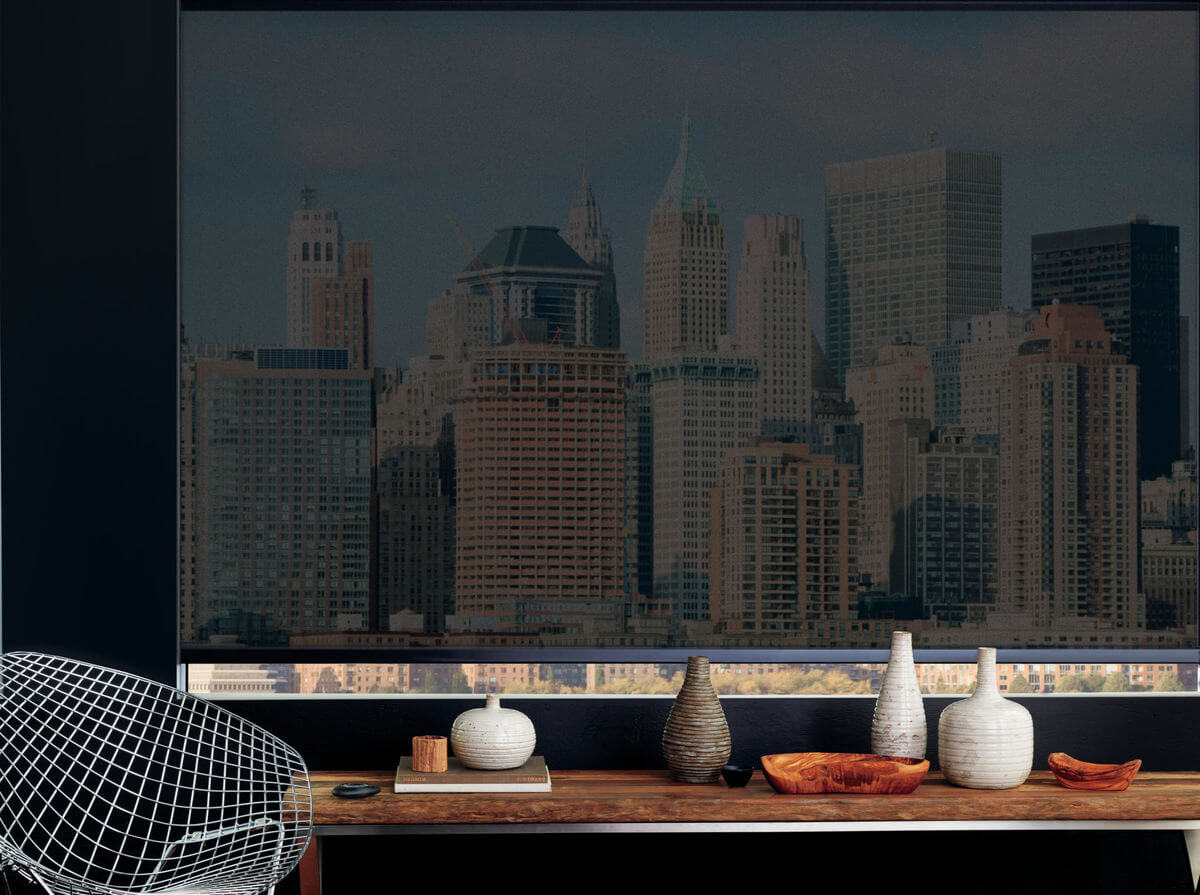 Room Darkening Roller Shades
Roller shades are increasingly popular window treatment options due to their sleek, simplistic design and incredible durability. Depending on the choice of material, roller shades can be an excellent choice for providing privacy.
It is worth noting that when the term "room darkening" is used, it is referring to the opacity of the shade. Room darkening and opaque can be used interchangeably which means that light does not pass through the material of the shade.
Room darkening is not the same as blackout since light can still seep in around the edges of the shade, especially around the roller function at the top. While room darkening roller shades are excellent for privacy, if you want to achieve a fully darkened room, you may want to consider blackout shades.
WINDOW TREATMENT DESIGN OPTIONS THAT ENHANCE PRIVACY CONTROL
Window treatments have come a long way in terms of style and versatility. There are several exciting design options that are now available on more window treatments than ever before.
These features are wonderful additions to any window treatments and will help increase the functionality of your treatments making privacy control even easier.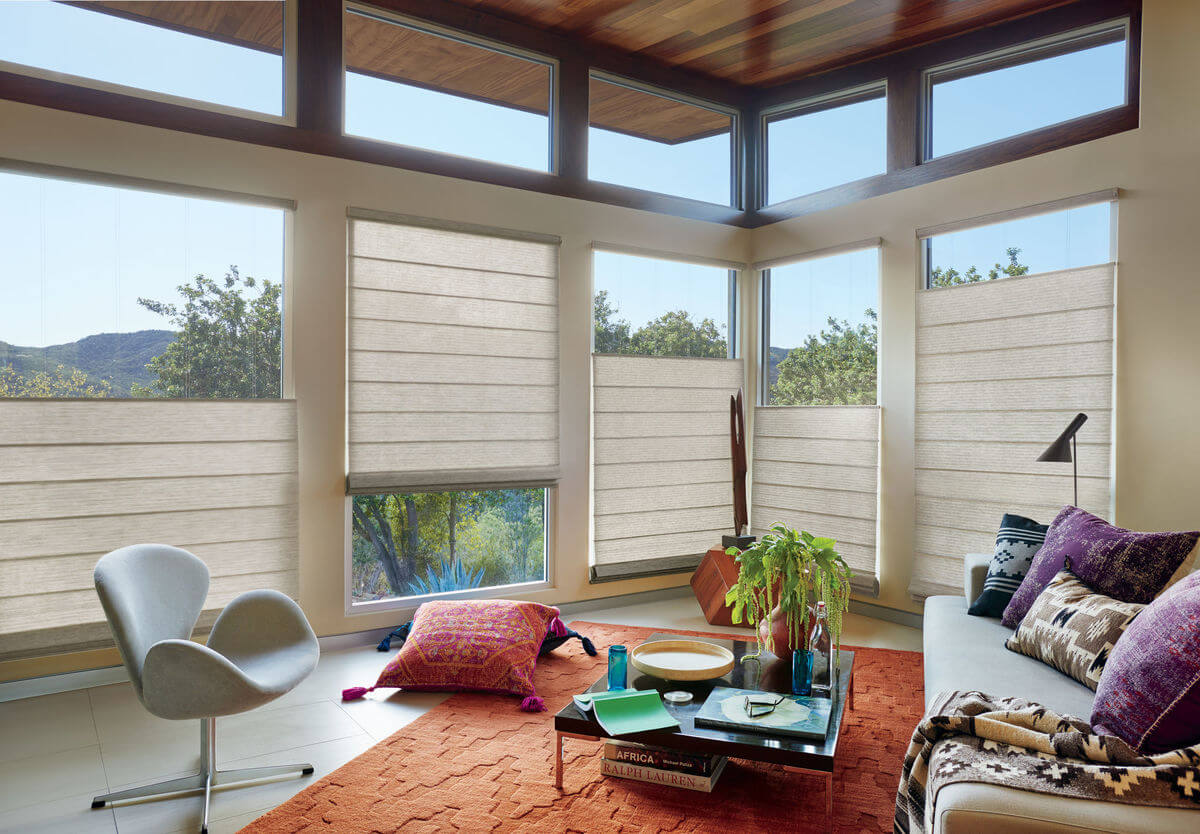 Top Down/Bottom Up
Top down/bottom up features allow for the top portion of the blind or shade to be lowered, and the bottom portion to be raised independently. This feature adds versatility to any window treatment since you do not have to raise or lower the entire treatment.
This is incredibly beneficial in terms of privacy since you have the option to cover a portion of the window, while the other part can be left open.
Some great areas to consider using top down/bottom up window treatments would be windows on the ground floor that may see a lot of outside traffic. Bathrooms are another wonderful location for top down/bottom ups since privacy is essential, but natural light is still desired. And any room that receives direct sunlight at some point during the day is a great candidate for top down/bottom up window coverings since they can be adjusted throughout the course of the day without blocking your entire window.
The great thing about the top down/bottom up design is that it is available on so many different window treatments such as traditional blinds, sheer blinds, Roman shades, cellular shades, woven wood shades, and more. Be sure to talk with your Gotcha Covered Design Expert about this exciting option.
Motorized Options
In order for a window treatment to serve its function, it must be used properly. Room darkening roller shades, for example, are an excellent choice for privacy, but only when lowered and in their closed position.
One of the most exciting new developments in the world of window fashions over the past few years has been the advancements of motorization. Motorization takes away the hassle of actively going through your home or work place and opening or closing your window coverings in order to utilize their maximum potential.
Motorization allows you to reap the benefits of your window treatments whether you are home or away. Many motorization systems allow you to schedule when you want your window coverings opened or closed. Some are even equipped with sensors that will determine when to open or close your treatments based on external factors such as time of day, weather, or seasonal rhythms.
There are so many exciting possibilities with motorization! If you would like to read more about motorization and why it might be a great fit for you, we recently wrote an article all about these features called 4 Common Misconceptions About Motorized Window Treatments.
And be sure to talk to your Gotcha Covered Design Expert about some of these great options and how they can best serve you.
CONCLUSION
The goal of our designers is to provide you with beautiful window treatments that will also effectively enhance the purpose of your rooms. We want the style and form to follow the function of your space.
No matter which room of your home or office you are looking to upgrade with window treatments, Gotcha Covered has what you need in order to ensure privacy, light control, and beauty to your home and workplace.
With thousands of design options available, your Gotcha Covered Design Expert will be able to help you narrow down the choices to what will serve you best. Our goal is to find the perfect window treatments to enhance the functionality of your room.
Reach out to us today and see what our Gotcha Covered Design Team can do to add a level of privacy to your windows while adding beauty and style at the same time! Call us at (888) 650-6187 or schedule a free design consultation today!
Posted By
Gotcha Covered
Categories: