Start The Process

Ready to reinvent your interiors? No need to stress. Our 4-step process makes it easier than ever!

Our Process

What Design Style Am I?

Think you know your style? Take our style design quiz and get even more inspiration!

Take the Quiz

Ideas Just for You!

Whether you just want to research or see a handpicked item from our experts, we have just what you need.

Idea Gallery
Offering a Wide Range of Beautiful Window Treatments
We know you want the best window treatments at the best price. Window coverings that add a touch of sophistication or elegance to any given room, while also adding functional benefits such as increasing privacy and offering adjustable light control. Your window treatments should be durable and beautiful, yet affordable. Thanks to Gotcha Covered of Lewisville, your home or office can look as best it can with our custom options. A member of our friendly team of window treatment experts can sit down with you to look over your options, or we invite you to come to our storefront to discuss what you have in mind.
At Gotcha Covered of Lewisville, we are proud to make your design dreams come true with our huge variety of window covering options. We take a personal, consultative approach to ensure you are 100% satisfied and smiling for years to come.
Contact our Lewisville team today to speak with an experienced design consultant by calling (972) 895-5254.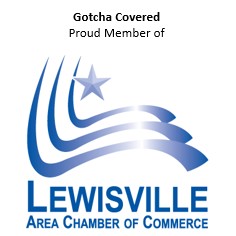 OurService Pledge

At Gotcha Covered, we appreciate and respect our clients. We pledge to provide high quality products and services that will exceed your expectations and add beauty and value to your environment. We are committed to maintaining our relationship with our clients long after the sale.
"Best thing we did for the home"

"Excellent service"

"Beautiful shutters with a view"