Getting Started
Window Treatments in Parker, CO
Choosing window fashions for your new home can be confusing, especially with the wide range of products available. Do you choose blinds or shutters, roman shades or draperies? Functionality, style and budget are typically the three priorities considered when making a decision. But which should you focus on, style, function or budget?
At Gotcha Covered, we say all three!
Because we use a consultative approach when helping you decide which window treatments will satisfy your functionality needs, your style desires and your budget. We can help you narrow your choices without sacrificing your wants, needs or budget.
A wide array of fabric and style options for every budget are available with any window treatment you choose, however, not every window treatment will satisfy your functionality needs. Once you narrow down your needs for privacy, light control, energy efficiency and child safety, the style and budget aspects will easily follow.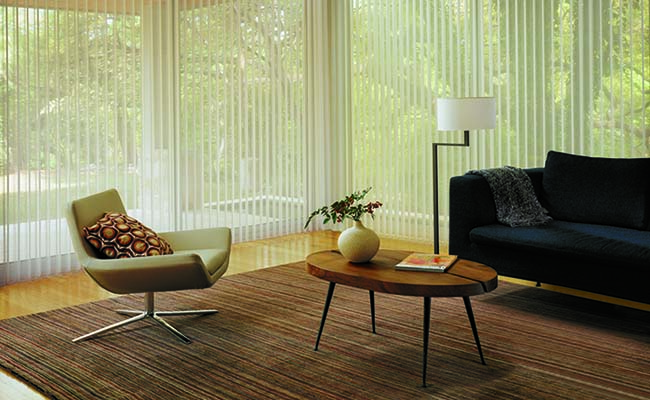 Privacy
Best Choice: Cellular Shades, Roman Shades
Each room in your home has different privacy needs. Common spaces such as living and family rooms generally require less privacy than bedrooms and bathrooms do. Nearly all window coverings offer privacy when closed but that can make for a very dark and uninviting room. Choosing products that balance the need for privacy with the need for natural light is the key.
For maximum privacy with the option for light control, choose shades with the top-down/bottom-up option such as cellular shades, pleated shades, and roman shades. Although the top-down/bottom-up option is not available for roller shades, they do come in wide array of fabrics from sheer to blackout, allowing you to control the level of privacy.
Click here for additional ideas.
---
Light Control
Best Choice: Solar Sheers and Shades, Horizontal Blinds, Shutters
Depending on your window's exposure, you may want to limit the amount of light coming into your room or maximize it. If managing direct sunlight, which can damage furniture and increase energy costs is a concern, choosing a light blocking or filtering window treatment is your best option. Solar sheers and shades diffuse natural light and allow for varying degrees of light control as well as UV protection.
Top-down/bottom-up roman shades are an excellent choice for light control. Choices in fold styles, fabrics and textures allow for a wide range of light control.
If you have north-facing windows and want to maximize the amount of natural light coming into your room, choose horizontal blinds with a larger slat size and view through.
Click here for additional ideas.
---
Energy Efficiency
Best Option: Cellular Shades
No one wants to spend more money than necessary on heating and cooling their home. The goal for an energy efficient window treatment is to control warmth in your room by reducing it in the summer and increasing it in the winter. Cellular shades are the best option for achieving this goal.
Cellular shades come in a wide variety of styles, fabrics, and opacities and are designed to trap air in their "honeycomb" pockets, keeping your home cool in the summer and warm in the winter. Both Hunter Douglas and Graber offer a wide selection of cellular shades with hundreds of colors and textures to choose from and we'll help you choose the one that works best for you.
Click here for additional ideas.
---
Child Safety
Best Option: Cordless Treatments, Motorized Window Treatments
Corded window coverings can present a choking hazard for small children and pets. To help reduce the risk and help save lives, the window coverings industry uses warning tags and other methods to alert homeowners of the potential dangers.
To truly protect your children, pets and family, you will want to choose cordless window coverings for your home. Nearly every style window treatment, from blinds to shades, offers cordless options such as rail lifting, single wand control, clutch lifting system and motorization.

Gotcha Covered will help you find the safest products for you family that not only protect but enhance the style and worth of your home.
Click here for additional ideas.
---
Style and Design
Now that you know the functionality you're looking for, it's time to talk style! For every window treatment, there are hundreds of colors, fabrics and textures to choose from. So, how do you decide?
Traditional or modern? Bright or subdued? Pattern or solid? Your Gotcha Covered window design professional will ask you style questions and guide you through the options to help you narrow your choices, keeping in mind the functionality needs you indicated earlier. Gotcha Covered's extensive selection of fabric options means you will easily find a color, pattern and texture to fit your budget, and your room's style.
You can also begin to find some style inspiration in our Idea Gallery where you can see examples of window coverings either by room or by kind of treatment.
---
Ready to get started?
Give me a call today (303) 625-9997 or fill out the contact form to get started with your complimentary in-home consultation.