Alec Jopp and Jackie Tomyn
Owners and Designers
We are so excited to introduce ourselves! In 2016, we moved to our home in Summerlin, Nevada from Calgary, Alberta. Together, we have worked in the window treatment industry for over 15 years both in Canada and here in the Las Vegas area. We greatly enjoy how much there is to do in our community and we are excited to bring our window treatment expertise to this thriving area.
Alec has started several businesses over the years including a graffiti removal and power washing company, a Subway and two pizza takeout locations, and a window covering installation company in Canada. He has also worked as a commercial and residential realtor, but his true passion is cultivating and developing his own businesses.
Jackie is highly skilled in all areas of organization and office management. She previously worked with an oil and gas company in Northern Alberta, while also helping Alec with all aspects of his businesses. She will continue to organize and manage the details for Gotcha Covered of Summerlin.
In our free time, we love trying out new restaurants and attending local events such as Golden Knights hockey games. With so many people coming and going in Vegas, people watching is always exciting as well!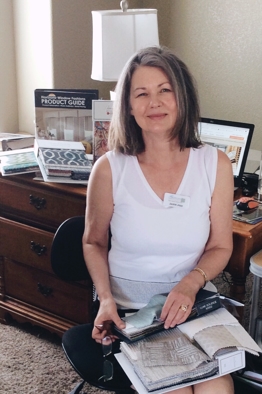 When we are ready to get away from the busyness, we take our trailer out on the road! We both love to hike and camp. Alec is also a former commercial hot air balloon pilot, and he is looking forward to getting back flying again. He has been volunteering at some of the hot air balloon festivals in Nevada and Utah, and whenever we need a little time in nature closer to home, we love visiting Red Rocks Canyon Park.
We would love for you to keep Gotcha Covered of Summerlin in mind when you hear friends and family discussing a need for window treatment options. Have them give us a call at (702) 935-5644 or schedule a free estimate online!
We are looking forward to working closely with our customers and introducing them to some of the exciting new technology available, such as motorization and smart home systems. As a Gotcha Covered franchise, we offer:
Extensive selection of both hard and soft window treatments from top designers such as Hunter Douglas, Graber, Comfortex, and more.
Expert guidance to help identify the best window treatments to meet your functional needs, complement your design style, and work within your budget.
A complimentary design consultation conducted in your home or office to save you time and give us the opportunity to visualize your needs.
We would like to thank you in advance for your support! We are excited for this new chapter and we know that it will be life changing and an amazing journey! Thank you for sharing it with us!
Sincerely,
Alec Jopp and Jackie Tomyn