Add Warmth & Elegance to Your Home with Custom Shutters
No matter your design style, from traditional to contemporary, custom window shutters add warmth, elegance and value to your living space. Available in a variety of colors and finishes, we offer an extensive selection of shutters in four materials: wood, wood composite, vinyl, and polyCORE.
Which Shutter is Right for You?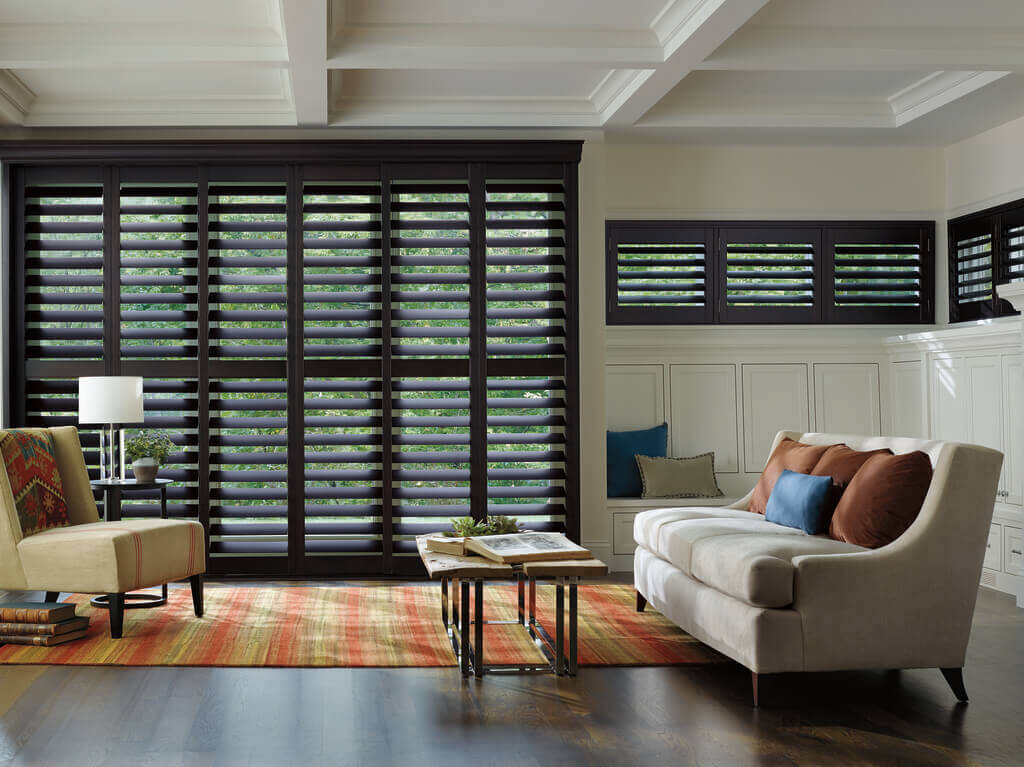 Although each shutter material has its unique design characteristics, all shutters have varying levels of benefits and features in common:
Light control: Shutters offer superior light control and can completely block out the light when closed, or flood your room with light when open.
Energy efficiency: When closed, shutters offer a high level of insulation both in the winter and summer.
Safety: The absence of cords makes shutters an excellent choice for homes with young children and pets.
Motorization: No matter which material you choose, your shutters can be motorized to open and close with the touch of a button.
Composite Wood
If you're looking for a shutter that looks like wood but has the durability and price point of a vinyl shutter, wood composite shutters are your best choice. Made from a unique wood composite core and coated with acrylic, these shutters will stand the test of time and won't fade, chip or crack. Available in modern color choices and wood grain finishes, wood composite shutters will be a beautiful and affordable addition to your home.
Wood
It's hard to deny the richness and architectural appeal of wood. Wood shutters are the most durable of the materials available and have the most design options including a large selection of stain and paint colors and finish techniques. All our wood shutters are made from responsibly managed, high quality North American hardwoods.
PolyCORE
Indestructible is the best way to describe these shutters. Constructed from modern materials and reinforced with aluminum, these shutters are guaranteed not to fade, crack, chip, peek or discolor, regardless of exposure to extreme heat or moisture.
Vinyl
This durable, waterproof and easy to clean shutter is the best material choice for rooms with high humidity, such as a kitchen or bathroom, and will not be affected by the constant exposure to damp air. Available in a variety of colors, vinyl shutters can be customized to match your room's décor.
Now that you know the basics of window shutters, it's time to schedule your complimentary in-home consultation. Your Gotcha Covered consultant will meet with you, learn about your functionality, style and budget needs to help you decide which shutter is right for you.
Ready to Get Started?
Give us a call at (888) 650-6187 to schedule your complimentary in-home consultation.
Posted By
Gotcha Covered
Categories: