Popular Interior Design Trends For 2020
It is the start of a new year and a brand new decade. Decades have a way of developing a style and motif all their own.
Trends inspire creativity and design to move in new directions. It's exciting to see certain elements and themes become more prevalent and anticipate their potential outcome. Some design trends will be one hit wonders and others will become the defining characteristics of this era.
What window treatments are in style for 2020?
COLOR PALETTES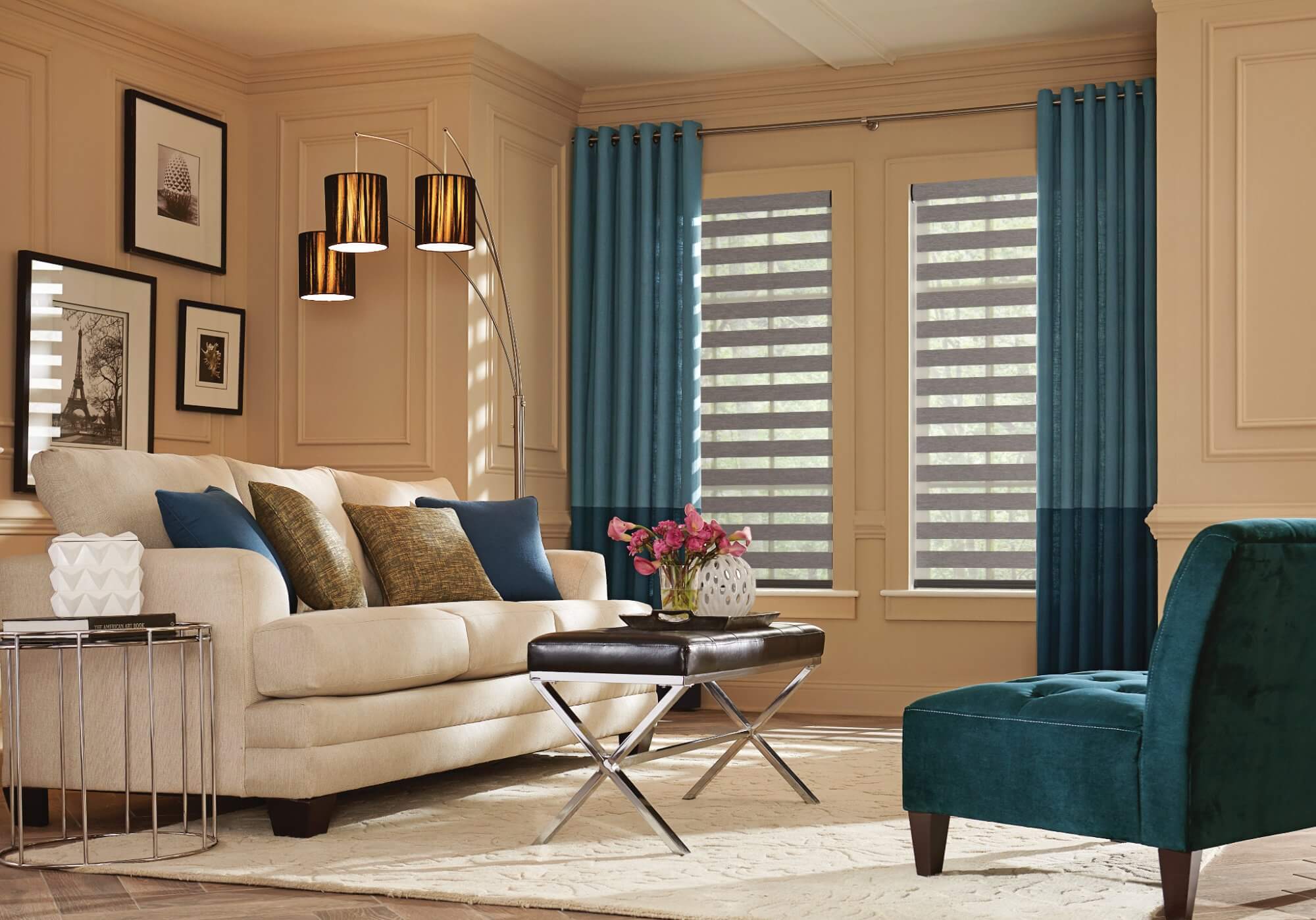 This year will favor warm, neutral colors. Move over cool gray and stark white and make room for rich browns, warm tans, and sandy whites. While neutral colors may still be the more prevalent choice, there will be a rise of brighter, bolder color choices as well. Whether just as accent colors or as the more dominant color choice, look for fun, bright colored accessories, art work, edging and trim to pair with more subtly colored decor.
WARM METALLIC ACCENTS
Metallics are coming back into play this year. Once again, the warmer colored metals such as gold, brass, and bronze are being chosen over the cooler colored metals like silver, pewter, and nickel.
Adding some shine is not just limited to metal hardware and fixtures. Gold accents are being added in fabrics and textiles as well. Shiny fabrics are also being used as edging or trim to upholstery and window treatments to add an eye catching element.
CLASSIC BLUE
Pantone's color of the year for 2020 is Classic Blue. This color represents a return to something timeless and familiar - a true classic. Blue also brings a sense of calm and stability while evoking a sense of anticipation for what is to come.
When describing Classic Blue, Pantone said they chose a shade of blue that would be seen in the sky at dusk. A feeling of peace and rest as one day closes and hope and wonderment at the vastness of the night sky is a wonderful embodiment of what we all are looking for in the year ahead. We are all searching for this sense of peace and contentment while dreaming of what lies ahead. You can learn more about the Pantone Color of the Year - www.pantone.com/color-intelligence/color-of-the-year/color-of-the-year-2020.
Classic blue is already all around us, but be prepared to see even more things become available in this color. While we would never recommend completely redoing an entire room based upon a trend, if this is a color that speaks to you, enjoy finding fun and unique ways to incorporate it into your living and working spaces. When you have a color that truly resonates with you, why not incorporate it into your everyday environment.
NATURAL MATERIALS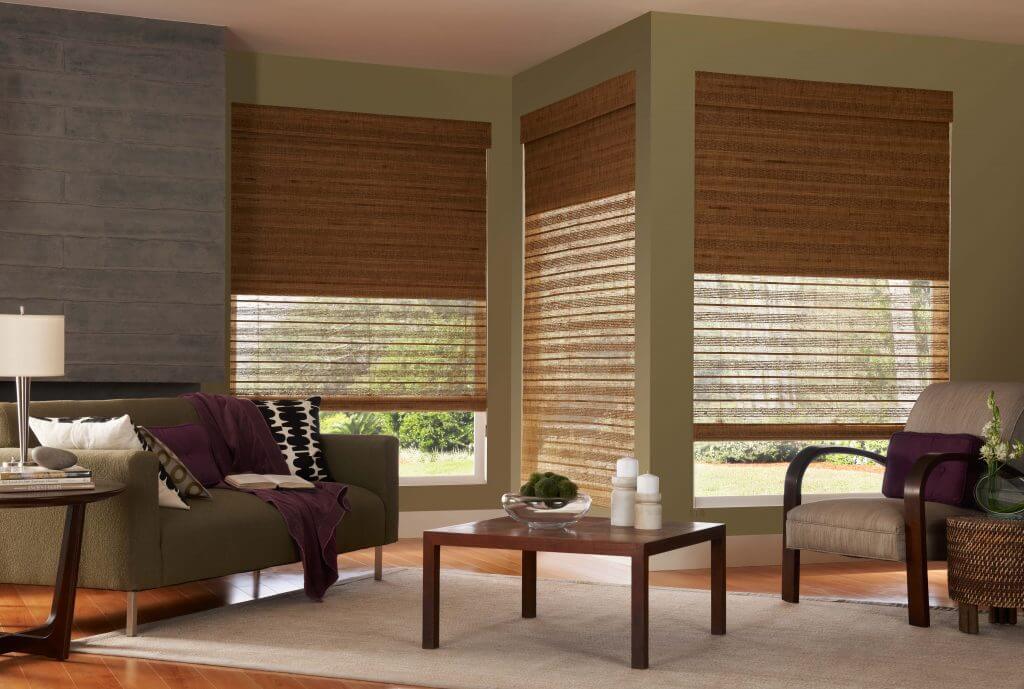 With warmer color palettes come a parade of unique wooden materials. Prepare to see a rise in natural, untreated wood, bamboo, and rattan furniture and accessories.
Natural materials not only match the color trends of the year, but also go hand in hand with the growing popularity of using environmentally friendly resources. Along with wood, there will be an increase in natural fibers such as hemp, reeds, and grasses.
ORGANIC AND SUSTAINABLE
People want to know where and how their items are being made. This growing trend of purchasing organic and sustainable sourced materials now applies to furniture and accessories as well. Wanting to know that the items we have around us have been responsibly produced and distributed is an important element in making us feel more in touch with the global community around us.
Feeling well grounded and at peace is one of the key underlying factors in this year's trends and this shows in the materials that are being chosen.
TEXTURES
An added benefit to using natural materials such as woven woods, bamboo and rattan is the assortment of textures that come into play. Texture is not limited to just these materials, but can be found in a variety of fabrics. Adding tassels and fringe are other ways of incorporating texture.
Adding texture to a space brings a visual element as well as a tactile element to the design. Texture allows us to explore with more of our senses than just our eyes. An emphasis on combining different textures to create a three dimensional palette will make rooms feel more dynamic and engaging.
There are so many wonderful window treatment options that use wood, woven woods, rattan, bamboo and other natural materials. They can be used by themselves or with decorative side panels and elegant top treatments. They come in a wide variety of styles and hues, so reaching out to an experienced design consultant can help narrow down the options to find what is just right for your space.
FARMHOUSE AND ENGLISH COUNTRY DESIGN STYLES
A growing emphasis for 2020 is going to be bringing the outdoors in. With the colors and materials already discussed, this is a natural place for Farmhouse and English Country design styles to flourish.
Farmhouse Design embraces and beautifies the rustic with untreated woods and homey, domestic accessories. It is meant to create a warm, cozy, and relaxed environment. Warmer color palettes are combined with wood to achieve this simple yet inviting decor. This matches well with the trends of 2020 that also emphasize warmer colors and the use of natural materials.
English Country Design is all about bringing the flora and fauna indoors. With bright pastels and floral patterns, this design style cultivates a close relationship with nature. It incorporates the feeling of cozy cottages, traditional wood furniture, and luscious gardens. Fixtures, hardware and accessories are predominantly brass. The focus on nature and the use of wood and brass all align with the trends of 2020.
It is expected to see a contemporary blending of these two design styles to create something fresh and new for 2020. Contemporary style typically reflects the current trends and brings certain stylistic elements together. Prepare to see Farmhouse meet English Country and create a cohesive design style that reflects the traditional while adding a touch of urban and contemporary flair.
BRIGHT COLORS, BOLD PATTERNS, AND BOTANICAL THEMES
The color palettes for Farmhouse and English Country both feature warmer neutrals such as off whites, eggshell, tans, and beige. They also use bright colors that span the color spectrum. There is typically a lot of blues and greens that are paired with natural wood tones. These colors fit right in with the trends of 2020.
Bold patterns are another common element for both Farmhouse and English Country design styles. Larger prints such as bright floral patterns and paisley can be paired with smaller prints like gingham, stripes, and checks. These patterns can also be used in upholstery to add color to natural, unfinished wood furnishings. Ruffles and lace trimming are often added as well to bring more texture and color. Brightly colored accessories can also be used to stand out against solid neutral backdrops.
Botanical themes are not limited to floral prints and wood furniture pieces. The year 2020 is sure to see a rise in tropical inspired patterns and colors as well. Reeds and grasses will be popular as well as palm fronds and cane furniture. Bringing nature indoors is a popular theme that can be embodied in a variety of ways.
COLOR BLOCKING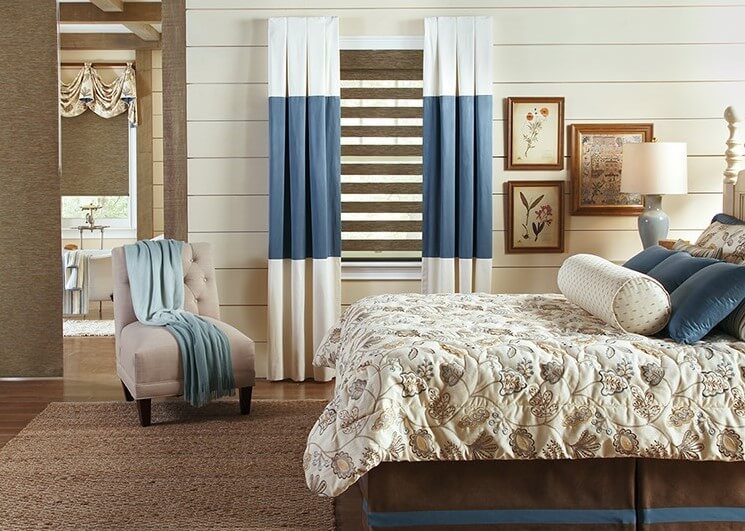 In design, color blocking refers to the use of contrasting blocks or panels of solid colors. This is popular in the world of fashion when someone pairs a bright blue top with fiery orange pants. But this is also commonly used in interior design to create contrast.
Color blocking can be seen in interior design by painting an accent wall a contrasting color from the rest of the room. Or choosing a contrasting color for kitchen cabinets that complement but do not match the rest of the room.
Color blocking can sometimes be seen on the exterior of a building by choosing two colors to play off one another. Or when a front door, garage door, shutters, or trim is painted a contrast color from the rest of the house. Looking for other ways to incorporate color blocking in your home? Here are some great ideas from Houzz on this popular design trend.
Color blocking is used for soft window treatments to achieve the same effect. Contrast adds dimension and visual interest to the window treatments to give the overall window a "Wow" effect. For drapes, curtains, or fabric window shades, two fabrics are chosen to be used together. They can be a combination of two solid contrasting colors, or they can incorporate a patterned material.
It is important to keep the ratio of each fabric in mind. Thirds and fifths are the best ratios to stick to when using color blocking for window treatments.
Have questions? Our design team is a great resource for any questions you may have about adding color blocking to your soft window treatments.
MOTORIZATION AND HOME AUTOMATION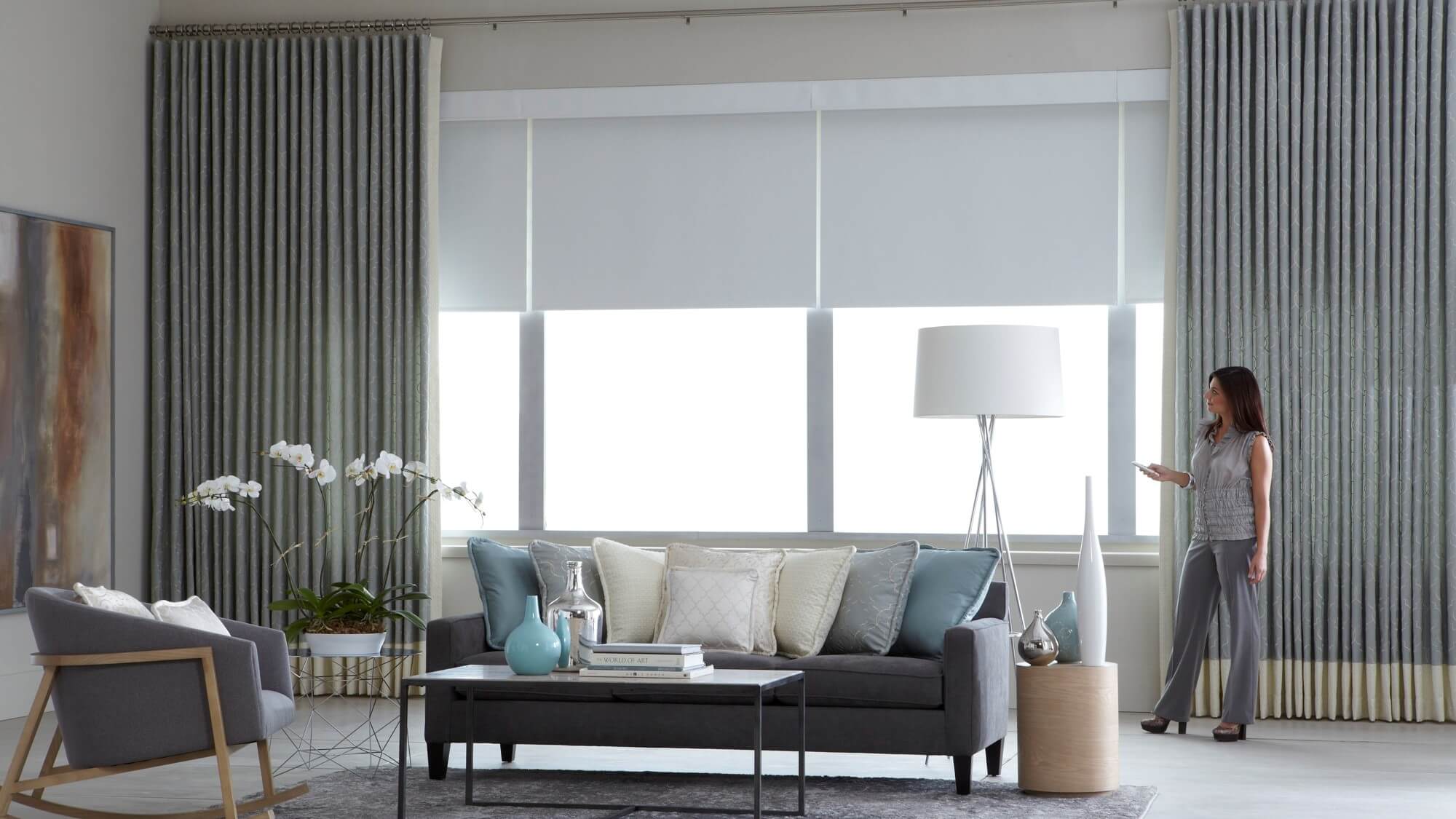 A trend that just seems to be growing in popularity is motorization and home automation. 2020 is going to be a year of even more technological advancements and this is going to play into what people are deciding to put in their homes.
Motorization has come a long way in the world of window treatments. Technology has made it easier to make motors smaller and more efficient which means we have more options of what to do with them. Motorization of window treatments removes the need for cords which has proven to extend the life of the treatment. It also makes these treatments much safer for young children and pets since they are cordless.
Home automation goes hand in hand with motorization. Once your window treatments are motorized, you can control them from a switch, a remote, or even your phone! Home automation has grown in popularity exponentially, and we don't see it slowing down anytime soon.
There is also a level of convenience that comes from having the ability to choose how your home operates. With home automation, your window treatments can be scheduled to raise or lower at certain times whether you are home or not. This in turn will increase the functionality of your window treatments.
At Gotcha Covered, we believe motorization and home automation are the way of the future. We have put together a list of some of the common misconceptions regarding motorized window treatments and how we believe some of these obstacles are being addressed and overcome in today's motorized options.
CONCLUSION
We hope your year is off to a great start! The new year is a great time to reflect on the past and prepare for the future. Now is a great time to refresh and revive your current interior design style.
Trends are a great way to branch out a little and try something new. You do not need to add all of the design elements we have discussed in this article, but if you are looking for ways to give your space a little New Year's makeover, consider trying a few of these ideas.
Custom window treatments are a great way to give your rooms a brand new look and feel without renovating the entire room. The perfect window treatment will take your room from ordinary to extraordinary! We have years of experience specializing in shades, shutters, blinds, drapes, and more. We know what it takes to give a room a "Wow" factor and we love doing just that.
Our design team has the expertise to help you find just the right window treatment to fit your needs, style, and budget. Call us today at (888) 650-6187 or schedule a free design consultation and see what our team can do for you!
Posted By
Gotcha Covered
Categories: