10 Tips For Getting Your Home Ready For The Holidays
The holiday season is just around the corner. Now is the perfect time to consider getting your home ready for the holidays.
While many holiday details may have to wait until the last minute, there are some details that can be completed in advance.
Upgrades or additions to your interior will take some time to order, fabricate, and install so it is important to start the process far enough in advance to ensure they are ready for your holiday guests.
If you are considering adding or upgrading your window treatments this holiday season, now is the perfect time to set up a time to meet with your Gotcha Covered Design Expert. They will be able to work with you to find the perfect window treatments to make your home beautiful, comfortable, and inviting.
To get you started, here are ten tips and tricks to help you get your home ready for this holiday season!
Tip 1 - Start At The Front Door
The front door is the first impression your guests will receive when coming to your home, however it is easy for the front door to get overlooked. The great thing about starting with the front door is that this is a simple first step that can really make your home look festive. Here are some great ways to spruce up your front door:
Freshen up the front door by cleaning it or adding a fresh coat of paint. If you really feel like trying something new, repaint your door with a whole new color.
Add seasonal decorations. Want to make your own festive holiday wreath? Here's some inspiration from Martha Stewart!
Does your door have transom windows on the sides or above the door? Try adding elegant window treatments such as shutters, blinds, cellulars, or sash curtains. Your Gotcha Covered designer will be happy to discuss window treatment options for these specialty windows.
Tip 2 - Declutter And Organize Your Entryway
The next area to tackle is the entryway. While entryways can vary in size, this is another smaller area that doesn't take a lot of time to freshen up. but will add to the overall ambiance of your home. Here are some easy ways to straighten up your entryway:
Get rid of any out-of-season items that are taking up space.
Stash a few extra umbrellas or spare coats for guests who may have forgotten their own.
Make sure you have a designated space for muddy boots or shoes to help keep the rest of your floors clean.
This time of year is chilly, so be sure to have plenty of space for hanging up coats, scarves, and hats for you and your guests.
Take some time to clean out your entryway closet to make sure you have room to store any additional items that may be cluttering the entryway.
Have some fun adding a seasonal garland or little holiday decorations in the windows!
Tip 3 - Stock Up On Guest Supplies
We've all had that moment while traveling when you open your suitcase and realize you've forgotten a toiletry item such as shampoo or toothpaste. And no one wants to run out to the store late at night if it is avoidable. Plan ahead to make sure you have some of these things available for your guests and you will be the host who saved the day! Here are some things to have stashed nearby for those "just in case" moments:
Be sure you have plenty of clean sheets and spare pillow cases.
Stock up on extra travel-size toiletries such as toothbrushes, toothpaste, floss, mouthwash, soap, shampoo, conditioner, lotion, etc.
Stash extra supplies of soap, lotion, and paper products to refill your dispensers in your bathrooms and kitchen.
Add fun, seasonal scented candles for a sense of warmth and coziness while adding a fresh holiday scent to your home.
Be sure to have extra cleaning supplies and create an emergency cleaning supply caddy. This will make messes a breeze to clean up as well as help you be ready for quick guest turnaround. *Bonus tip: have a couple caddies stashed in the kitchen, guest bathrooms, or any other spaces that will be seeing a lot of visitors so you will have the supplies you need right where you need them.
Put together a fun welcome basket or gift bag for your guests. It does not have to be anything elaborate or expensive, but little touches like this will leave a lasting impression. Some ideas might be layered cookie mix jars, festive mugs with hot chocolate mix and a chocolate covered spoon, seasonal coffee or tea with biscotti, or festive chocolates or seasonal treats. Here are some more wonderful gift basket ideas from HGTV.
Tip 4 - Add Fresh Flowers Or Seasonal Plants Throughout Your Home
There is something so revitalizing and soothing about having fresh plants in your home. Especially during the cold winter months when there may not be as much greenery outdoors, bringing plants indoors can really lift your spirits. Make it easy on yourself and find season appropriate plants to add to your indoor decorations. You will be adding to the style of your home while freshening up the room at the same time! Here are some great suggestions to add to your space:
Add festive holiday flowers or beautiful, seasonal fruits and vegetables as decorations around your home. Bright orange pumpkins are an easy addition to any room to make it instantly look like fall. But shiny apples, pears, grapes, and other fall fruits can make beautiful centerpieces as well.
Bring in living, potted plants to rejuvenate the room and make it feel less stuffy. Especially when your furnace may be running more frequently, plants will help replenish the oxygen in the air. Just be mindful of the amount of sunlight and water they will require and be sure to keep them in an optimal location.
Have smaller, seasonal plants as sweet giveaways for your visitors! They will add to the decor of your home while your guest is there. Then when they leave, they can take the plant home with them.
Add some greenery! Fresh cut pine boughs are a great decoration that will also add fragrance to your rooms. Plus green is a naturally calming color! For more ways to make your room feel calm, check out this article from Better Homes and Gardens.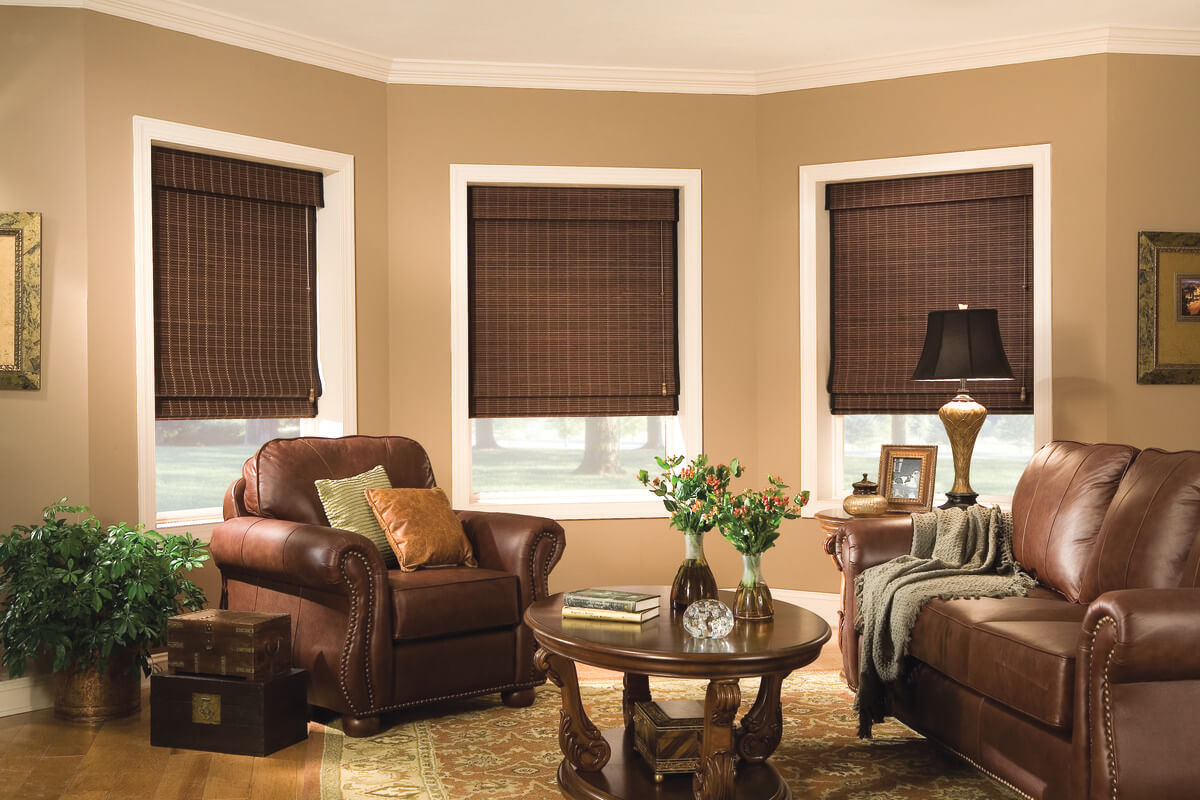 Tip 5 - Revitalize Walls With New Paint And Windows With New Treatments
Sometimes knowing that house guests are coming creates the perfect motivation to get your to-do list checked off. If you have been wanting to touch up the walls or maybe try a bold new color, now is the time to do it! A new coat of paint can really make your room look like new. The same can be said for adding a brand new window treatment to your windows. Ready to get bold with some colors or patterns? A new treatment that enhances your window can give your space a brand new look and feel. Here are some great suggestions for new window treatments:
Add decorative side panels to the sides of your window to make the room look taller and your windows look bigger.
Try layering a soft window treatment like a curtain or a valance on top of your blinds or shutters to give texture and depth to your windows.
Window treatments are a fun way to add bold colors or patterns to your space without re-doing the entire room.
Light control, privacy, and energy efficiency are some of the great benefits that come from adding the right window treatments to your windows making sure your rooms are comfortable all year long.
When masterfully added, window treatments are a great way to make your windows and rooms fully functional. Read more about how to find the perfect window treatments for each room in your home.
Tip 6 - Reorganize Your Kitchen
Kitchens are a natural gathering place. Whether you are having guests over for a meal or they are staying for the weekend, don't be surprised if you end up spending most of your time entertaining in the kitchen. Here are some great ways to make sure your kitchen looks spic and span while still being functional enough to make you look like a mealtime wizard:
Freshen up your walls by touching up any areas with paint. Or consider a brand new coat of paint for the whole kitchen.
Clean out the refrigerator! You are going to need extra space for meal prepping and storing condiments, sides, drinks, and desserts. Plus this is a great opportunity to double check those expiration dates on any of those little-used ingredients that may have been camping out since last Thanksgiving!
Organize the pantry shelves. Another great opportunity to go through any boxes or cans and toss whatever is past its prime. You will want to be sure you are stocked up on extras, but also make sure you have plenty of space for last minute grocery store runs, or family members who may be bringing part of a meal to your home.
Want to give your kitchen a little face lift? Consider adding brand new knobs or handles to your kitchen cabinets and drawers for a whole new look!
Find, clean, and polish your festive dishware, place settings, and serving utensils. Some of these items may not be your everyday ware, so they may have gotten a little dusty or dingy sitting in the cupboard. Take a minute to look them over before setting the table with them to make sure they look polished and ready for use.
Add a bright new window treatment to your kitchen windows. Since the kitchen is a gathering place in every home, be sure your window treatments add to the comfort and style of your space. Some great window treatments to consider for a kitchen area would be cafe curtains, woven wood shades, or shutters.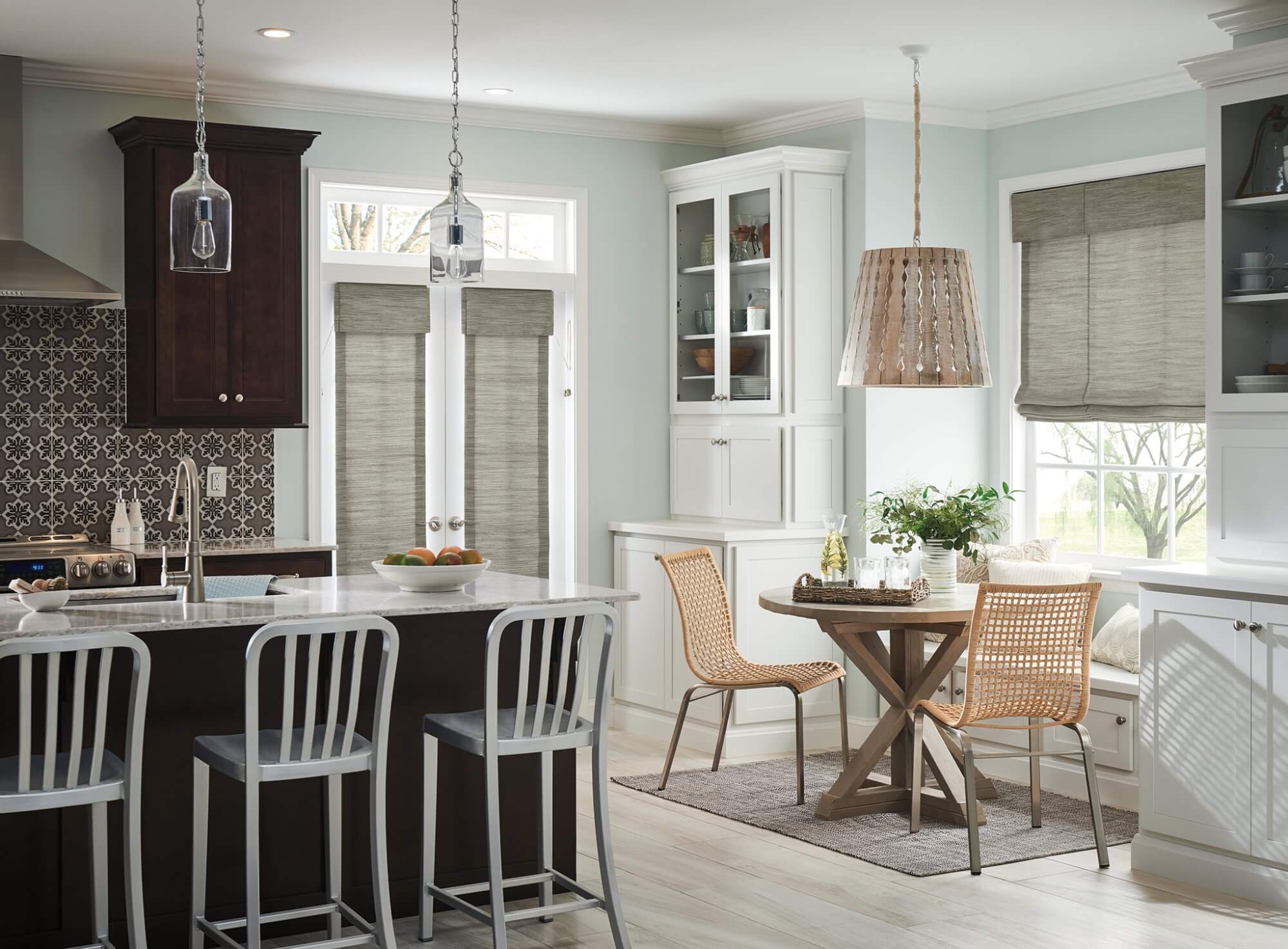 Tip 7- Meal Plan And Create Shopping Lists
There's something to be said for planning ahead and being prepared. Now we know that is not always possible and we need to be flexible, but when you can, go ahead and set up those menus. Your guests will appreciate having an idea of what you are intending to serve and it will make your planning that much easier. After all, your guests will want to spend some time visiting with you too, not just watch you scurry around the kitchen. Once you have a meal plan, you can create shopping lists ahead of time. We are not promising that there still won't be last minute trips out to the store to get a forgotten item, but here are some tips to get you started on the right track:
Shop ahead of time for non-perishable items or ingredients that can be frozen beforehand.
Be sure your recipes are close at hand so you know exactly what ingredients you need.
If there are desserts or side dishes that can be stored or frozen ahead of time, plan a day to get those ready. It will save you time on the day of your gathering to focus on the other things that will need to be done.
Meal prep where you can. Need vegetables chopped? Chop away and then freeze them so they are ready when you need them.
Know what items need to be purchased the day of and utilize close friends or family members who can stop on their way and bring those ingredients with them.
Don't be afraid to delegate pieces of the meals out to others. Everyone appreciates feeling useful, so have a plan of what to assign ahead of time. That way you don't end up with eight apple pies and no vanilla ice cream!
Tip 8 - Spruce Up The Dining Room
While it may not get a whole lot of use throughout the rest of the year, the holidays are usually when you want your dining room to shine! Little used rooms of the home are easy to overlook when you are not seeing them every day, so this is one room that may need a little more TLC. And you may not want to leave this to the last minute since it might require a little more work than you are expecting. So here are some things to check in your dining room before your guests arrive:
Give the whole room a good dusting! Shake out the window treatments or use a vacuum attachment to gently clean the dust off your blinds, shutters, or draperies. There's nothing worse than going to open your beautiful draperies and being greeted with a cloud of dust.
While you are vacuuming, be sure to get the baseboards and corners of the room. Don't forget to look up high to the ceiling corners where cobwebs may have found a place to gather.
Clean little used nooks and crannies. Things may have accumulated over time, so now is a great time to reorganize.
Set the table! If you are not planning to use the formal dining room until your guests arrive, why not set the table now? Since you've already wiped down the table and cleaned off your place settings (see step 6), why not put everything out where you want it. It will save you storage space as well! We would recommend not doing this step months in advance, but if your guests are coming soon, then you shouldn't have to worry about dust settling in too quickly.
Make a festive centerpiece for your table. If you don't want to buy a fancy decoration for the middle of your table, use what you already have. Candles are a beautifully simple addition to the table. Greenery, seasonal plants, or flowers make gorgeous centerpieces as well. Or grab a few containers from your kitchen and fill them with fruits, vegetables, nuts or other festive foods that can make your table look welcoming.
Hosting a large crowd? Take the stress out of who sits where and put place cards around the table. You probably have a pretty good idea of where everyone should sit to make the meal as enjoyable as possible, so why not be proactive about it? Place cards are also a fun way to decorate each place setting.
Consider updating your window treatments to make your dining room comfortable and functional during all hours of the day. Is there a reason why you don't sit in your dining room for breakfast? Is it because the early morning sun is too harsh? Light filtering window shades may be a perfect fix so that you can enjoy your breakfast with a little morning sunlight. Don't be surprised if you and your guests spend more time eating in the dining room when you have the right window treatments to make it more inviting.
Tip 9 - Declutter Your Living Room
Time to tackle the living room! When not in the kitchen, where will you and your guests spend the most time? Probably in the living room. Will you also be hosting children? They will most likely spend the majority of their time in the family room. Just think! If the kids are content playing in the family room, the parents are free to visit with one another. So be sure you are keeping in mind all of the ages of the visitors you are expecting and make the living room or family room fun and inviting for all ages! Here are some great ways to liven up the living room and family rooms:
Think space! Consider packing away any out-of-season items that will not be needed.
Clear off coffee tables or end tables to make room for dishes or glassware that your guests might be bringing in with them. If you want them to use coasters, be sure they are readily available and easy to find.
Stash games, cards, or fun conversation starters where your guests can find them. See what amazing dialogues you can get started with a photo album or interesting knickknack in the corner!
Rearrange wall art or photos. These can also become great conversation starters! Or if there are pieces of art, photos, or heirlooms that you don't want out, this would be a great time to move them to a more private area of your home for safe keeping.
Arrange your furniture to encourage easy conversation and movement throughout the room. Set your furniture so that it is easy to gather. Do you need space for hosting a game night? Some of your furniture may need to be rearranged so that everyone can participate. Or are you going to be showing a movie? Be sure you have enough seating spaced around the room for comfortable viewing.
Do your window treatments help create a comfortable environment? Thinking about what activities you are going to be doing in your family room or living room will help you determine what functions you need your window treatments to provide. Perhaps you want to have the Macy's Day Parade on for Thanksgiving morning? Do your windows allow a harsh glare to come in first thing in the morning? Or is everyone coming over to watch the big game? You may want to see about upgrading your window treatments to help with light control. Consider Roman shades that easily open or close or maybe a sunscreen/roller shade for great light control options.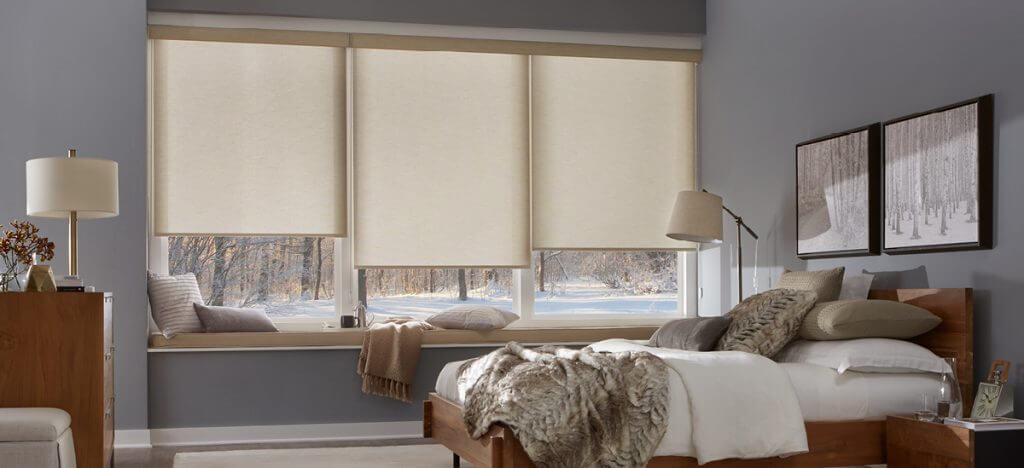 Tip 10 - Organize The Guest Room
Last but certainly not least, it is time to tackle the guest room! This is another room that sometimes does not get much use throughout the year. Typically, it will only be used by your overnight guests, so you should have plenty of warning beforehand. However, even if you are just hosting a dinner party, it may not be a bad idea to go through this room and make sure it has been tidied up. You never know when a change in the weather could mean unexpected overnight guests. Or you might find it to be a great place to store extra coats or purses for your guests. Here are some great ideas of how to get your guest room "guest ready:"
Empty out closets and drawers. You don't have to give up all of your storage, but it is a great way to help your guests keep the room tidy during their stay if they have a few hangers or an empty drawer to use. Guest room closets can also be used for extra hanging space for winter coats, hats, and purses for visitors even if they aren't staying the night.
Double check light bulbs. There's nothing worse than stumbling into a strange room in the dark grasping for a light switch. Be sure the light switch closest to the door actually turns on a light somewhere in the room for your guest.
Stock tissues, spare sheets, pillows, pillow cases, and towels where your guests can easily find them without feeling like they are snooping. The same goes for the bathroom you intend your guest to use. Be sure extra toilet paper, towels, and soap can be easily found. It will also save you from having to retrieve it for your guest every time.
Remake your guest bed with season-appropriate sheets and bedding. Everyone has slightly different preferences when they sleep, so be sure your guests are comfortable and have extra blankets available. Did you know that Gotcha Covered also offers custom bedding? Tie your whole guest room together with custom bedding that complements your window treatments!
Finally, make sure the window treatments in your guest room over the right amount of privacy and light control for a comfortable environment. Consider traversing drapes with blackout liners to make sure your guests can keep out unwanted light when they are ready for sleep. You will also want to be sure your window treatments keep out the cold, so consider cellular shades for excellent energy efficiency, warmth, and comfort.
Conclusion
The holidays can be a wonderful time to spend with family and friends but they can also easily become very busy and chaotic. We hope you can use some of these tips to help you take some of the hassle and stress out of your holiday season.
If your holiday preparations include upgrading your window treatments, be sure to reach out to your local Gotcha Covered Designer! With thousands of design options available, we will be able to help you narrow down the choices to what will serve you best. Our goal is to find the perfect window treatments to enhance the functionality of your room while adding lasting style and elegance that will remain long after the holidays are over.
Reach out to us today and see what our Gotcha Covered Design Team can do to help you get your home ready for the holiday season. Schedule your consultation now to be sure your window treatments are fully functional before your guests arrive. Call us today at (888) 650-6187 or schedule a free design consultation today!
Posted By
Gotcha Covered
Categories: