Bringing the Indoors Outside - 8 Tips To Make The Most Of Your Backyard
Bringing the Indoors Outside - 8 Tips To Make The Most Of Your Backyard
Summer is here! With longer days and warmer weather, now is a perfect time to take your indoor activities outside.
Summer evenings are perfect for outdoor entertaining. While this sounds simple enough, oftentimes taking everything outside is a lot of work and not worth the extra effort. Especially when your outside patio is not a comfortable environment and everyone just wants to come back in.
Gotcha Covered is here to help! Here are some great tips to make your backyard a place where both you and your guests can enjoy.
4 Common Reasons We Don't Use Our Outdoor Spaces
Before we dive into how to enhance your patio and backyard design, let's discuss some of the most common reasons that we opt to stay indoors.
You might be someone with a beautiful, outdoor oasis who enjoys spending every waking moment outside. If you are more like us, the average homeowner, your yard might be a place that requires quite a bit of TLC before venturing into it.
If you fit more into the second category, then you are in good company! Here are four of the main reasons you might avoid using your outdoor space.
Reason #1: Inclement Weather
Summertime in this hemisphere is known for warmer weather. That does not mean that summer does not have its own forms of unpredictable weather systems.
In the course of a day you might see clear, sunny skies and soaring temperatures, followed by a sudden cloudburst, impromptu thunderstorm, or even sometimes sudden hail storms. Even summer nights can see a drastic drop in temperatures.
Without adequate preparation, any planned outdoor activities or events might have to be moved inside as the weather changes.
Reason #2: Unrelenting Heat
While weather can be unpredictable, sometimes you must plan for the sun. Long, sunny days sound wonderful, until you are stuck in the blazing sun with nowhere to take shelter or cool down.
The summer sun is one element you will most likely always have to plan for. If there is no place to get comfortable, your outdoor festivities might not last long.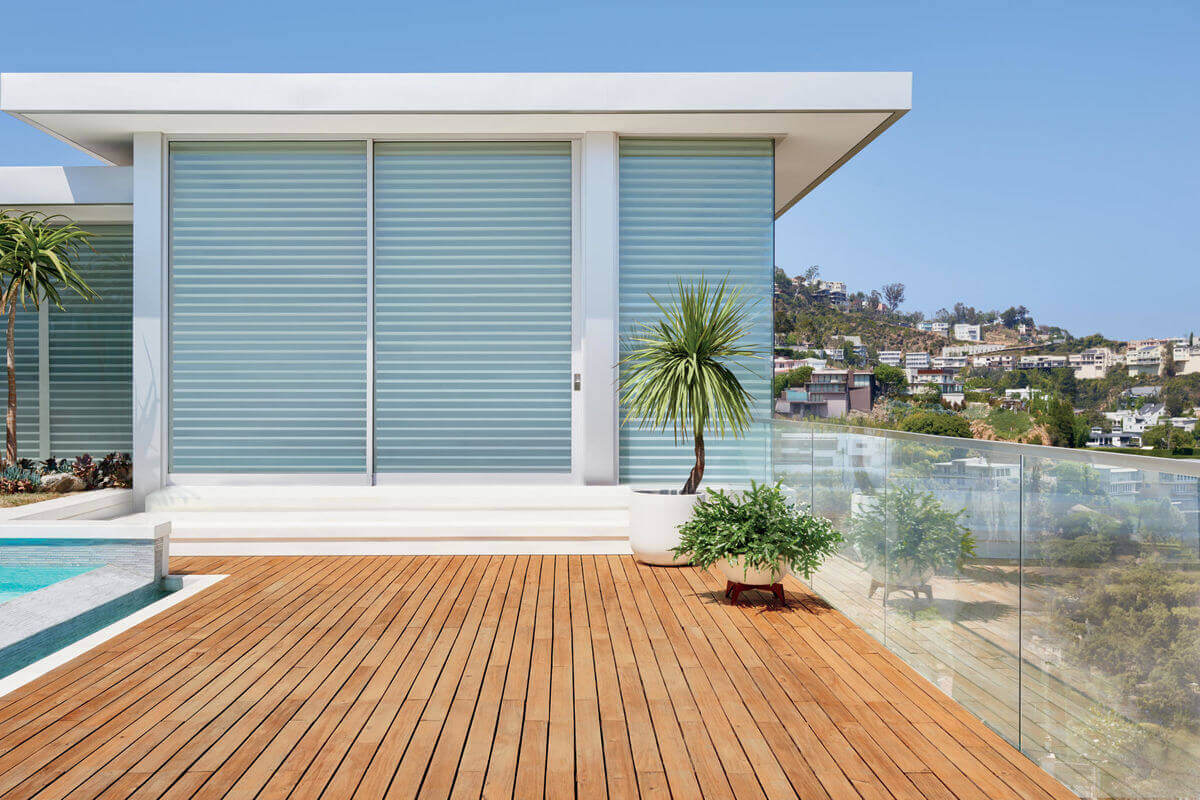 Reason #3: Uninvited Guests
Backyard summer parties are the best - until they get crashed by insects and outdoor pests. Bugs have their place in our ecosystem, but that doesn't mean you want them at your barbecue.
Finding ways to keep your guest list "invite only" is critical to ensure that everyone has a good time.
Reason #4: Lack Of Convenience
The thing about having an event outside is that everything you need for entertaining is usually inside. Sometimes it seems like a lot of extra effort to take everything you need outside of your house, only to have to bring it all back in later.
What is even more frustrating is when you do make the effort to set up everything outside, only to have your party cut short by weather, heat, or bugs. Sometimes the amount of work that goes into preparing for outdoor entertaining is not worth it. So how do you make it easier to get the most out of your backyard?
8 Tips For Making The Most Of Your Outdoor Space
When it comes to enjoying the outdoors it really boils down to two factors - comfort and convenience.
First of all, you and your guests must be able to stay comfortable no matter what Mother Nature throws at you, otherwise no one will want to stay outside for long.
Second, if it is not convenient for you to stay outside with your guests, you will find the party congregating with you in the kitchen or elsewhere. While of course there is a fair amount of work that must go into any party, be sure you are able to interact with your guests as well. They will want to be where you are, so set yourself up so that you are available to entertain while keeping the party flowing.
Here are eight tips and tricks that can help make your outside areas more enjoyable for everyone...including you!
Tip #1: Add Shade Wherever Possible
When battling the sun and the heat, be sure to make shade readily available. If you have a covered deck, you may think you are good to go, but what about times when the sun is low? Adding outdoor roller shades or sun screens can help to block the sun when needed.
If you have a patio, consider ways you can bring in umbrellas or awnings to add some shade. These are great options because they can be set up when you need them and taken down when you don't. They will also help protect against sudden rain showers or other unpredictable weather conditions.
Consider other areas of your yard that may benefit from some shade. If you have a lot of trees in your yard, you may not have to add much of anything. If you don't have natural shady spots, then consider adding backyard features that could help with this such as gazebos or pergolas.
Depending on the direction your house faces will determine what time of day your backyard will get the most sun. Consider planning your backyard activities to occur during the more optimal times of the day. If you are having a pool party, you may want to plan for the time of day with the most direct sunlight. If you are having an al fresco dinner party, you may want to pick a time after the sun has already gone down.
Having shade readily available will give your guests options to stay at a comfortable temperature while still enjoying your beautiful backyard.
Tip #2: Create Options For Shelter
The nice thing about having a party at your home is that if it must be, you can always retreat inside. If you set up your outside space with places that are covered, then you may not need to head indoors when the weather changes.
Covered decks are wonderful because they provide overhead protection. If summer storms are common, consider adding outdoor window treatments that can be opened or closed to add another layer of protection against wind, rain, or hail that may be able to come in from the side.
In other areas of your yard, use pergolas or gazebos to create inviting outdoor areas for gathering. Consider adding roller shades, sun screens, or even outdoor draperies to these areas as well for a little more protection as well as a beautiful design element.
Outdoor draperies can be especially beautiful by adding decor that is most often seen indoors. There are a wide range of beautiful outdoor materials and fabrics that come in different colors, patterns, and textures. Be sure to ask for "outdoor rated" materials which are specially designed for outside use to avoid being damaged by the elements.
Tip #3: Be Prepared To Keep The Creepy Crawlies Away
When planning for a get-together, you may want to take some extra precautions to make sure the bugs and insects are kept away.
If you have time beforehand, spray around the perimeter of your yard and look for any nests or hives that may need to be removed.
During the event, you can provide sprays or repellents for your guests. Citronella candles or garden torches can be a deterrent for many pests and can also be incorporated into the decor.
Screens that can be lowered into place can also create a temporary enclosure that will help keep the bugs away.
Retractable insect screens can also be installed seamlessly with sliding glass doors and patio doors to help keep any bugs or insects from getting into your home.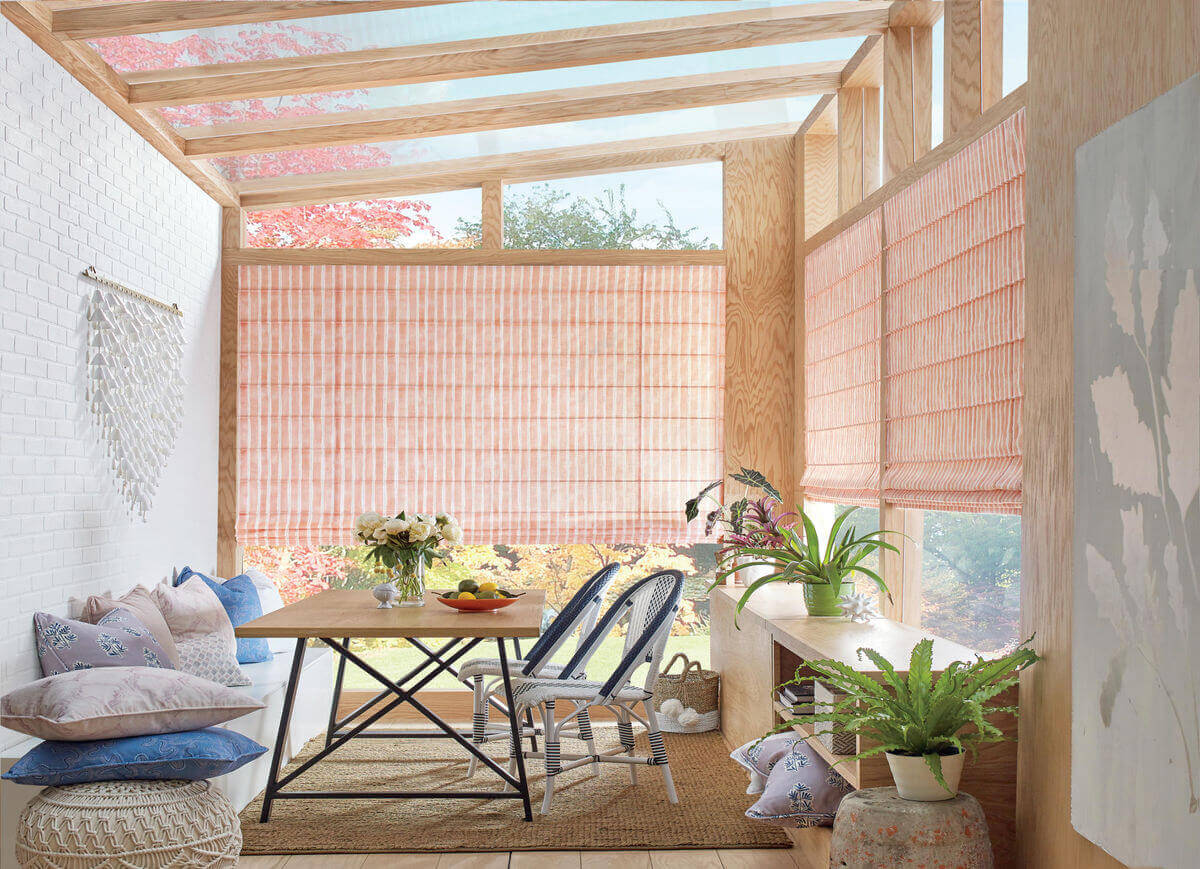 Tip #4: Use Comfortable Outdoor Furniture
Seating is a fundamental necessity for every event. Outdoor furniture is specifically made to be able to stay outside no matter what weather comes your way.
The problem with outdoor furniture is that they are not always the most comfortable. Adding cushions or extra padding to the furniture can help.
Of course you could bring your indoor seats, cushions or pillows outside, but then you would have to make sure they are not ruined by the weather or faded by the sun exposure. Pillows or cushions made from outdoor rated materials solve this problem since they are made to be weather resistant.
These accessories are fantastic for outside use and can stay outside with the furniture, making one less thing to worry about.
Gotcha Covered works with a number of excellent vendors and fabricators that offer a wide range of beautiful, outdoor rated materials that can be used for custom, outdoor window treatments and accessories.
Tip #5: Make Clean Ups A Breeze
Using furniture, decor, and accessories that are specifically designed for the outdoors should help make cleaning up easy.
Having furniture and decor that can stay outside means no dragging everything in and out of your house. If they do get dirty, simply spray everything down with the garden hose and let air dry.
Be sure to store what you can outside. Have ice chests, or an outdoor fridge or cooler that is stocked to minimize the amount of trips you have to make in and out of the house.
If you are lucky enough to have an outdoor cooking area, consider having a set of dishware and utensils that are just for outside use. They can even be stored outside for easy access along with a set of basic cleaning supplies and a broom so you are ready for any sudden spills.
Making sure you have easily accessible recycling and trash receptacles will help with any disposable materials, so you will be left with just a small amount of tidying up after your guests have gone home.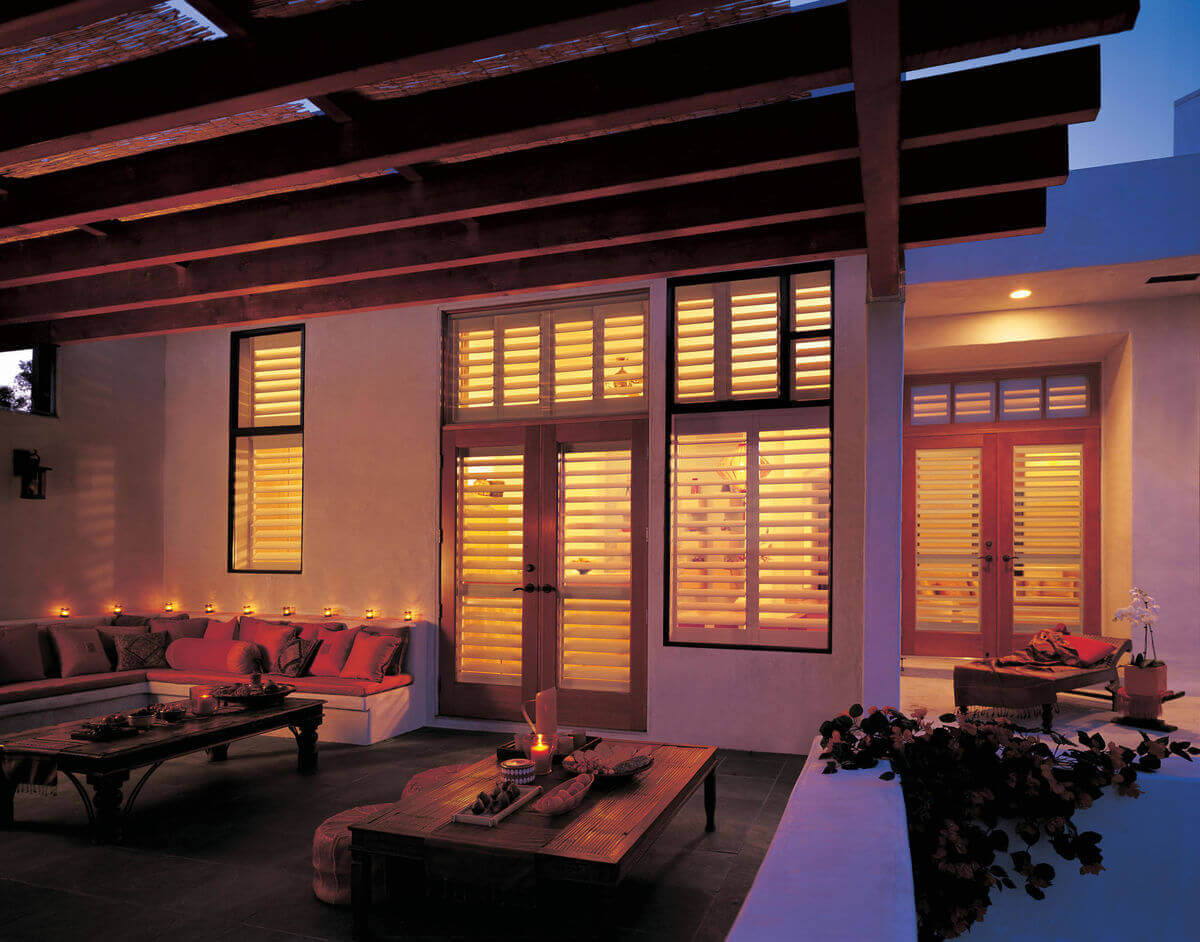 Tip #6: Set The Mood
As with any party or gathering, having fun creating an atmosphere. Decor will help set the mood.
Consider adding beautiful, outdoor window treatments to your patio, deck, gazebo, or pergolas. Or maybe find a few festive, outdoor pillows to add to the theme. If you have an open space, consider adding an outdoor rug to your patio, gazebo, or even just on your lawn.
Lighting is another critical element for setting a mood. Candles, lawn torches, market lights, hanging lanterns, or strands of smaller twinkle lights will instantly make your outdoor living space a magical oasis.
In addition, make sure you have plenty of outside lighting to illuminate steps, walkways, or thresholds that lead back into your home to keep everyone safe.
Music is a must for any party! Whether it is up tempo and meant to make everyone dance, or soft and subtle to be kept in the background, music is a key component. You do not have to hire a DJ or install a state-of-the-art outdoor sound system to add a little music to your events. And a little music will really take your party to the next level.
Tip #7: Stay Connected
As a host, you are responsible for a lot of little things to make sure everyone has what they need and feels welcome. At the same time, in order to make sure your guests feel welcome, you also have to be available to spend time with them. So how can you be efficient at both?
There are a lot of things that can be done ahead of time to make sure you are able to enjoy your company. Planning ahead is the best way to make sure all the little things are prepped and ready before the party begins.
Other things can not be done ahead of time. Stage these items somewhere so that you can be performing these tasks while still visiting with your guests.
Of course there will also be things that may not be expected that need to be addressed on the spot. This is when having a home connected system will be your best assistant. Connecting your window treatments, awnings, lights, and music to an automated system will make these tasks as easy as a push of a button. With so many home automated programs to choose from, you can decide what system works best for you, whether it's remote controlled, voice activated, pre-programmed, or simply an app on your phone.
Gotcha Covered is on the cutting edge of technology with motorization and connected home systems, and we know some of the best ways to integrate this seamlessly into your life.
Tip #8: Be Prepared
What makes an amazing host is the ability to plan for everything while looking like you are simply having a great time. Planning ahead is the best way to ensure you are able to enjoy yourself while keeping the party running smoothly.
Keep umbrellas, sunscreen, bug spray, and a first aid kit close at hand so your guests can help themselves to what they need.
Set up self serve stations for drinks, snacks, and other things to help your guests help themselves.
Have outdoor features that are ready to face whatever plans Mother Nature has for your day. Heat wave coming in? Have misters or outdoor fans with plenty of shelter and shade. Sudden drop in temperatures? Have an outdoor heating lamp ready to go with plenty of cozy blankets, wraps, or shawls for your guests to cozy up in. With comfortable outdoor furniture and pillows, there will be no need to rush inside.
Keep outdoor entertainment ready and easily accessible. Lawn games, ice breakers, or other conversation starters that are kept outside in weather proof storage containers are perfect since they can be brought out in a moment and then stowed away out of the elements and out of sight. As an added bonus, any storage containers that are big and sturdy enough can also be used as benches for extra seating.
Conclusion
Your home should be a place of comfort and convenience both inside and out. The warm, summer months are a perfect time to enjoy your backyard and patio for gatherings and entertaining!
The more functional and comfortable the outside areas of your house are, the more likely you will move your activities from indoors to outdoors. The right window treatments can add beauty and functionality to your space both on the interior as well as the exterior.
That's where Gotcha Covered can help! Our vendors that we partner with have a wide variety of fabrics and materials that are specially designed to withstand the elements. We also have some exciting advancements in motorization and home connected solutions that will add convenience and functionality to your whole house.
When working with a Gotcha Covered Design Team Expert, they will be able to show you all the wonderful options available for outdoor use. Their expertise can help get you started on the right path to finding the perfect window treatments and accessories to fit your needs, style, and budget.
Call us at (888) 650-6187 or schedule a free design consultation today! We are now offering virtual consultations as well.
Posted By
Gotcha Covered
Categories: