Your source for window coverings in Sherwood Park
Gotcha Covered of Southeast Edmonton is proud to serve Sherwood Park and the greater Strathcona County area. We are a family-owned and operated business. Richard and Coral Lee along with their two sons, Avery and Grayson have always been drawn to the area so when we had a chance to be the Gotcha Covered that services Sherwood Park in June of 2022 we were all very excited. We have many great friends that live in the community, have some favorite restaurants in the area such as That BBQ Place, have looked at building a home in the area and Coral Lee did some of her teaching practicum there as well.
Gotcha Covered of Southeast Edmonton is a full-service provider of window coverings. Serving Sherwood Park / Strathcona County, Beaumont, Leduc, and Edmonton. We strive to offer 5 Star service to all our customers no matter where they are. We bring the showroom to our customers through in-home consultations. This allows them to shop in the comfort of their own home while allowing them to see the different window covering options in front of their own windows and beside their other design statements and colour choices—wall and floor colours, furniture, etc. This also allows us to see the windows and measure them correctly at the same time. In-home consultations are always free with no obligation. They usually average about 60-90 minutes but can vary depending on the customer, number of windows, etc.
Generally, window coverings can be broken down into the following types:
Blinds—usually a hard treatment like faux wood horizontal slats
Shades—a softer treatment usually like a roller, cellular or the now popular "Zebra" shade also called Dual shades or Banded Shades.
Shutters—a wood, faux wood or vinyl shutter mounted on the inside of the windows. A great option and a real statement piece.
Draperies—soft treatments like drapes, side panels, valances and roman shades ( fits into the Shades type as well).
Gotcha Covered of Southeast Edmonton offers all of the above. We only deal with well-known reputable manufacturers and suppliers such as Hunter Douglas, Graber, Alta, Maxxmar, SunGlow, etc. Each of these manufacturers offers their own warranty.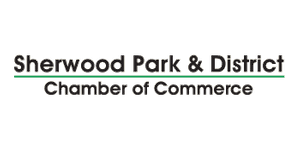 Gotcha Covered of Southeast Edmonton is a proud member of the Sherwood Park Chamber of Commerce and participates in many of their events and supports other chamber members as often as possible including the Great Canadian Trade Fair and Sale.
FAQs
How much do window coverings cost? The range of prices for a window covering can be quite large. It depends on the size of the window, the style and brand of window covering along with the material selected as well as some options (automation just to name one) that may be available. Draperies and shutters will be at the higher end (but add so much to the interior design) while rollers and "Zebras" at the lower end. Generally count on spending at least $250 per window (small) for quality window coverings from a reputable manufacturer.
How long does it take to get my window coverings? We can install most blinds and shades in the 4–5-week range. Draperies and shutters would take longer but depends on how many and who the manufacturer is.
What will custom window coverings do for me and my home? Totally change the feel! In addition to helping with privacy as well as heating and cooling, installing/changing window coverings is one of the easiest ways to give the house a new feel and put your own mark on it—all without getting too "constructiony "—no paint fumes or drywall dust. Certainly any home renovation or refresh should end with new window treatments, you can do a simple refresh simply by changing the window coverings on their own.
I live in Strathcona County, not Sherwood Park itself. Will you still come to my home for a free in-home consultation? Absolutely we would love to come and assist you with new window coverings. Maybe privacy is not so important but sun/shade control and heating/cooling still are.
About Sherwood Park / Strathcona County
Sherwood Park is one of the bedroom communities around Edmonton. Located on the east side of Edmonton, Sherwood Park could be one of Alberta's larger cities if in fact it was a city. Sherwood Park still maintains the status of Hamlet so it does not have its own municipal government but is governed by the County of Strathcona. Despite a lot of growth over the decades (There isn't really any space between Edmonton and Sherwood Park anymore) it still maintains a small-town feel where you are very likely to run into someone you know when out and about visiting a robust selection of businesses for shopping, dining, and recreation. From Emerald Drive to Baseline Road or Wye Road, there is no shortage of options for residents and visitors. Check out Millennium Place, Kinsmen Centre, and Festival Place for a glimpse at a few of the amazing sports and recreation places inside Sherwood Park.
Links to find out more about Sherwood Park and what's happening there:
https://explorestrathconacounty.com/
https://www.strathcona.ca/recreation-events/festivals-and-events/event-calendar/
Links to some of our favourite places in Sherwood Park / Strathcona County:
https://www.thatbarbqplace.com/
https://www.facebook.com/charliesmeatss/
https://sumosumosushi.com/
https://www.mexicolindotacos.ca/
Some links to other businesses know and trust:
For bbq cleaning and sales: http://www.thebusybackyardbeaver.com/
For blinds cleaning: https://cleandry.ca/
For home handyman repairs: https://handymanconnection.com/edmonton/