What's Your Design Style?
In the world of design, trends and styles are constantly changing. Part of what makes design so fascinating and exciting is that it is fluid and always evolving. Common terms and labels are used in order to help with communicating different ideas and themes, but these labels are fluid as well.
Just as no two people see colors the exact same way, design is often subjective to the viewer. Over the years, certain labels have become more defined and design styles have been named based upon certain recurring characteristics. These design styles are broad categories that can be broken down into a wide variety of subcategories. And even some of these subcategories are blended with subcategories of other design styles to create a unique blend or crossover design style of their own.
The primary rule of design is that there are no rules! Rather there are guidelines to help facilitate common understanding of what we are trying to accomplish.
In this article, we have taken five broad categories of design styles and given them some definitions and structure - Traditional, Modern Urban, Coastal, Contemporary, and Transitional.
The goal of this article is to showcase some of the strong attributes of these five categories and provide examples of what they look like in the world of interior design.
In no way are we saying that these are the only options available and that everyone must fit perfectly within one of these five genres. In fact we love to see what people come up with as their own hybrid version of these design styles! So let's get started!
TRADITIONAL DESIGN STYLE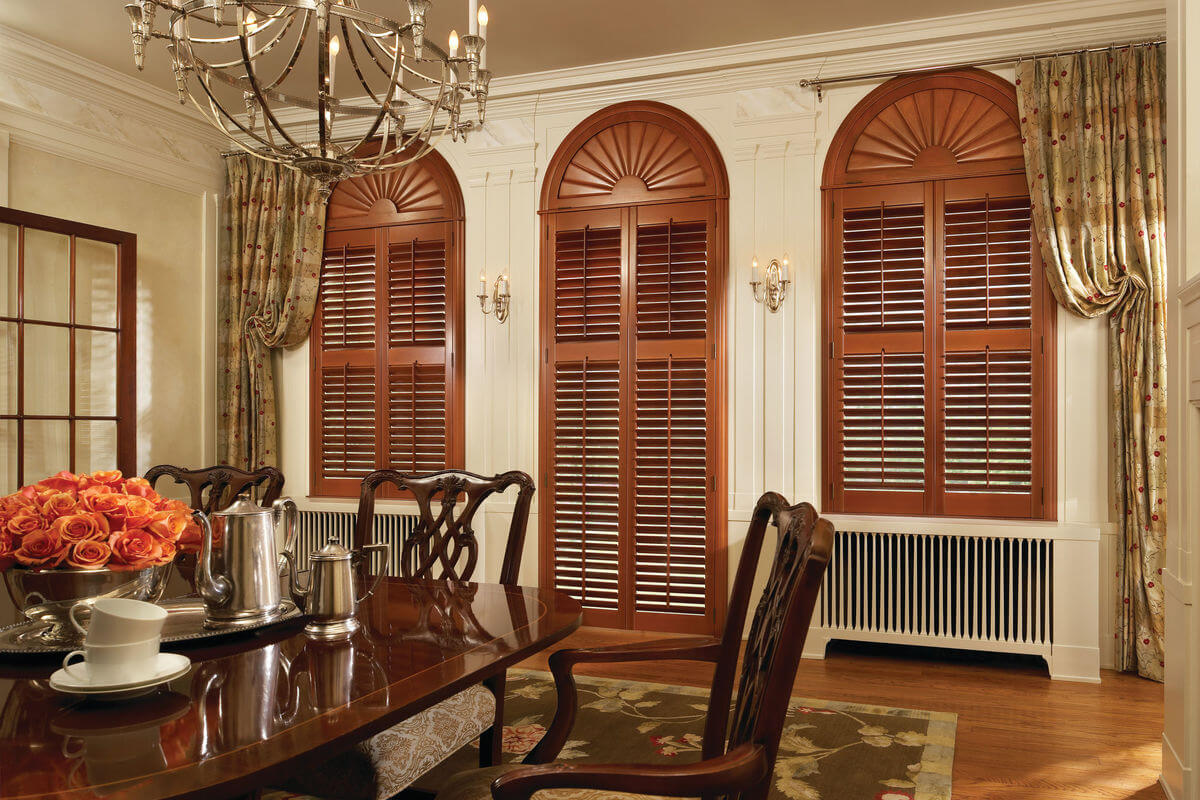 Traditional design pays homage to some of the earliest forms of style - styles that have lasted and are still relevant to today. Traditional design is timeless and classic. The goal of traditional design is really about creating a comfortable, elegant space. It is really about creating a mix of extraordinary pieces so feel free to be adventurous and have some fun! Since you are bringing out your favorite elements, it will appeal to everyone because it showcases what feels familiar.
Key Features Of Traditional Design
Traditional design is refined, familiar, and comfortable. The goal is to create a charming and welcoming atmosphere. Here are a few of the defining characteristics of traditional design:
An emphasis on balance and symmetry
Centers around warmth and comfort
Curved lines instead of sharp angles
Rich wood tones and warm color palettes
Fabrics showcase fun and colorful patterns including plaids, stripes, and floral prints
Utilizes shiny metal fixtures and hardware
Features large, ornate pieces and overstuffed furniture
Window Treatments For Traditional Design Styles
No traditional styled room would be complete without window treatments. These treatments should match the classical elegance of the decor.
Draperies and top treatments are great choices that allow for lots of color choices and bold patterns. Ornate hardware can adorn these elegant window treatments to create even more stylistic design.
Dramatic shades or elegant shutters are another way to add to the traditional style of your room. Top these off with a colorful valance to bring the whole room together.
MODERN URBAN DESIGN STYLE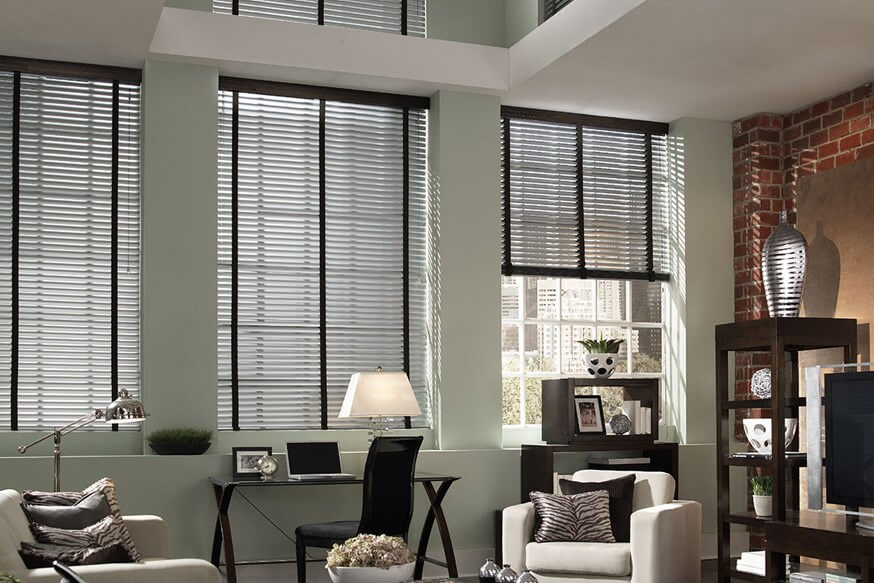 The primary principle of modern urban design is to showcase true form and function. Everything is cleaner and simpler in modern urban design. Modern urban design stems from old factories and industrial spaces. It uses stripped-back architecture and salvaged or repurposed items. Modern urban design is inspired by simple, fuss-free approaches to utilize basic materials such as untreated timber beams, brick, reinforced concrete, and exposed metal structures. Its appeal lies in its lack of pretense, cleaner lines, and more open floor plans.
Key Features Of Modern Urban Design
Modern urban design style incorporates raw materials and builds around the structure of the existing space. Some of the distinguishing features of a modern urban design style are:
Strong horizontal and vertical lines
Simple, neutral color palette featuring a bold accent color
Sleek metallic hardware such as stainless steel or nickel
A "less is more" minimalistic approach to accessories and nicknacks
Open floor plans featuring large windows and lots of natural light
Streamline furniture with no frills or added decoration
Window Treatments For Modern Urban Design Styles
When decorating windows for a modern urban styled room, the primary focus is the function of the window within that space.
If your room features large windows, your window treatments should not distract from the view. If your windows receive strong directional sunlight that needs to be blocked or filtered, consider horizontal blinds that can be easily opened and closed throughout the course of the day. Metal blinds have color options such as copper or bronze that are available in a larger 2" slat giving these window treatments an upgraded look and a more modern feel.
Cellular and roller shades are another wonderful option for a modern urban styled room. These window treatments are stylish and functional and retreat seamlessly into the frame of the window when they are in their fully opened position.
Solid neutral colors are a great choice for any modern urban window treatment, but don't be afraid to try adding a bold primary colored option. Or if you want patterns, consider subtle stripes or a simple geometric pattern to add a little more flair to your window treatments.
COASTAL DESIGN STYLE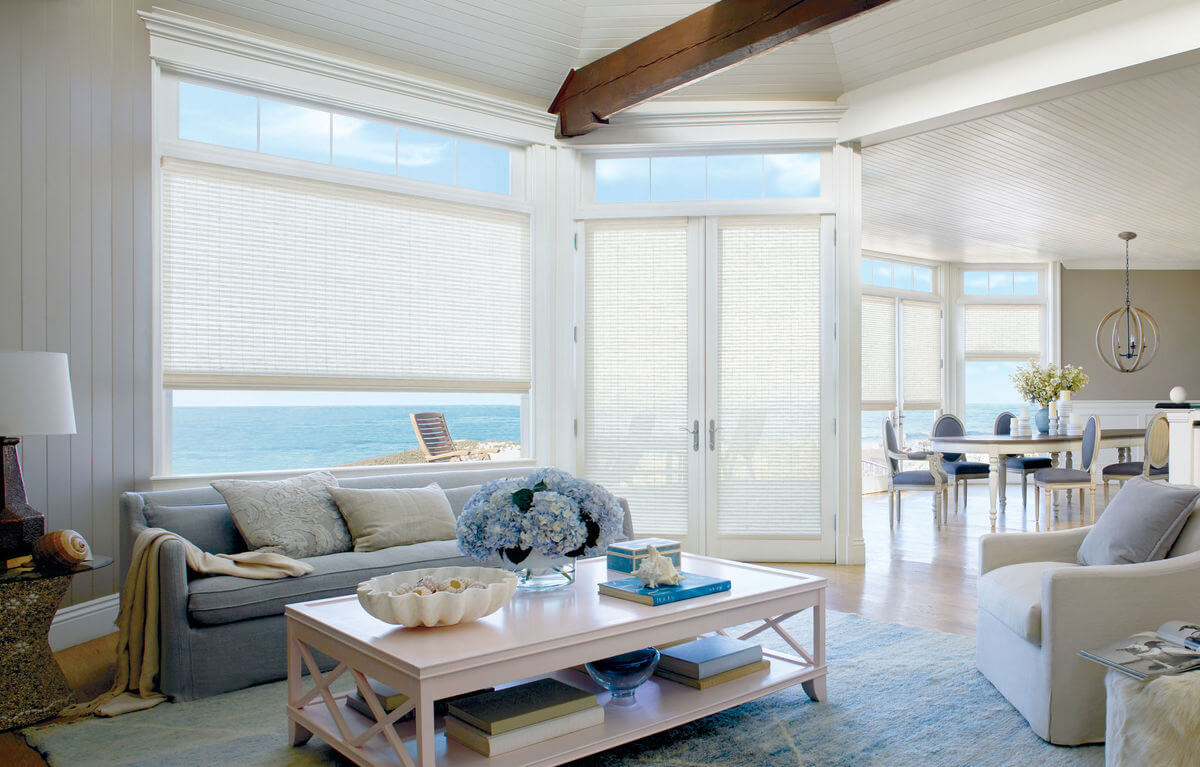 Coastal design is often thought of as beachy, nautical, tropical, or Mediterranean. But coastal design is really about evoking a feeling of light, airy, breeziness throughout your space. It is meant to be calm, relaxing, and serene. Its appeal is that it feels casual and lived-in. Simply put, coastal design is meant to make it feel like a lazy summer's day all year long. Whether you choose to add in a few seashells is entirely up to you!
Key Features Of Coastal Design
Coastal design style is meant to create a carefree and casual mood. Some of the distinguishing features of coastal design are:
Light, open, and airy
Incorporates natural elements to eliminate the boundaries of the indoors and outdoors
Little to no metallics or flashy materials
Light and billowy fabrics to emphasis a breezy feeling
Soothing color palettes with lots of neutrals that focus around the colors of the ocean, the beach, and the shoreline
Minimalistic approach to accessories, decor, and furniture
Open floor plans with large windows and skylights
Window Treatments For Coastal Design Styles
Coastal design requires an abundance of natural light, so windows play a key role in this style. The goal of window treatments in coastal design is to not inhibit the natural light of the space. You will want window treatments that are simple and can retract into the framework of the window itself without drawing undue attention.
Natural materials such as woven wood shades are a great choice for keeping with the coastal theme while also providing beautiful filtered light into the room. Sheer window shades are another wonderful option for providing soft, filtered light.
If you decide to go with draperies or curtains, consider solid, pastels and lighter more flowy fabrics. If you want to add a little visual interest, consider a simple striped pattern for curtains or shades, but remember that the goal is to keep your window treatments simple.
Do you have skylights? Did you know we have window treatment options for those hard-to-reach windows as well? At Gotcha Covered, we have a vast selection of window treatment solutions for all sorts of specialty situations.
CONTEMPORARY DESIGN STYLE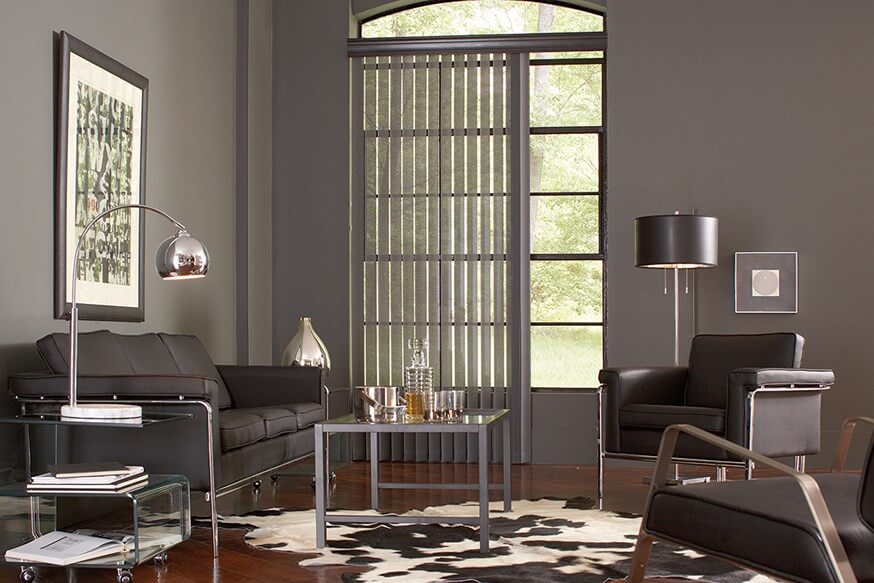 Contemporary design is often thought of as another name for modern design when in actuality these two design styles have their own unique definitions. While both styles do share some common elements, contemporary design is reflective of what is popular right here right now. Contemporary design showcases the current trends of what is considered sleek, stylish, and sophisticated. This design will change with the up and coming trends of what is currently popular and what is believed to become popular.
Looking for more details on the differences between modern and contemporary design styles? Here is a brief description of both design styles from Elle Decor.
Key Features Of Contemporary Design
Contemporary means "of the moment" and that is exactly what contemporary design is trying to accomplish. This style is unique because it borrows elements of all the other design styles. A defining characteristic of contemporary design is that it is constantly evolving. Some of the main features of contemporary design are the following:
Strong, angular lines balanced with simple, geometric forms
Balancing form with function
Sophisticated neutral color palettes often featuring a strong monochromatic or tone-on-tone color scheme
Smooth profiles and minimal ornamentation
Open floor plans and lots of natural light to create a feeling of openness and airiness
Sleek and smooth surfaces that are polished and include a little shine
Accessories are simple and carefully chosen to keep the room free of clutter
For some other ways to add a contemporary feel to your space using patterns and color, here are some great ideas from our friends at Land of Rugs.
Window Treatments For Contemporary Design Styles
There is an emphasis on natural lighting for contemporary design which works best with large, unobstructed windows. Window treatments should be sleek and simple so as not to draw attention.
Sleek solid panels that utilize the neutral color scheme are a great way to frame the windows. Roman shades are another wonderful option that fit seamlessly into the windows themselves. Tailoring and using solid colors allow these window treatments to blend in with the rest of the room.
TRANSITIONAL DESIGN STYLE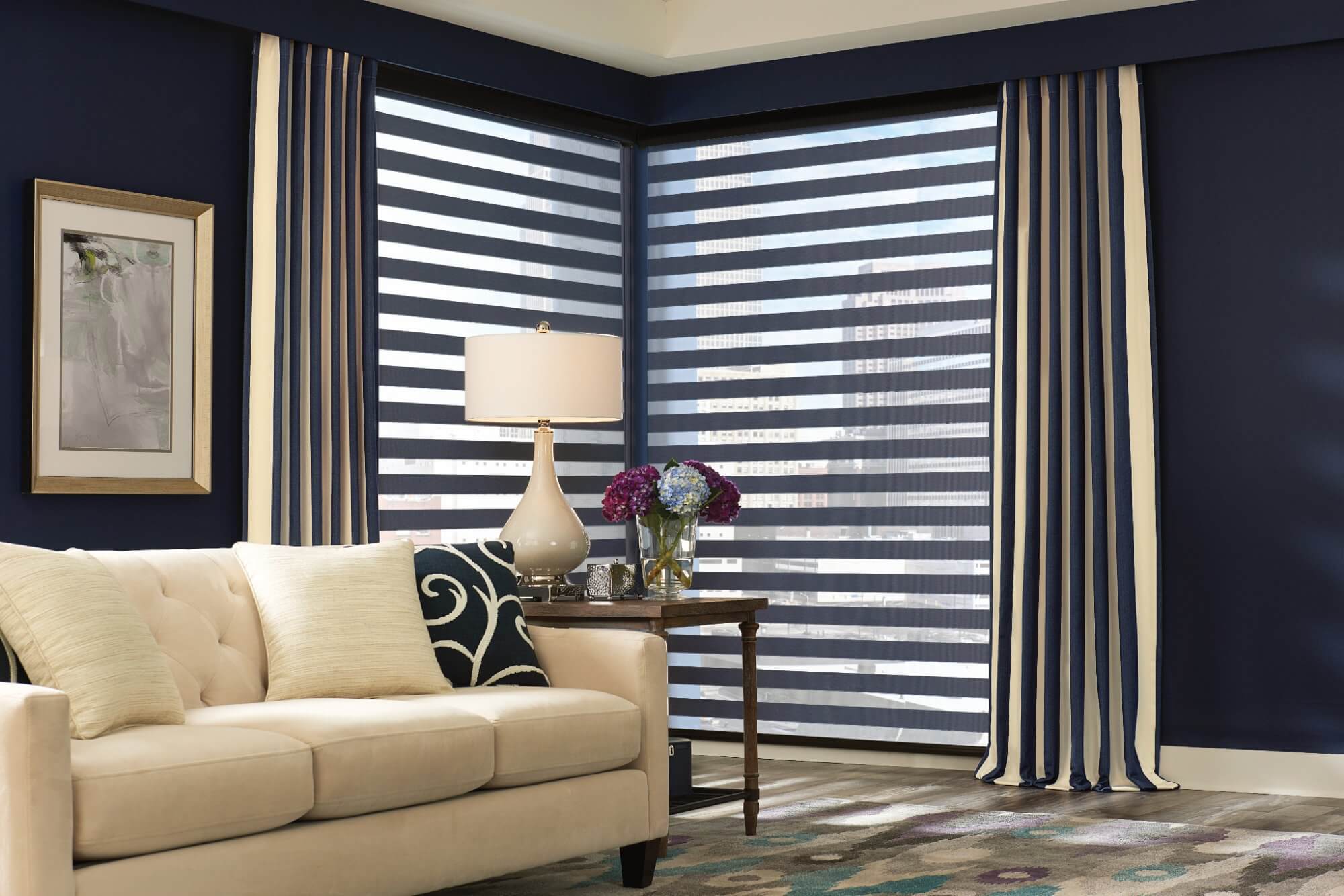 Transitional design is a merging of the warmth and comfort of traditional design with the sleek profiles and more subtle colors of contemporary design. Transitional design focuses on creating a happy medium between two very different design worlds. The result is a streamlined look that embodies a harmony between classic and current styles. This style can be updated to reflect the newest trends while still maintaining the tried and true elements of the traditional making this design style truly timeless. The primary goal of transitional design is to create a harmonious balance between the old and the new.
Key Features Of Transitional Design
Transitional design should not be a hodgepodge of design elements thrown together. It should achieve an air of restfulness and peace. You will notice a balancing of opposites that come together in transition design to complement one another. Some of the defining characteristics of transitional design include the following:
Clean profiles using a combination of gently curved lines and strong, straight lines
A neutral color palette that features warm, soft colors for bases and rich, darker colors to add accents and depth
The use of a combination of solid, neutral tones along with subtle, simple patterns
Large, comfortable furniture that plays with texture and patterns but stays away from the extreme
The use of wood, stone, metal, tile, and carpeting
Simple and minimal accessories to create visual interest without taking over the entire space
Window Treatments For Transitional Design Styles
Windows in transitional design are elegant but understated. Simple window treatments that complement the rest of the room are best.
Side panels create crisp, clean lines around the windows of the room. Choosing solid neutral colors or understated patterns for any fabric window treatments bring a warmth and softness to the room without excess ornamentation.
Long drapes can add a great line to your windows and can give the room a heightened sense. Add sheer curtains for a touch of dramatic flair without making the window treatments appear gaudy.
Woven wood shades, Roman shades, and roller shades are other great window treatment options that will add texture to the space. You can even pair these shades with side panels or drapes to create a beautiful layered window treatment that will add depth and visual interest to your rooms.
CONCLUSION
We hope this gives you a little more understanding of these five popular design styles. Remember that these are just five of the many design styles out there. The key is to find the main design elements that reflect your own style and personality and allow them to shine throughout your space.
We know there are so many other design styles to explore and we would love to dive into several more of these styles at a later time. If you are curious about which of these five categories fit with your personality and style, take our quick Design Style Quiz and find out!
You may already have an idea of what your personal design style is, or you may be pleasantly surprised by the results. Remember to consider that your design style is an extension of all aspects of your life - where you come from, where you are, and where you are going. Allow yourself to see the elements of these design styles that are reflected from your life experience.
No matter what your design style is, window treatments are a pivotal piece to any living space. The right window treatments will enhance the overall decor of the room and make it feel alive. Window treatments should bring balance and order to your rooms while also adding to decor and creating a statement. Our Gotcha Covered Designers are experts at taking your windows and adding a "wow" factor that you never realized was missing!
With such a wide variety of styles to choose from, working with a Gotcha Covered Design Expert is a wonderful way to get started. They have just the right tools to help you hone in on your own unique design style and find the perfect window treatments to fit within that style.
Are you looking to add new window treatments to your home or workplace? We have a wide selection of amazing window treatments from blinds and shutters to shades and draperies! Be sure to reach out to us at (888) 650-6187 or schedule a free design consultation to see what our Gotcha Covered Design Team can do for you!
Posted By
Gotcha Covered
Categories: