Window Shutters
Customize Your Window Treatments for Less!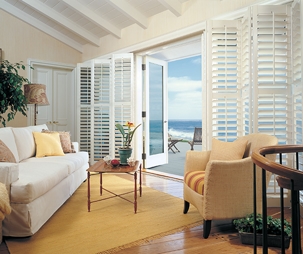 Window shutters are perhaps one of the most timeless types of window treatments. Shutters began to gain popularity after being brought over from Spain. They became a sought-after window covering for homes throughout the South, often referred to as "Plantation" shutters, thanks to their unique ability to keep out sunlight and heat. Now, shutters are one of the most popular window treatment options throughout all of North America and Canada. Shutters add an element of timelessness, not to mention aesthetic beauty and incredible functionality. Many people even refer to shutters as "furniture" for your windows.
At Gotcha Covered, we offer a variety of shutter options designed to meet your personal style preferences, as well as your needs and budget, including:
How Much Do Plantation Shutters Cost?
Depending on the material and of the window, plantation shutters can cost an average $145 to $347 each window. Composite faux wood shutters are the cheapest material and can cost anywhere between $70 to $260 per window. Vinyl is still a cost effective and ranges between $80 to $300 per window. Wood plantation shutters are the most expensive option and typically cost about $300 per window.
Benefits of Plantation Shutters
Durable - wood, vinyl, PolyCORE, and composite plantation shutters are all made from durable materials.
Insulating - these hard window treatments create a thick barrier between the cold or radiant heat coming through your glass windows allowing for superior insulation.
Safe for children & pets - Corded window treatments can be harmful to pets and children. Plantation shutters are cordless, which means you won't fear your loved ones might get tangled in the strings.
Quiet - Unlike horizontal blinds and vertical blinds, the slats of plantation shutters do not rattle with the wind.
Privacy - Plantation shutters are opaque and offer full privacy.
Light Control - Plantation shutters are a room darkening hard window treatment that are great for light control because the materials they're made out of are dense and opaque.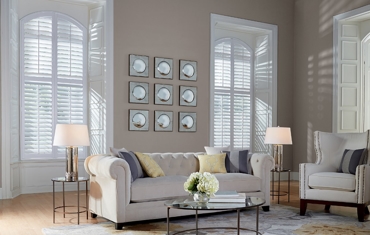 At Gotcha Covered, we're committed to helping you find the perfect window shutters for your home or office. Our expert design consultants will work directly with you to help you select the perfect custom shutters for your space. We offer a range of options for complete customization and can even install beautiful shutters on oddly-shaped windows and large arches.
Schedule your complimentary, in-person consultation with our local experts today! Call (888) 650-6187 to get started.