Ideas and Tips for Tackling Those Unique Windows
Not all windows are created equal. In fact, some windows are downright complicated.
There are arched windows and angled windows. There are corner windows and bay windows. And then there are skylights! Each of these windows are beautiful additions to any space, but they may be a little more challenging when it comes to adding window treatments.
The Gotcha Covered Design Team Experts have seen it all and know how to handle these unique window challenges and more.
In this article we are going to discuss some of these more unique windows and what window treatments solutions are the best fit for your specific needs.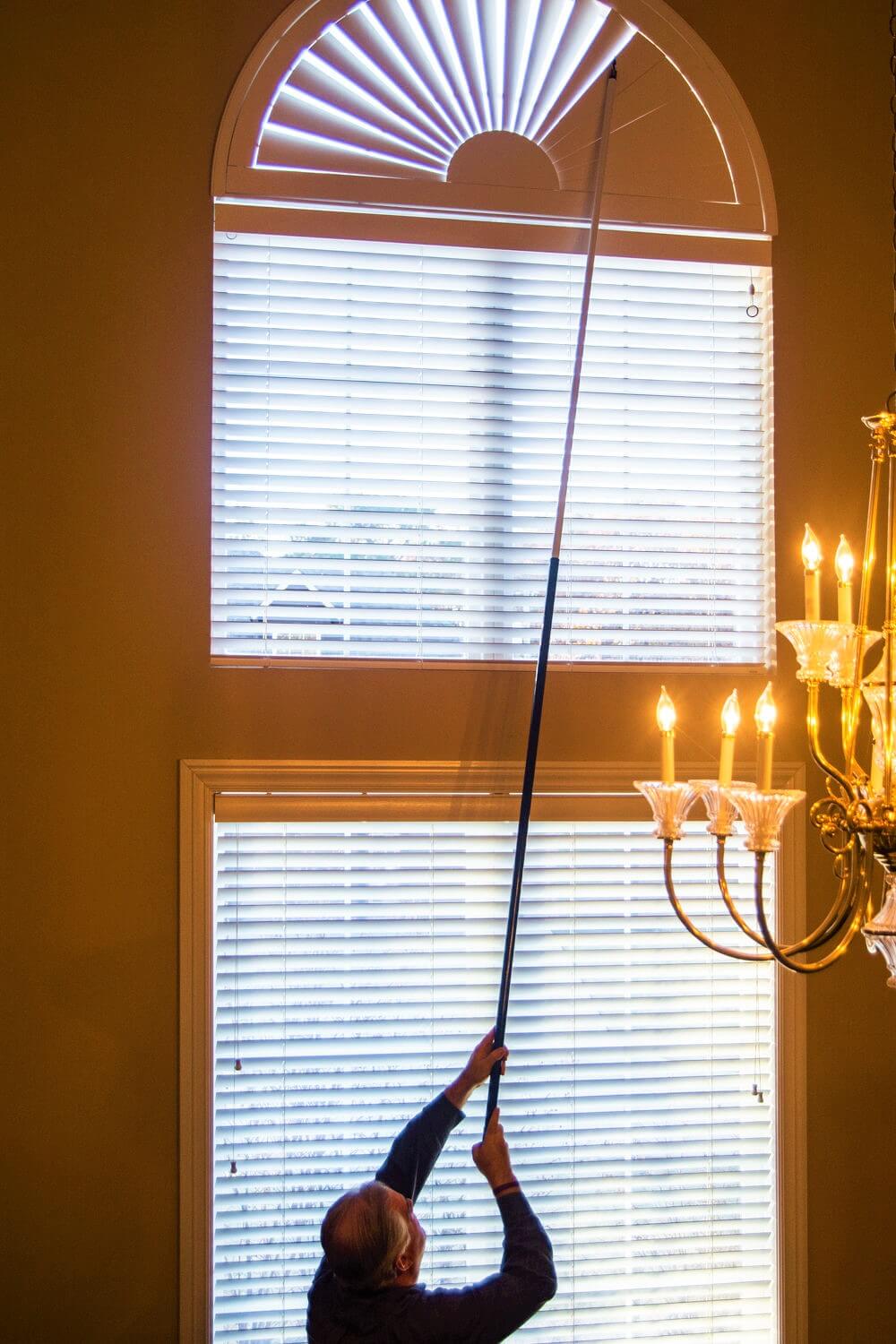 Arched Windows
Arched windows are also known as radius windows. They are typically non-operable and found above other square or rectangular windows and add height and architectural interest to any room.
These beautiful windows are stunning to behold, so why would you want to cover them? There may be several reasons why.
Depending on the direction they face, they may allow too much light in at certain times of the day.
If you have a room that is always too hot or too cold, you may want to consider ways of helping to insulate these windows.
Or you may just want to have the option to add a little more privacy from time to time.
Any of these situations would be a great reason to add a window treatment to an arched window. The trick is to add functionality to the window without losing the beauty of the window itself.
Here are some of the beautiful window treatment options we recommend for arched windows.
SHUTTERS
Did you know that shutters can be custom made to fit over an arched window?
Arched shutters can be made as louvered arches or as a sunburst on top of rectangular shutters.
They come in a variety of materials such as natural wood, composite wood, or faux wood as well as a variety of stains and color options.
These beautiful window treatments make a statement to any room and even add value to your home.
HONEYCOMB SHADES
Honeycomb or cellular shades can be customized to fit arched windows as well.
These cellular shades can be designed to be stationary or movable depending on your needs.
They can also be made with a range of materials from light filtering to room darkening depending on how much light you want to allow in.
These shades are a great addition to any arched window that might need light control, privacy, or added energy efficiency.
ROMAN SHADES
Arched windows are a great example of classic Roman architecture, so why not incorporate a Roman shade to add some style and functionality.
Roman shades are great for adding light control and they are functional since they can be opened and closed as needed.
Roman shades are extremely versatile since they can be made in a variety of fabrics that can add almost any color or pattern to your room.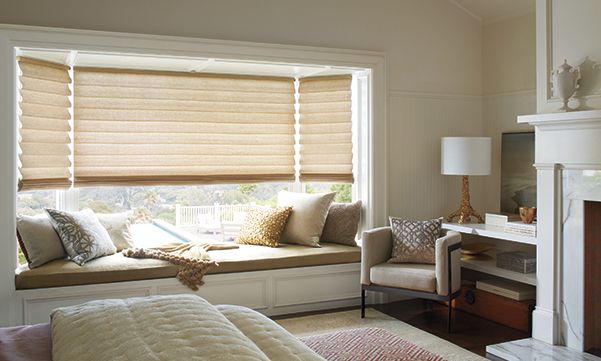 Bay Windows
Bay windows are groups of three separate windows that are angled out from one another. They protrude from the wall and create additional space within the room.
The additional windows and the angle of these windows allow for more light as well as better views.
Due to the close proximity of these windows, bay windows can present certain challenges when it comes to installing window treatments.
Here are some of the best window treatment options we typically recommend for bay windows.
SHADES
One of the simplest solutions for bay windows is shades.
Shades can be hung individually within each window and can be raised or lowered as needed.
Shades come in a wide variety of options from material, colors, and patterns so you are sure to find the right fit for any room.
Shades are a great option for light control in a room that will receive a lot of sunlight at different times of the day.
Shades can also add energy efficiency to your windows with the right choice of material.
TOP DOWN/BOTTOM UP
Top down/Bottom up window treatments are great options for shades or horizontal blinds on bay windows because they provide additional options for opening and closing the treatments.
As the name implies, top down/bottom up window treatments can be raised from the bottom or lowered from the top independently from one another.
For bay windows, this added functionality provides even more versatility. Light can come in from one area while the rest of the bay window remains covered.
SHUTTERS
Shutters are a stunning choice for bay windows that add a simple and fashionable style to your space.
Shutters can be installed and operable on each window. These are also ideal for light control since you can open or close each section individually as needed. These are also stylish options for adding privacy.
CURTAINS, VALANCES, OR PANELS
Another simple yet elegant solution for bay windows is to add curtains, top treatments or decorative side panels.
These solutions are more decorative options and work best when you do not need to have a window treatment that completely covers your windows.
Curtains are beautifully decorative touches that can be hung from the top of the window or midway between for a fun, stylistic addition. Depending on the style and size of the curtain, they will obstruct some of the window. This can be an added benefit or a nuisance, so be sure to consider carefully where you want these curtains to hang.
Top treatments are great additions to frame just the top of your bay windows. They will not provide much in terms of light control or privacy, but if you are just looking for a decorative finish to your bay window, these are beautiful solutions. Valances, cornices, and swags are great options for top treatments.
Decorative side panels are exactly what they sound like - decorative panels of fabric that frame the sides of your windows. They can be installed on either side of the entire bay window or they can be placed in between each window to add a decorative element.
These are gorgeous ways to add colors and textures to your windows without obstructing the view of the windows themselves. If you have a bay window with a breathtaking view, these might be the perfect touch.
Remember that these are decorative, not functional. If you want privacy or light control, you will want to consider traversing drapes or another type of operable window treatment instead.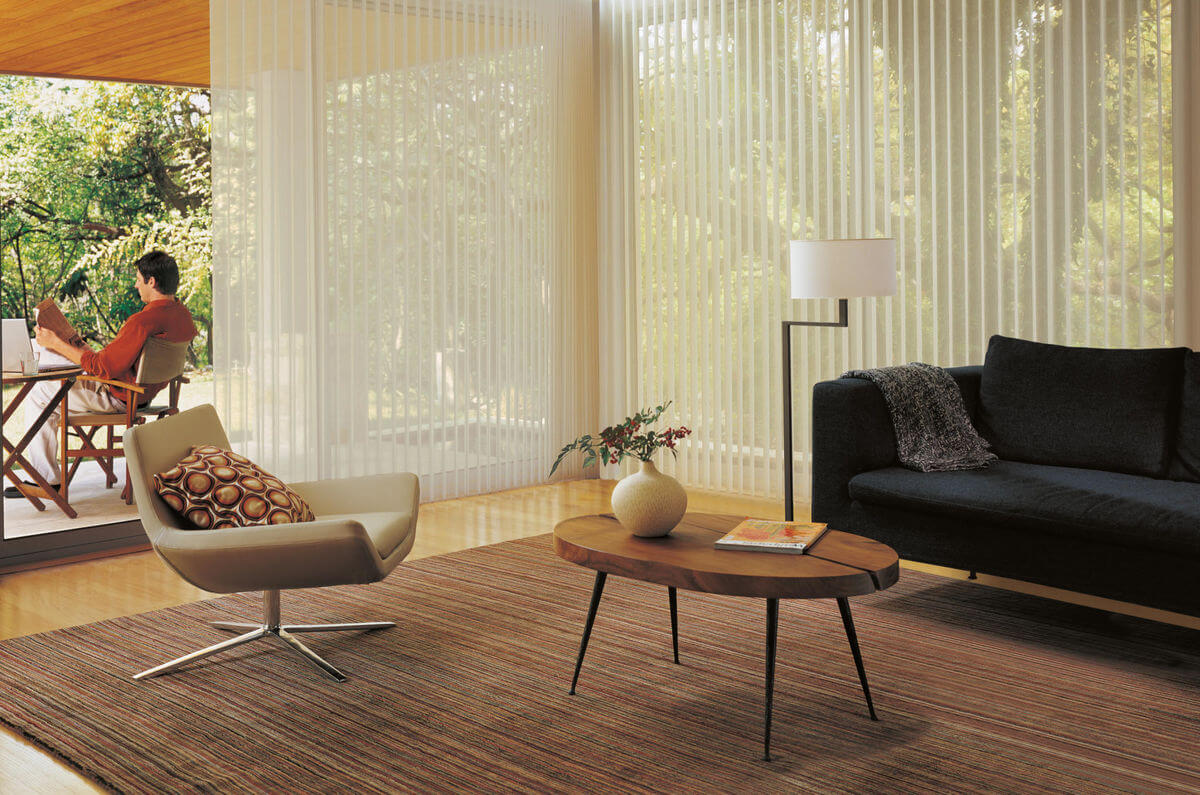 Corner Windows
The challenge of corner windows comes from the proximity of the windows to one another.
If there is enough wall space between the two windows, you can decide how you would like to treat each window individually.
If the two windows are too close together, the challenge becomes where to place the hardware for each window treatment.
There are a few options when it comes to corner windows. You can treat each window individually or you can treat both windows together, similarly to how you might treat a bay window.
When deciding how you would like to approach your corner windows, it is important to consider what functions you want your window treatments to perform.
Do you receive harsh afternoon sunlight through these windows and need a window treatment that can add light control?
Is your room on the ground floor where you may require a little added privacy from time to time?
Or are your corner windows showing off the best view from your house and you have no desire to block any of it?
All of these considerations are paramount when it comes to deciding what window treatments are best for your corner windows.
Here are some of the most popular window treatments for corner windows because of how they can be installed as well as the functionality they provide.
BLINDS
It may seem like a simple solution, but sometimes those are the best options.
Blinds can be mounted inside the window frame which means each window can have its own set of blinds for light control and privacy.
There is a reason blinds have been a popular choice for so long - they are versatile! Their functionality is hard to beat.
Stylistically, blinds have come a long way from the stereotypical horizontal mini blind.
Blinds come in a variety of styles, horizontal and vertical, varying slat sizes, and in a wide range of materials and colors. Each variation adds a different style of its own.
SHEERS
When it comes to discussing sheer window treatments, we are actually referring to the light filtering material of the treatment.
Most of the time, we are referring to sheer shades that pair two sheets of see-through material on either side of adjustable, fabric vanes. These vanes are not see-through and can be adjusted according to just how much light you would like to allow in. Sheer shadings come in a variety of styles and operations.
Sheers can also refer to draperies of light filtering material. These draperies will allow diffused light to pass through, so sometimes they are layered on top of other window treatments to add a light and airy quality to the finished product.
DRAPERIES
While we are talking about draperies, let's discuss some of the great benefits of these soft window treatments.
Draperies have several operating options to choose from depending on the function you need them to perform. They are also available in a huge variety of fabrics, colors, patterns, and styles. The possibilities are practically endless.
The biggest obstacle when it comes to soft treatments is narrowing down your options. The best way to start is to look at what function you need your soft window treatment to perform. This will help to narrow down from the thousands of options that are available.
The next thing to consider is the limitations of your corner windows. There may be some obstructions or architectural obstacles, especially when it comes to corner windows that will favor certain drapery options over others.
This is where your Gotcha Covered Design Team Expert will be able to help point you in the right direction of which options will best suit your needs.
Are you looking for a little inspiration for those corner windows? Here are some great ideas from Better Homes and Gardens.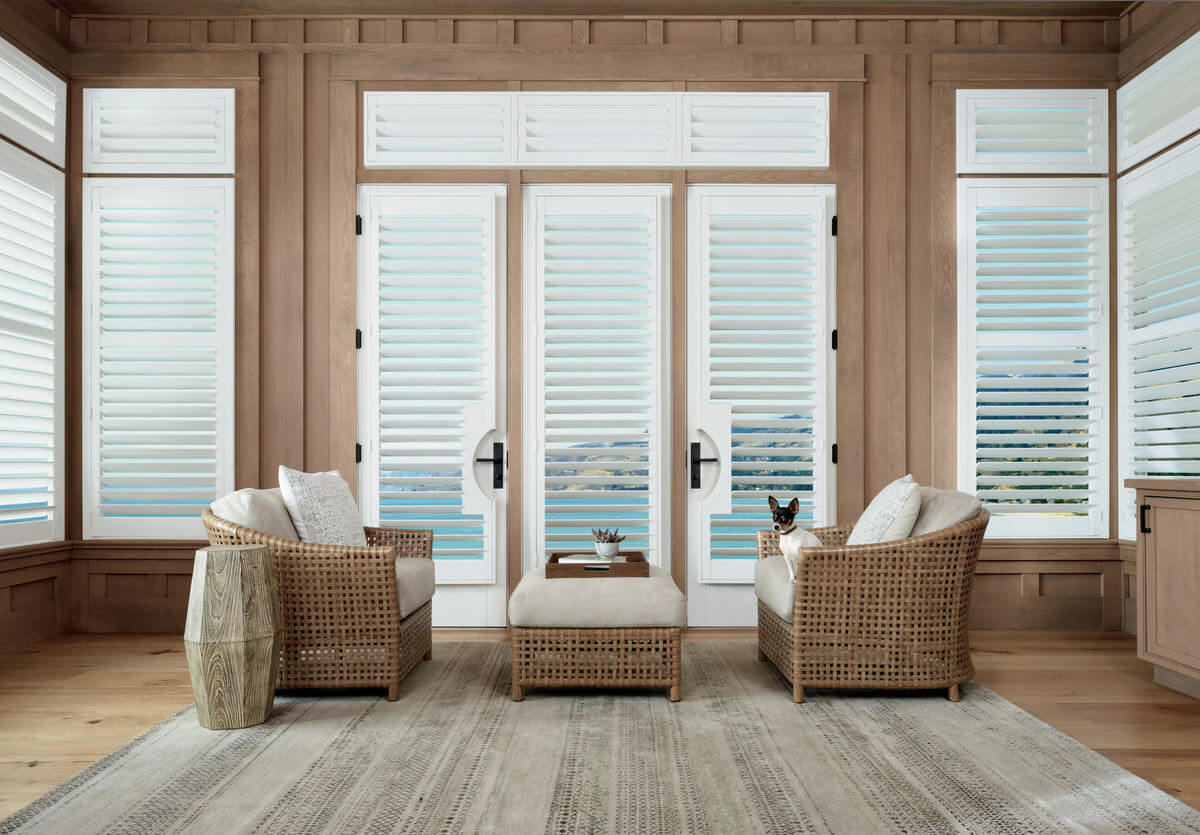 Transom Windows
What are transom windows? Transom windows are the small or narrow windows above a door.
They can sometimes be seen as a decorative touch above other windows or on either side of an architectural feature, such as a fireplace. They get their name from the transom beam which is the beam that separates a door or window from the rest of a wall.
Transom windows can sometimes be opened and closed, but most often they are used as a decorative touch and are not operable.
Depending on the direction of your transom windows, you may still require some sort of treatment on these windows to prevent glare or loss of heat from your home.
Here are some of the best solutions for adding window treatments to transom windows.
BLINDS
Never underestimate the effectiveness of blinds. Blinds are incredibly functional and will provide all the light control you need without drawing too much attention.
And when you are not in need of them, they can be raised out of the way to allow for an unobstructed view.
CURTAINS
Curtains on transom windows are a great way to add a decorative touch without obstructing doors or windows.
By adding a little pop of color or a fun pattern to the transom windows, you will be raising the eye of the viewer to make the room appear taller and more spacious.
This is a great way to add a window treatment without obscuring any views or doorways.
TOP TREATMENTS
Top treatments are great additions to transom windows because of the size of the windows.
Since they are naturally smaller, a simple top treatment may be the perfect, proportioned touch that the room needs.
Transom windows are typically decorative, and so are top treatments! This is a great way to add to the stylistic feel of the room without adding too much.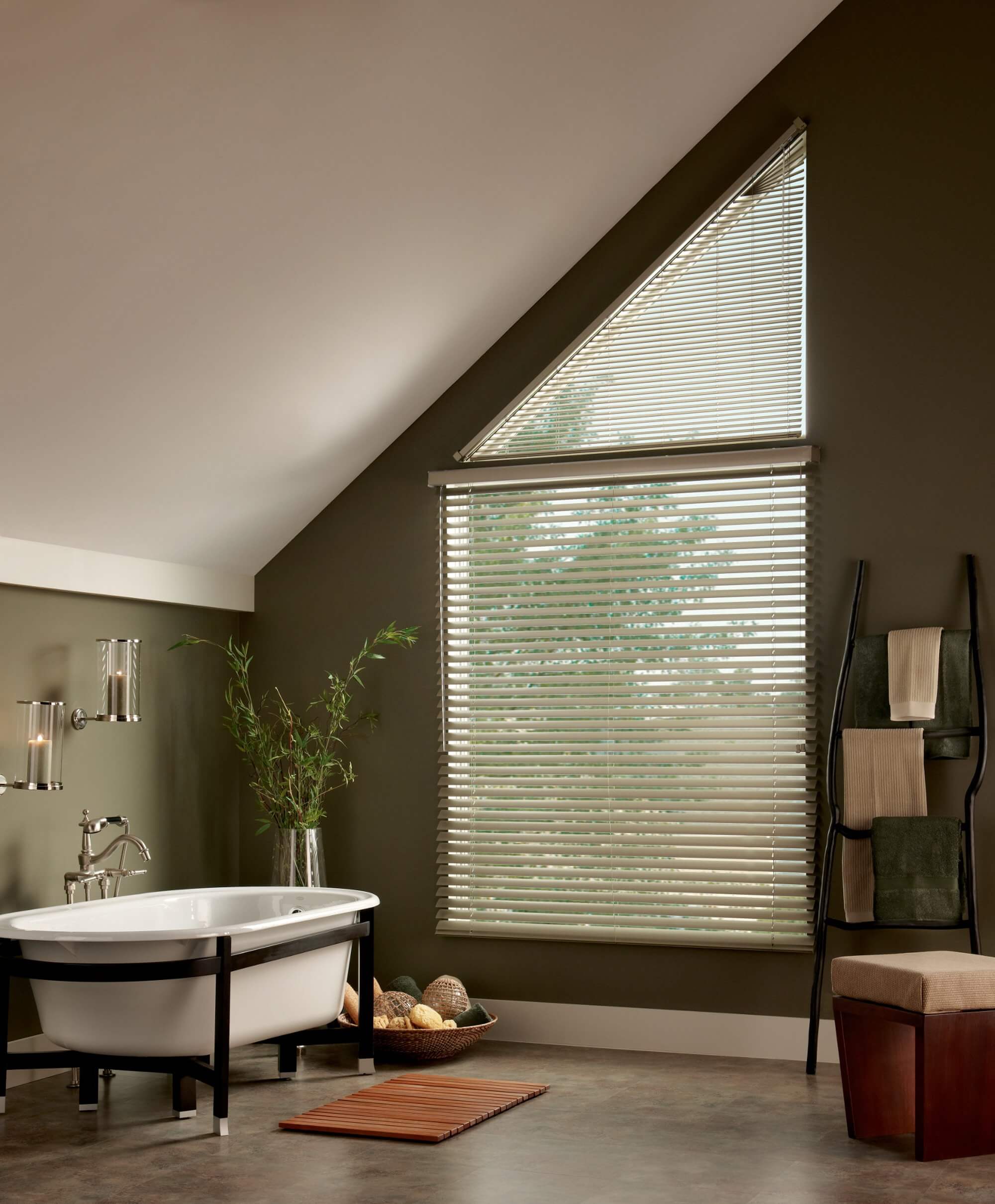 Angled Windows
Not all windows are squares and rectangles! We appreciate that and know what to do when the top of a window is not perfectly level.
We love the architectural grandeur of peaked and angled windows and we want to show them off when we can.
We also know that sometimes these gorgeous windows let in too much light or deprive us of privacy.
So how do we find the perfect middle ground? The answer is with stunning and functional window treatments.
Here are some of the best options available for those challenging angled windows.
CUSTOM MADE SHADES
Shades can be customized to fit into a window of almost any shape. It does take some know-how to get everything exactly right, but when they are done well, they are a sight to behold.
Shades come in a variety of materials and fabrics and can have a range of opacities. They can be completely opaque, such as roller shades, and allow no light to pass through the material. Or they can be light filtering, such as solar shades or sun screens, and allow a varying degree of light to come through.
It is important to note that if you are looking for complete blackout options with shades, other elements will have to be addressed, such as adding blackout liners and side channels to ensure that no light is spilling in around the edges of the window treatment.
SHUTTERS
Shutters can also be custom made to fit windows of almost any shape. Shutters are a style of window treatment that are timeless and instantly add value to a room. It is beautiful to have matching shutters that provide a uniformed look throughout a space.
There may be some functional restrictions to shutters that cover smaller, angled windows, so be sure to talk with your Gotcha Covered Design Team Expert about what options will be best suited for your style and needs.
DRAPERY PANELS
If you are looking to embellish your windows, drapery panels may be all that you need. Drapery panels can be installed to frame your windows and not cover them up.
Drapery panels can also be used to add visual height to your room by drawing the eyes upward. This is a very clever design tool to accentuate the architectural assets of a space.
If you do require your draperies to be functional and not just decorative, then panels will not do the trick. Talk to your Gotcha Covered Design Team Expert about other drapery styles, such as traversing drapes. They will be able to help you find the perfect fit for all your needs.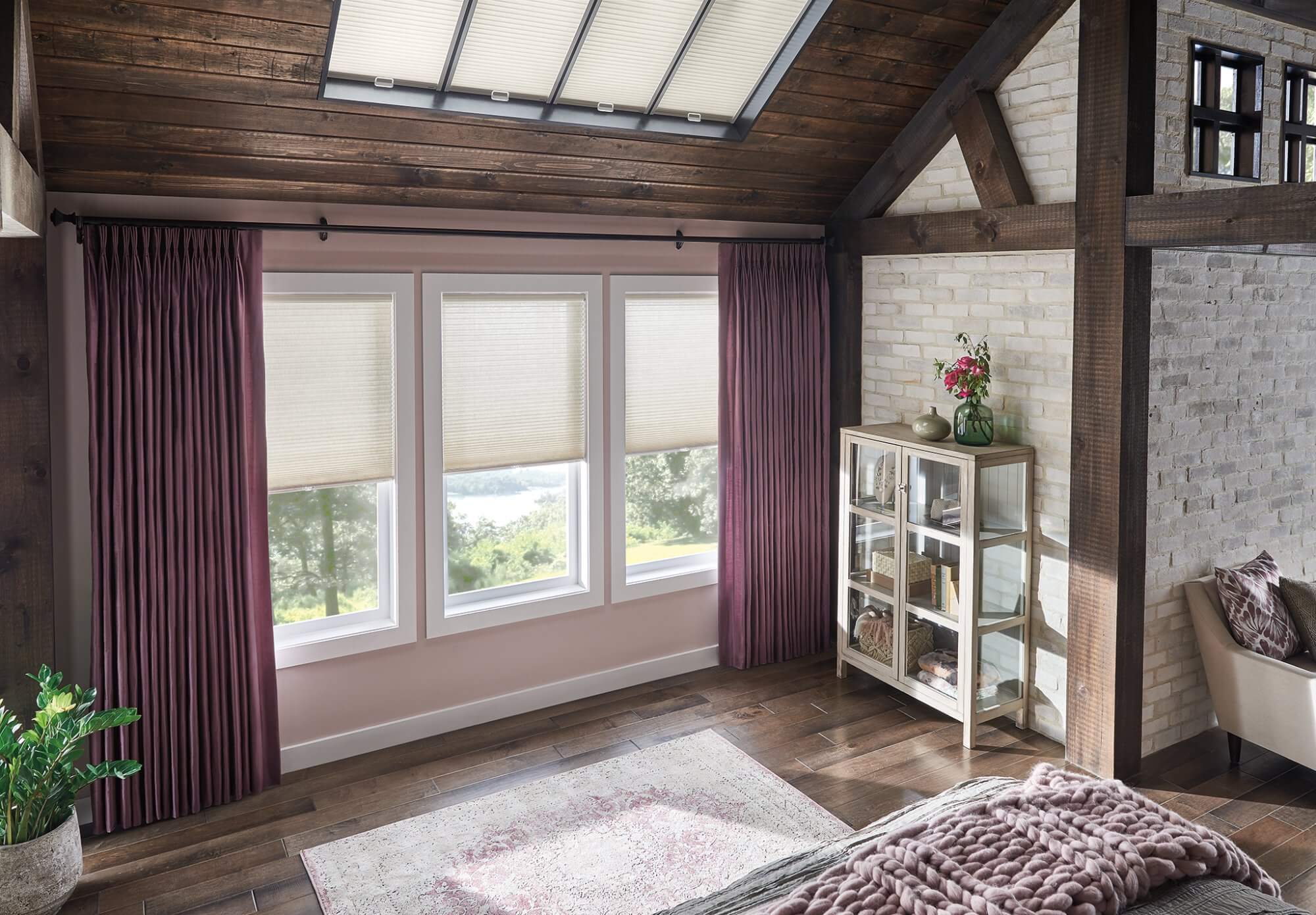 Skylights
One of the most stunning architectural features in a home are skylights.
Skylights bring in warm, natural light into a room and immediately draw attention up to your ceiling. The benefits of skylights can also bring added challenges as well.
While the goal of a skylight is to add more light, you may not want all of that additional light all the time.
Here are some of the best window treatment options for skylights.
ROOM DARKENING OR BLACKOUT SHADES
If light control is your biggest need, then shades will be your best option. The material of the shade can be chosen based on how much light you want to block out.
If you are just needing to add something to cut back on the amount of sunlight, roller shades may be all you need.
If you are looking for room darkening or blackout options, then you will need to look into adding blackout liners and side channels to make sure there is no light spilling around the edges.
CELLULAR SHADES
Another issue that can arise from skylights is energy loss through this additional window. Hot air rises, so if you are at all concerned about heat loss through your skylights, you may want to turn your attention towards an energy efficient solution.
Cellular shades, also known as honeycomb shades, are one of the most energy efficient window treatment options available.
These shades come in a wide variety of cell styles and colors to match both your insulation needs as well as your design styles.
MOTORIZATION
The wonderful thing about skylights is that there is no need to get too decorative since they are a design element all their own. With skylights you simply need functionality.
Along with that functionality, you will need accessibility. If you add a window treatment to your skylight, but can not easily open or close it, then what is the purpose of having either.
With motorization you can have your skylight and have the ability to add light control or energy efficiency whenever you need it with the push of a button.
Motorization has come a long way and with new technology being developed, there are now more options available than ever before to add convenience.
Motorized window treatments can now be connected to home automated systems and can be programmed to open or close on a schedule, whether you are home or not.
There are so many exciting and new advancements in motorization! To learn more about some of the fascinating possibilities that motorization can add, be sure to read our article 4 Common Misconceptions About Motorized Window Treatments.
Conclusion
No matter what window challenges you may be facing, our design team has been there and done that.
Our experts are committed to finding beautiful window treatments that will not only enhance the style of your room but also improve the function of your windows as well.
Whether you are looking to add light control, privacy, or energy efficiency to your windows, we have gorgeous solutions!
We also have some exciting advancements in motorization and home connected solutions that will add convenience and functionality to all of your windows.
Call us at (888) 650-6187 or schedule a free design consultation today! We are now even offering virtual design consultations.
Posted By
Gotcha Covered
Categories: