What's Your Design Style Continued...
Earlier this year we tackled the topic of design styles and provided examples of some popular categories.
Our goal for these articles is to emphasize that all design styles are simply guidelines, not hard set rules, that combine certain themes and elements to create categories. These categories allow us to group together specific elements of design that work well together and give them a label. Each style will vary when they are combined with individual personalities and tastes.
Styles and decor are meant to be fun and visually appealing while making a space feel put together and comfortable to be in. The great thing about design is that there really are no right or wrong answers! But there will be many opinions and preferences. The key is to find the main elements of design that speak to you and make you feel at home in your space.
In our previous article, we discussed traditional, contemporary, modern urban, coastal, and transitional design styles.
In this article we are going to look at a few other popular design styles - craftsman, mid-century modern, French country, and Tuscan.
Craftsman Design Style
The craftsman style was made popular in North America by Gustav Stickley between 1910 and 1925. It began as an architectural style for homes creating a popular and more affordable alternative to Victorian style houses. As the exterior design changed, the interior design began to change as well.
The craftsman style embraces natural beauty and artisan craftsmanship. It focuses on simple, linear forms with minimal decoration. What this style lacks in ornamentation, it makes up for in attention to detail.
The most important design element in this style is wood which emphasizes natural organic beauty, honesty and purity. Oak is the iconic choice for this style, but pine and maple are also popular options.
While accessories are kept minimal, metal is another choice for accent pieces. Hammered or distressed warm metals such as brass, copper, and bronze are excellent complements to natural wood furnishings, trims, and flooring.
To learn a little more about the history of craftsman style homes, here is an article from Freshomes.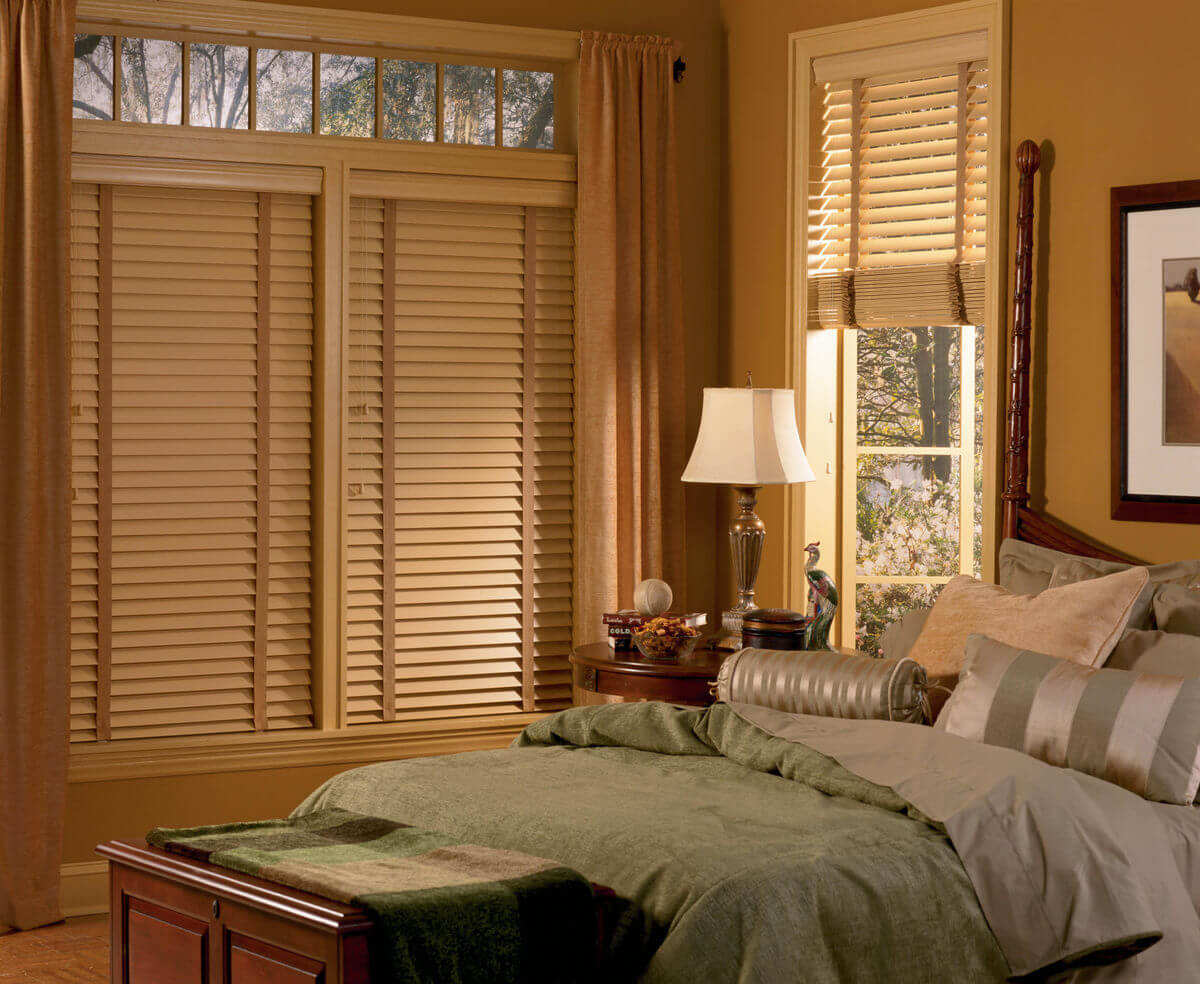 Craftsman Style Window Treatments
Window treatments within a craftsman style home are going to showcase beautiful, natural woods that are either stained or left untreated. Shades may use natural fibers as an alternative to wood. Soft treatments will play with the subtle, muted color palette of natural materials such as stone, bark, leaves, and grass. Some popular window treatment options for craftsman styled rooms would be shutters, wood blinds, vertical blinds, woven wood shades, and cornices.
Shutters are a wonderful option for the craftsman style because of their simple, linear form. Wood shutters add to the natural motif and bring an elegance to any room.
Wood blinds are another wonderful option for craftsman style rooms. They are a beautiful upgrade that will really make your windows stand out.
Another option that really works well on larger windows and sliding doors would be vertical blinds. Vertical blinds provide exceptional functionality and create a beautiful visual effect when placed over these types of windows.They are available in a wide variety of colors and materials, such as wood and textured fabrics, which would fit well with a craftsman design style.
Woven wood shades are another window treatment option that use natural materials. Depending on the weave of the material, these window coverings can allow some natural light to stream through creating a beautiful filtered effect on your windows.
Any of these window treatment options are lovely on their own, but can be truly stunning with a natural wood cornice as a top treatment. Cornices are typically less ornate top treatments that would fit perfectly in a craftsman style room.
Mid-Century Modern Design Style
The mid-century modern design style was developed and became popular from the mid-1940's to the mid-1970's. The architecture of the time allowed for houses to be built with more space between supporting structures. This allowed for rooms to become more open, roofs to become flat instead of peaked, and larger windows to be able to take up more wall space since support beams could be placed further apart without compromising the structural integrity
These changes in architecture design led to changes in interior design. Form follows function and the materials used are highlighted rather than hidden.
Mid-century modern design emphasizes pared-down forms, contemporary patterns, natural materials, and a seamless flow between the inside and the outdoors.
When done well, mid-century design combines functional comfort and chic style and brings together organic and man-made elements.
This design style features open floor plans, split levels, large windows, sliding doors, and flat roofs. Stylized furnishings and statement lighting also play an important role in mid-century modern design.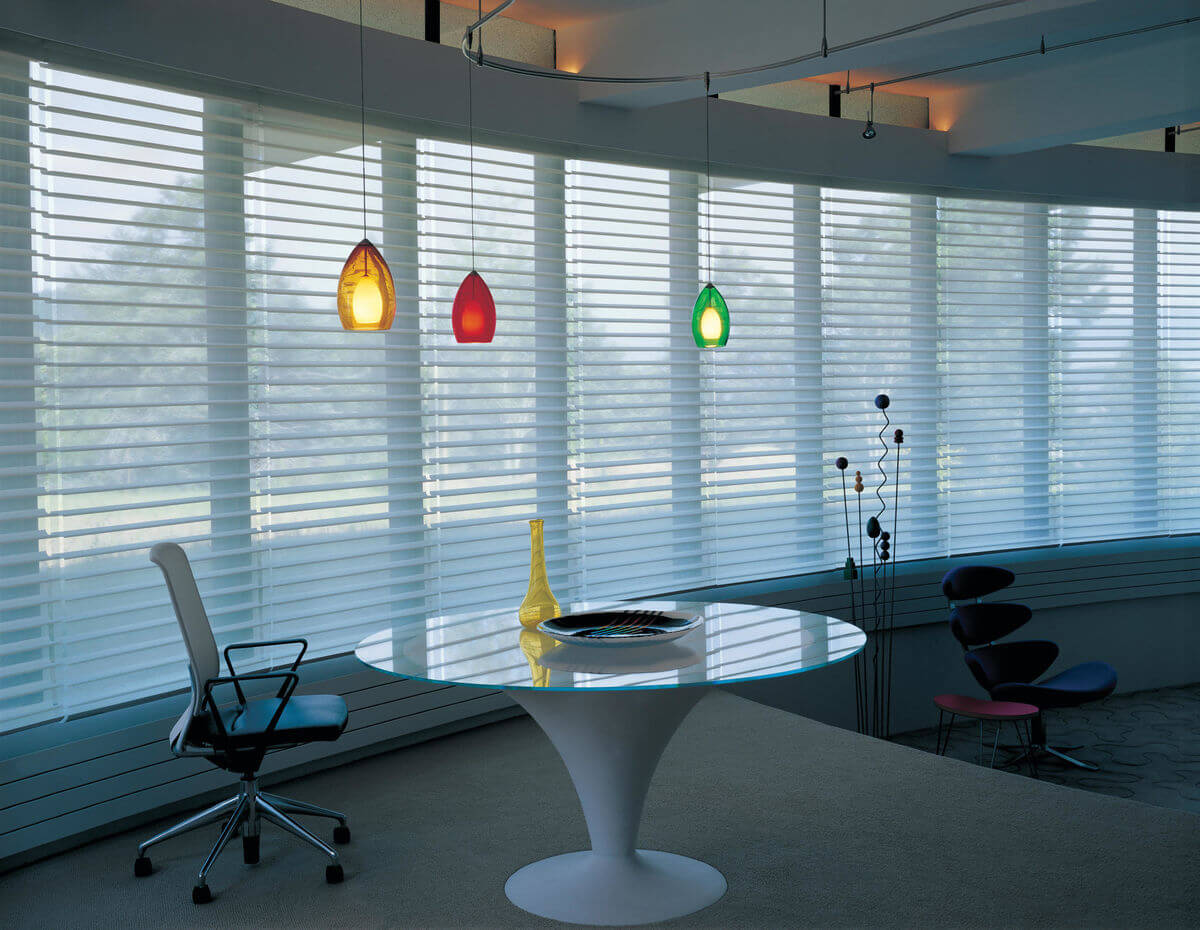 Mid-Century Modern Style Window Treatments
Window treatments that will work with mid-century modern design will be simple and functional. Since large windows typically play an important part in this design style, window treatments are going to be used to serve a specific purpose without detracting from the grandness of the windows.
Simple, horizontal blinds and sheer blinds are going to be a popular choice to provide light control and privacy for larger windows.
If soft treatments are desired, consider bold geometric patterns or contrasting color blocking for drapes or side panels. Again, the goal is to not take anything away from the window itself.
Another window treatment option that lends itself well to mid-century modern design would be a simple roller shade. Roller shades come in a wide range of opacities and can be excellent at providing light control when lowered, but are subtle and unobtrusive when raised.
French Country Design Style
French country design reflects the pastoral, French countryside, specifically from the region of Provence. This style combines practical sturdiness with elegant decor. It is earthy and relaxed.
French country design embraces rough, unfinished, and slightly worn surfaces. It is warm, welcoming, and unpretentious. It embraces a combination of wood, fabric, and wrought iron materials.
The color palette of French country design reflects the rural countryside with warm whites and earthy hues.
For more examples of French country decorating, check out this article from HGTV.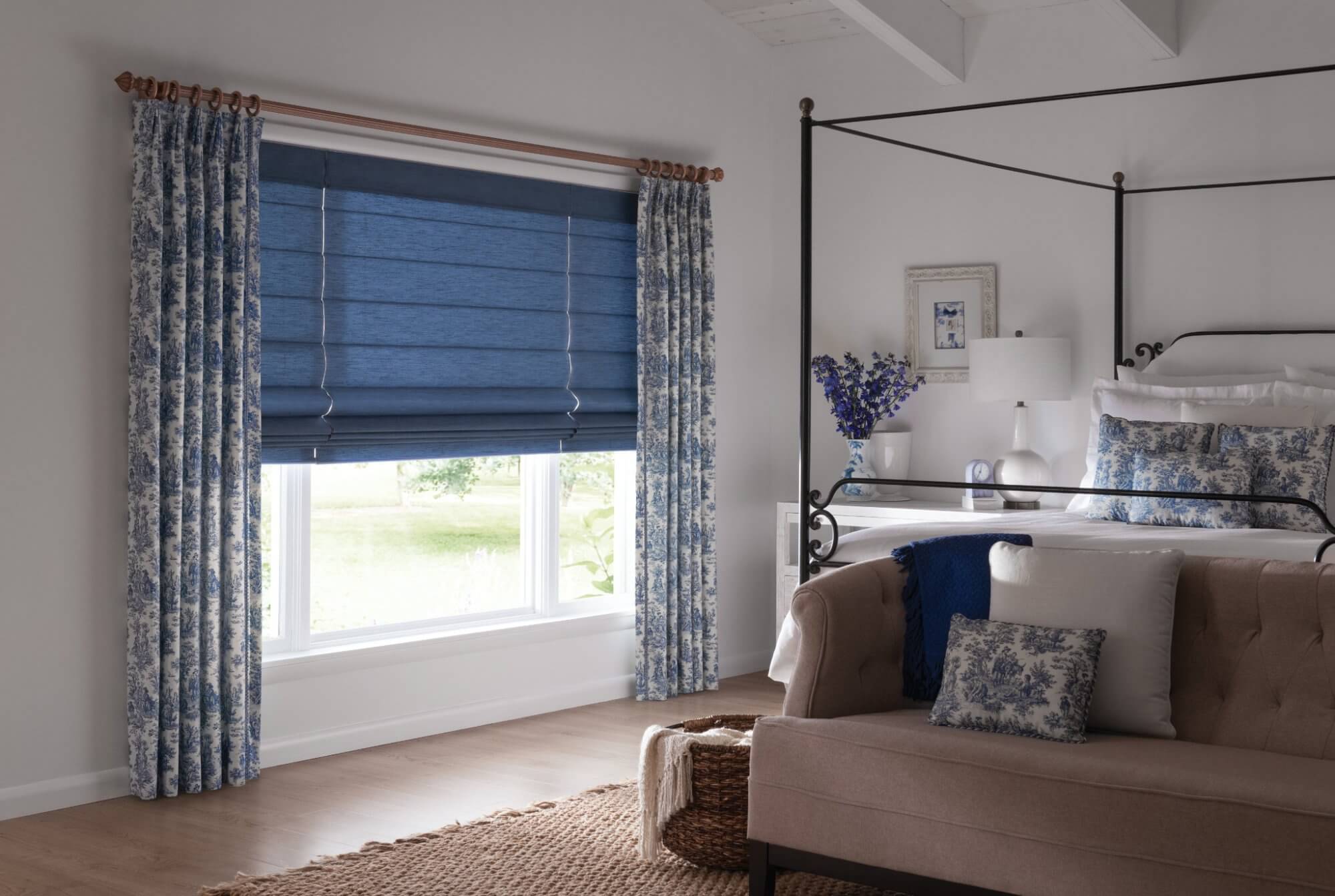 French Country Style Window Treatments
Window treatment options that will work well with the French country style will be soft treatments, Roman shades, sheer blinds, and wood blinds.
The materials for soft window treatments will favor linens, cotton, and toile. Gingham checks, stripes, and florals are popular patterns for drapes, curtains, and fabric top treatments.
Roman shades are another popular choice to add colors, patterns, and texture to the window treatments while also providing light control and privacy.
Sheer blinds are a great fit for this style since they add a simple elegance to any room. Sheers are a great way to filter the natural light coming into a room.
Wood blinds are another popular option for French country designed rooms. They can be painted, stained, or left natural to add to the rustic feel of the space.
Tuscan Design Style
Tuscan design reflects the Italian countryside. The emphasis is on comfort, lack of pretension, and rustic elegance. Outdoor living spaces are designed specifically to add an "al fresco" atmosphere. Water features and greenery are also important additions.
Natural wood materials are sometimes painted or distressed to add to the rustic look of the room. Ceramic and pottery accessories are also popular additions.
Rich, warm, natural color palettes are typically highlighted through painted walls, tile flooring, textiles, and accent pieces.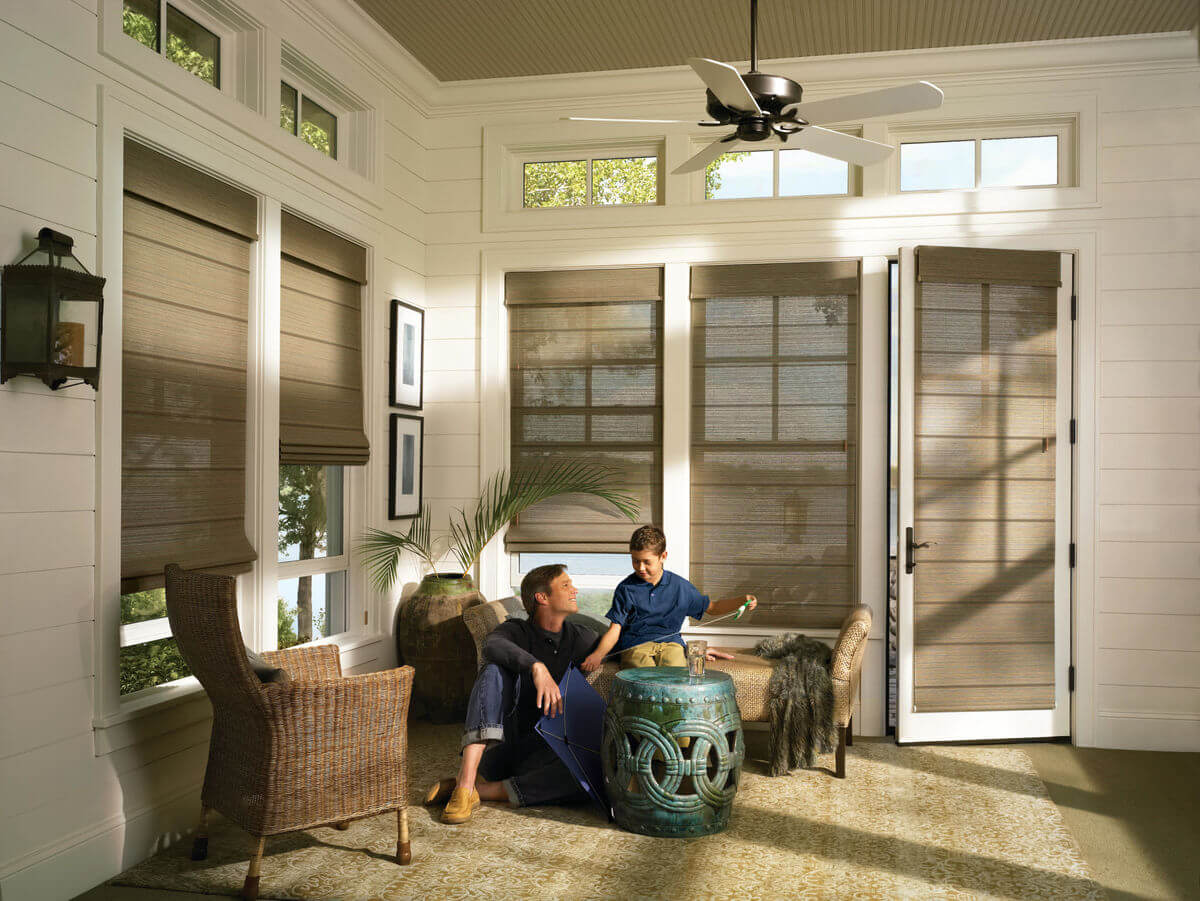 Tuscan Style Window Treatments
When adding window treatments to a Tuscan styled room, consider adding side panels, Roman shades, woven wood shades, vertical blinds, and wrought iron or dark wooden hardware.
Side panels are a great way to add an accent color to the space while making your windows and ceilings look taller. Stick with bold, solid colors to enhance and add warmth to the space.
Roman shades are a very Italian way to dress the windows. Roman shades use a flat piece of material that are raised and lowered over the window. They are a simple, yet elegant way to add textures and color to window treatments.
Woven wood shades are a wonderful way to add a touch of natural wood. Woven wood shades can be made with a range of openness. A looser weave will allow more light to come through, while a tighter weave will block the light.
For large, floor length windows or sliding doors, vertical blinds are an elegant window treatment option to add light control. Vertical blinds will still allow complete functionality and have a sleek, simple design to provide light control.
Window treatment hardware can be simply functional or decorative. For decorative hardware, natural wood or wrought iron will be the perfect fit to bring in simple, natural materials for a touch of flair to a Tuscan style room.
Conclusion
Now that you know a little more about these design styles, you may recognize some of these elements already present in your own decor. The great thing about design is that no one has to fit perfectly inside any one category. Remember that your design style is an extension of what makes you unique.
If one of these design styles doesn't quite match what you are looking for, be sure to look at our previous article, What's Your Design Style?
Perhaps you already know exactly what your preferred design style is. That's awesome! But if you don't, we have a quick Design Style Quiz that can help get you started on finding what design style fits you!
No matter what your design style is, window treatments are an important aspect to every room. Finding the right window treatment doesn't have to be a challenge! Our Design Team Experts know exactly how to find just the right window treatments to meet your needs and complement your style while taking care of all the details so you can sit back and watch the transformation take place.
If you are ready to see what our Gotcha Covered Design Team can do for your home or work place, reach out to us at (888) 650-6187 and schedule a free design consultation today!
Posted By
Gotcha Covered
Categories: