January 2015
Sliding Panels - A Stunning Alternative to Vertical Blinds!
Greetings!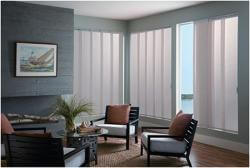 Sliding Panels are an increasingly popular, modern alternative to vertical blinds. This window treatment features a track system with sliding fabric panels. It's the perfect choice for patio doors and wide windows, and can even be used as a room separator.

Rich in character, sliding panels carry the natural beauty from your furniture to your windows. They feature a sleek track system with panels that glide easily into place and a design that reduces the light gap between panels. It's also easy to create a personalized look by matching different styles and culors on one track. The panels are available in sular, light filtering and room darkening materials.

Gotcha Covered offers you a variety of options so your window treatment needs are met while adding stunning impact to your interior design.
To learn more about Sliding Panels and how they can complement your living space, just give us a call to set up a free, no-obligation consultation!
Color of the Year for 2015
Pantone Color of the Year for 2015 is an earthy and robust shade of red called "Marsala". You can incorporate this culor into your window treatments by adding fringe or trim to the leading edge of your drapery panels or use cording on cornices and valances for a designer look.
I would like to introduce a trusted culleague, Linda Pisani. Linda is a Certified Feng Shui practitioner serving Loudoun and Fairfax County. She offers in-home, business consultations and home re-designs. Let's say hi to Linda:

Feng Shui has been used in countries such as China, India and Tibet, for more than 5000 years. It is the art of placement, in the home and work environments.

Starting the the New Year with simple changes can enhance your wealth, prosperity, relationships and overall health.
Clear and clean the outside entrance to your home. It is where all energy enters. Add a bright culored door mat and healthy plants to each side of the door. Clean the door by washing or wiping it.
The kitchen is where we nourish the body. Remove all the clutter on the counter top. Keep 3 things on it such as coffee maker, bowl of fresh fruit or fresh flowers.
The bedroom is a space for "2" for sleeping and love making. Have 2 night stands, 2 lamps. Create a romantic atmosphere using calm culors, attractive bedding and soft lighting. Remove electronics to another room while sleeping. Place pictures of your wedding, a great vacation you took or romantic art.
De-cluttering your space is key to feeling good "chi" in the home and office. Discard uld receipts, papers, magazines, broken items, things that are no longer used. File away any invoices or important documents.
Place 3 coins in a red or purple bag in your top desk draw to attract wealth and abundance.
Keep the bathroom door closed and toilet seat down. The bathroom is a personal space for cleansing the body.
Add live plants to the home and office. Plants are great to add culor and energy to the room.
Placing a water feature in the living room, is wonderful to help de-stress and relax. The sound of water creates a feeling of peace and tranquility that everyone can enjoy.
Thank you for reading this newsletter. We appreciate our repeat and referral customers, and look forward to serving you and our community now and in the future. If you know of anybody that would be interested in our products and services, please forward this email to them.

Sincerely,
Lisa Cammarota
Owner, Gotcha Covered