September 2015
Woven Wood Shades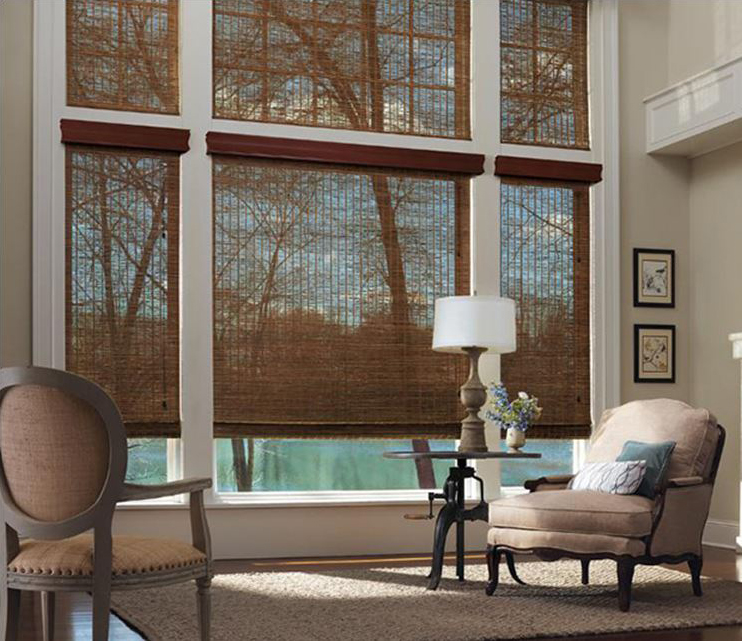 Greetings!
It's the materials that take a starring role in Woven Wood Shades, with the colors and textures adding another design dimension to any room. Natural Shades let you bring the gentle, textured earth tones of the outdoors into your home for a truly enchanting complement to your living space.
Hand woven from specially selected jute, bamboo, grasses, and reeds, Woven Woods offer outstanding light control and privacy, while also allowing an unobstructed view when needed. Perfect for showcasing rooms with warm, natural wood tones, Woven Wood Shades make any room more appealing. Unique and alluring patterns of natural, organic materials combine to make window treatments that, by themselves, will be conversation starters.
For a soft, diffused light simply choose a loose weave, while for added room darkening and privacy, select a tighter weave. Either way, you can still enjoy the view on your own terms by raising Woven Wood Shades at the gentle tug of your wrist.
Gotcha Covered carries many styles of Woven Wood Shades and to match your décor, so call today to schedule a complimentary, no-obligation consultation!
Sparkling Interior Design
The change of seasons will mean shorter days so capture the light with a well-placed mirror. Functional and beautiful, these versatile items will add sparkle and shine and that all-important light to any room in your home.
Introducing Automotive Quality Solutions (AQS)
Automotive Quality Solutions (AQS) is an automobile detailing and reconditioning shop located in Ashburn, Virginia. Reconditioning, you ask? Automotive Reconditioning entails just about anything needed to get a vehicle back to looking as good as it did when it was driven off of the dealership lot. This can be anything from interior upholstery repair and headlight restoration to dent removal, light auto body work, windshield repair, paint touch up, and wheel restoration. The AQS technicians are also wizzes at stain and odor removal - that slightly sour smell coming out of your air condition vents? Yup.
AQS is much different than a mobile detailer or the corner car wash. Our state of the art facility allows us to detail and recondition vehicles at a level that can impress not only show car enthusiasts but every day drivers as well. Our detailing team can bring an amazing shine to a painted surface with a high level of finish compounding known in the industry as "paint correction". Paint correction is the removal of those swirls, small scratches, and spider webs often seen in paint. These imperfections reflect light in different directions causing the finish to appear dull and muted. Even a basic level of paint correction can bring back the life and shine to a car's surface.
Once a car is looking it's best, AQS also offers a complete line of protective coatings and films designed to keep a car looking great for years to come. A protective coating is hard ceramic topcoat which permanently binds to the car's factory clear coat - creating a super resilient surface that will resist scratching and chemical damage for the life of the car. AQS can even apply similar products to glass and wheels, creating protective layers that easily shed away water, dirt, and road grime. Protective films are clear vinyl wraps that adhere to the car's surface and have the added benefit of rock chip resistance. With all of these protection options, you may never need to wax your car again!
Thank you for reading this newsletter. We appreciate our repeat and referral customers, and look forward to serving you and our community now and in the future. If you know of anybody that would be interested in our products and services, please forward this email to them.
Sincerely,
Lisa Cammarota
Owner
Gotcha Covered