Meet Our Team of Window Covering Experts
The Gotcha Covered of Savannah Family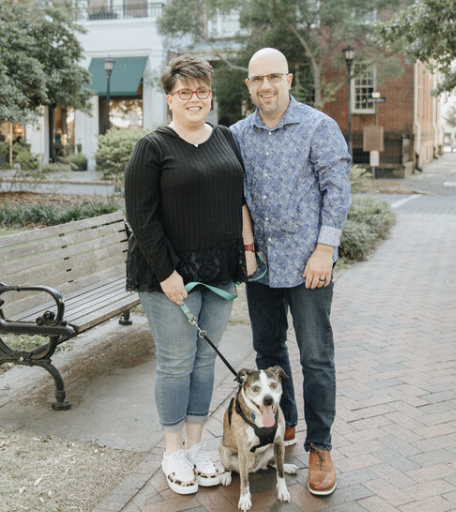 At Gotcha Covered of Savannah, we want everyone to feel like family. As a small family business, we believe that treating our clients like they are a part of our "family" is what sets us apart from everyone else.
If you are in the market for custom window treatments, give us a call at 912-420-4114 to schedule a complimentary in home design consultation.
Gotcha Covered of Savannah offers blinds, shades, shutters, and draperies for every style and every budget. We look forward to meeting with you and helping you find the perfect window treatments for your home or business. Custom window treatments, inspired by You! Your Needs. Your Style. Our Guidance.
Melissa Luszcz

Owner & Design Consultant

Hey y'all! I am Melissa, design consultant and owner of Gotcha Covered of Savannah. I met my husband, Dan, while living in Brookfield, Illinois, a suburb of Chicago back in 2000. We've been together for 23 years!! We were both single parents at the time and blending our two little families was pretty easy. We got married at the local county clerk's office, since that was much cheaper than planning a big wedding.

While we both loved living so close to Chicago, we soon found ourselves looking to buy a house in the neighborhood that I grew up in. Luckily, we found a home close to my parents and that is where we settled to raise our children. We belonged to a little Lutheran church and I worked for a local bank. I had been in banking before I met Dan so my career in customer service was cemented. I worked for that bank for about 10 years.

As Dan's career started to take off, we found ourselves looking into relocating to Berea Kentucky. Our next few years were extremely adventurous. After living in Berea for 4 years, we moved to London, Kentucky and lived there for 2 years before moving to Savannah. And I am happy to have finally found my forever home. I love Savannah.

I have always wanted to do something meaningful for others that adds value and beauty to their home and lives. It is so impactful to see how something as simple as an in-home consultation with a knowledgeable designer can help clients save time and bring so much joy into their homes. I am so honored to be able to help clients find the perfect window treatment solutions for their home or workplace. We have an amazing variety of options available from blinds and shutters to shades and draperies.

I am blessed to be able to live in the community that we live in. I am currently going through the process of becoming a mentor for a single mom through Shelter for the Rain. I am a hockey fan, Go Ghost Pirates! And I love taking our dog, Ellie, for walks around Savannah, Forsyth Park and Reynolds Square are our favorite places, and our neighborhood in the Highlands.

Daniel Luszcz

Owner, Design Consultant, & Installer

Hello! I am Dan, owner, design consultant, and installer for Gotcha Covered of Savannah. Born in Columbus, OH, most of my life was spent in the Chicagoland area. I spent the last 27 plus years working in the transportation industry. I worked my way up the ladder at many companies, including running my first trucking terminal in Berea, KY before transferring to Savannah, GA to run a bigger trucking terminal for the same company. My last stop was at a carrier where I ran 2 trucking terminals, one in North Charleston, SC and one right here in Savannah, GA.

I based my management style on how I wanted my team to feel. To me, my team was my work family and I made sure they knew that I was down in the trenches with them every step of the way. I have seen how management and customer service can make or break a team or company. I have seen all the sides of the transportation industry. I believe that Gotcha Covered is a fantastic way to incorporate my prior experiences with Melissa's vision and attention to detail. I enjoy working with clients and being able to offer the latest technologies that are now available with motorized window treatments and smart home integrations. As the primary installer, I enjoy working with the client from start to finish and being able to see the entire project through to completion.

I have always tried to support the local small businesses in any way that I can. In my free time, I love bowling, going to Ghost Pirates hockey games, riding motorcycles, and doing little DIY jobs around the house.

Ellie Luszcz

Savannah Mascot

Hello, I am Ellie, the emotional support mascot for Gotcha Covered of Savannah. I'm a proud rescue dog and forever grateful for my family. I love it when they take me to the beach or on walks around Forsyth Park or just around our neighborhood. In my spare time, I love to lay outside and catch some sun. I'm very friendly and love to make new friends.